Last weekend was the Spring Fling big race sponsored by Team Associated at my home track NWA Raceway. With allot of talented drivers from Oklahoma,Kansas, Missouri and Arkansas there was allot of great competition on hand. I competed in 2wd buggy mod and 4wd buggy mod classes.

In 2wd buggy mod it was a packed field and the top 3 of us would all be within less than a second of each other battling for the TQ spot. at qualifying end I would place in the 3rd spot for the A-main feature race.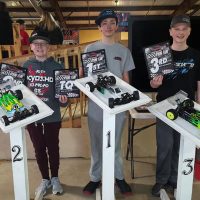 In the A-main feature I would get a great start avoiding all the wrecks in the first set of triples and never look back, winning the feature race by over 7 seconds over 2nd place driver.
In 4wd buggy mod qualifying I would struggle with to much traction and only put down ok qualifiers putting me in the 3rd spit for the A-main feature.
In the 4wd buggy feature I would fall back in 4th place and slowly reel in the front drivers making the pass into 3rd place with less than 1 minute left and At race place 3rd overall.
Overall happy with my performance. Thanks to NWA Raceway for putting in an awesome event and awesome layout.
And thanks to my awesome sponsor Pro-Line Racing for all they do to help keep me on top.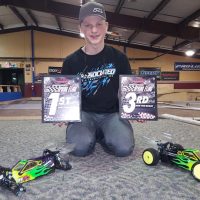 Race-NWA R/C Raceway Spring Fling big race (Rogers Arkansas)
Classes-2wd buggy mod & 4wd buggy mod
Tires used-2wd Pro-Line Prism rear z3, Pro-Line Wedge Squared z4 fronts
4wd Pro-Line Prism rear z3, Pro-Line Prism z3 fronts
Place finish-1st place mod 2wd buggy
3rd place mod 4wd buggy
– Avery Widzinski