2018 Roar Regionals at Thornhill this year, with cold weather, and alot of rain in the forecast, but Thornhill being covered, we were on for racing.
In Expert E-buggy, with everyone so close in times, qualifying would be crucial. In Q1, i decided to run Fugitive Lite M3 tires, which were good, but mistakes proved costly, i would end up 4th for the round. In Q2, i decided to gamble on tire choice, and went with Holeshot M3, which were better, i would battle with Proline teammate Tyler Hooks in this round, but end up 4 seconds behind with 2nd overall that round. In Q3, made no changes in tire choice, and would put in faster lap times, but another late mistake, would cost me, and i got 3rd for the round, putting me 3rd overall on the grid Behind teammate TQ Tyler Hooks, HAgen Gray, and ahead of teammate Rocco Margiotta in 4th.
In A1, still running my best tire, Holeshot M3, i got off to a good start, made an early pass on Hagen for 2nd, he would battle with Rocco, letting me get away, i finished 2nd for that main, 6 seconds clear of 3rd place Hagen Gray.
In A2, the last race of the day, and coldest. i stuck with Holeshot M3 i got off to a rough start but was able to hold off teammate rocco at the start, under alot of pressure, i eventually made a mistake, and dropped to 4th. then Rocco and Hagen got together, i was able to make the pass for 2nd and hold position, as rocco and hagen battled for the 3rd place spot.
In the end i finished 2nd behind TQ and winner teammate Tyler Hooks, and Pro-Line teammate Rocco would finish 3rd in a tiebreak over Hagen.
Ebuggy Podium
1st – Tyler Hooks – Tekno / Proline
2nd – Daniel Grobe – RCA/Xray / Proline
3rd – Rocco Margiotta – AE / Proline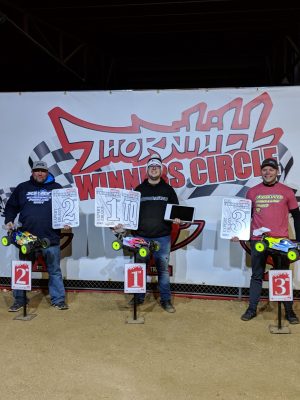 Holeshot M3
Fugitive Lite M3
Proline Fuel Stick
Lexan Trifecta Wing
Proline Pit Mat