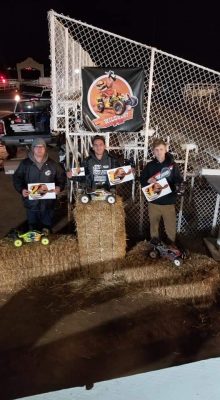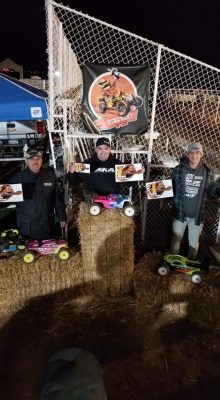 This past weekend I raced at the Grand Opening of Wild West RC Track in Winchester,CA. The track was awesome! I decided to run expert class in my nitro buggy, to try and push myself. I TQ'd the first qualifier. Second qualifier, I placed 2nd. Made a few small mistakes, but always got right back on it. Started 1st in A Main. Build up my pace, found my groove and got in the zone. I was flying!!! Finished with the Win….held onto the TQ. I was beyond stoked!
Used : Predator Body & S3 Switchblade Tires
I also raced my truggy for the first time in open class. Wasn't sure how this would go, since I don't know really how it drives. Haven't worked out the kinks yet, but decided to go for it. First qualifier, I finished 2nd. Second qualifier, finished 2nd again. Started 2nd in A Main. Made some mistakes, but in the end…..I finished 3rd! My first race with this truggy…..I'll take it!
Overall a great race day!!! Two podiums…..1st in expert buggy….3rd in open truggy….I was stoked!
Used : S3 Blockade Tires
David Carrasco Jr.
#Proline #HB #Reds #Sanwa #Flashpoint #J&TBearings #AlterEyewear