This past week was the Dirt Nitro Challenge Race, this year it was held a new venue in California at the Southern California Fair Grounds. There was a tremendous amount of rain in the week/s leading up to the race and Joey and the Dirt crew did a good job of getting the track built and ready for the race even with the bad weather.
The weather during the race started out less than ideal, but progressively got better and was tolerable on Saturday and Sunday for the mains. Temperatures during qualifying played a huge role on setup, the rapidly changing temps caught us off guard more than once. The temperatures reach from 4 to 22 degrees Celsius and with the wind it made it even worse, I can't remember how many times we changed the shock fluid trying to keep up.
There were 2 seeding rounds for E-buggy and truck, I seeded 2nd in truck and 4th in ebuggy, nitro buggy only had 1 seeding round due to the rain, and like many other drivers I ended up breaking my car in that 1 round trying to push my car too hard and would end up seeding in the D qualifier, I don't think I have seen so many broken cars at a race as I did this weekend.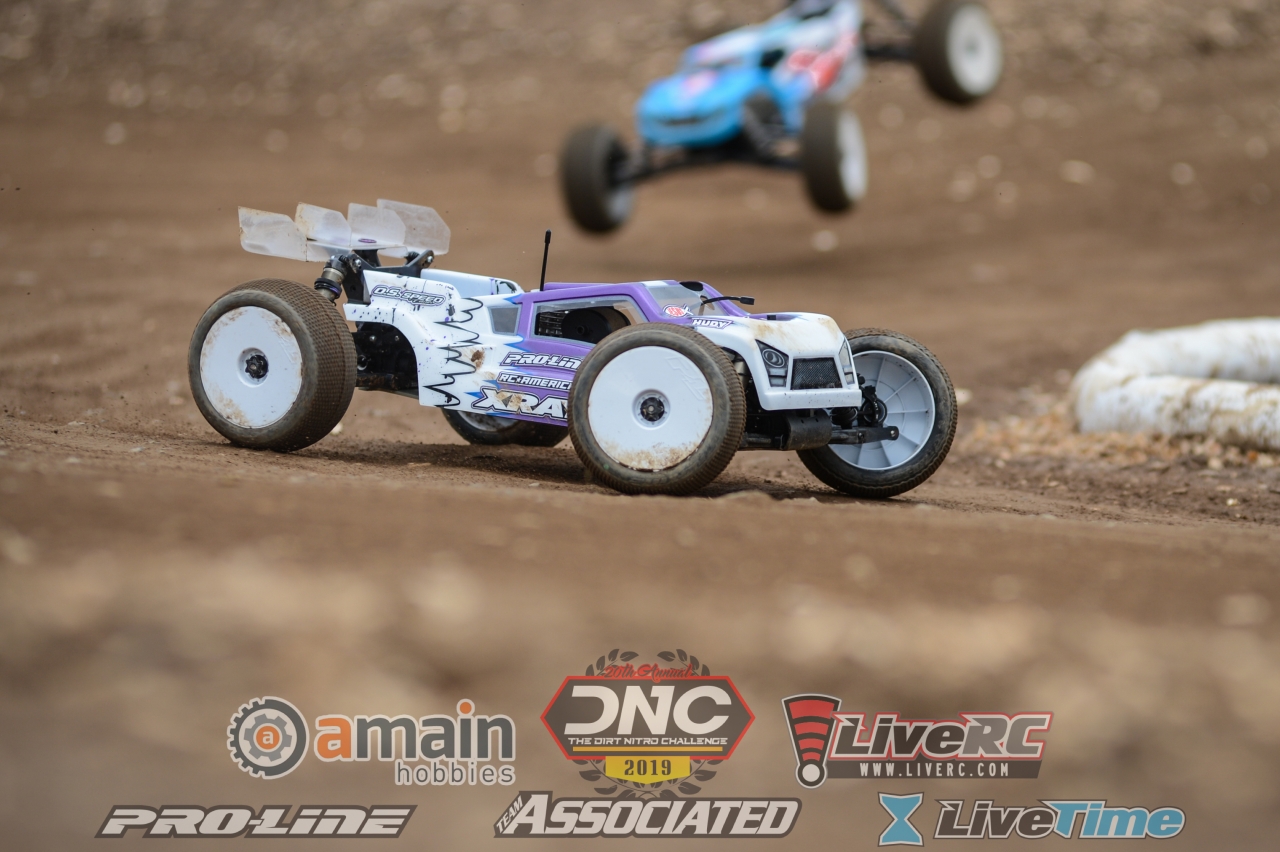 I knew that seeding in the D would be either very bad or very good. I wouldn't know how fast I would need to go to be competitive with the top guys and I also knew that I would have to get by more cars than I would have in the A heat. Thankfully most of the drivers were very kind to me and gave me room when I caught them, I ended up with a 4th and a 6th which would give me 6th overall.
In E-buggy I was able to qualify 2nd overall with a TQ and a 3rd, and in truck I was able to take a 2nd in the first round and a TQ in the second round and was set to take the TQ in the 3rd round when a back marker decided to race me over the triple which cost me the TQ, frustrated I made it even worse, so I would start 2nd on the grid in both E-buggy and truck.
In both E-buggy and nitro truck I was only able to finish 4th in the mains and without a doubt it was my setup choice, as the temperature would drop much more than expected and the track got much rougher, I should have definitely done better as both my cars felt really good in qualifying.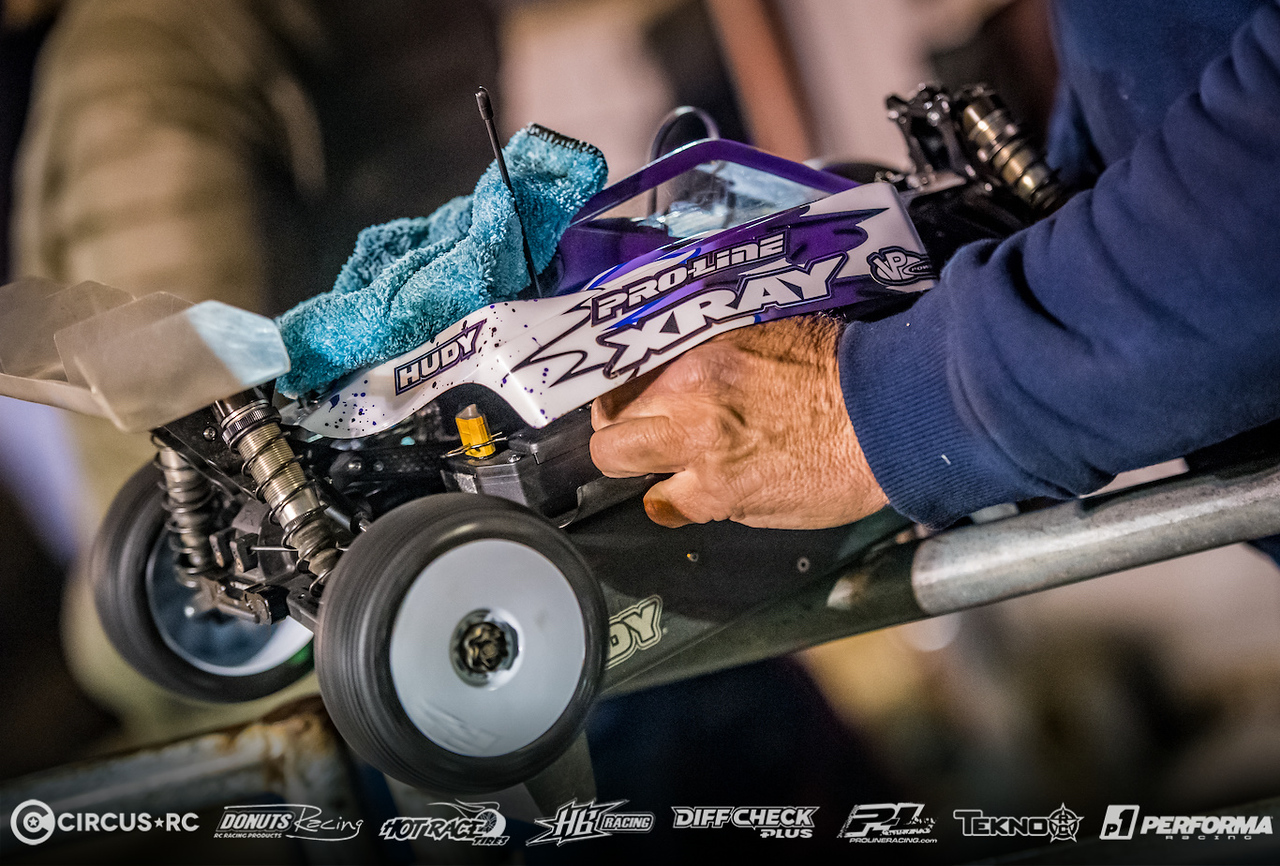 I was determined to not make the same mistakes in nitro buggy on Sunday, and would keep a closer eye on the weather and the track conditions. I felt that my car was really good in warm up in the middle of the day, I knew I would make some adjustments for the main that evening and I felt confident even though I would be starting 6th on the grid. As most of you know by now my Dad was very sick on Sunday and my Mom had been sick earlier in the weekend, so we asked Daniel Adams to help my Mom pit as my Dad didn't feel that he was thinking clearly enough to make quick decisions during the main if needed. I ended up wearing a headset with Daniel wearing the other set so that I could communicate with him in case there was anything I needed to have changed or done as we went along as he wasn't completely familiar with our pitting process. Before the mains started I was getting a headache and a slight cough so my Mom gave me an Excedrin just before we started. In the warm up at the start of the race my car felt awesome, the start was a bit of a gong show as can be expected with a track so rough and fast, everyone was just trying to stay in the hunt. As the race wore on I felt that I was losing touch with the feel of the car a bit and having trouble focusing. I'm not trying to make excuses, but I believe it was the Excedrin that I had taken as I don't take medication very often and I think it affected me more that I would have liked. It is a mistake I won't make again. The best I was able to finish the race was a 4th place, and I really feel that I should have been able to do better.
All in all it was a very tough week with the long days and the cold weather. Congratulations to David Ronnefalk in E-buggy and to Ryan Maifield for winning both nitro truck and buggy, they both did an amazing job on some very tough conditions.
I want to thank my sponsors for giving me the opportunity to race with amazing products, Xray, RC America, Pro-Line, OS Engines, Hobbywing, MKS, VP Fuel, A Main Hobbies, Protek RC, Hudy, Lunsford, Avid, StickIt 1, Darkside Designs, OCRC, 110% Racing, Live RC, Red RC.
Thanks to Daniel for helping my Mom pit, and thanks to the whole Xray team for working well together.
Thanks to my family for always being there for me and supporting me, and most importantly I want to thank my my Lord and savior Jesus Christ, I wouldn't be here without him.