10-6-2018 2018 SoCal U4RC Winter Series Round 4 at Apple Valley U4RC Raceway. With 40 total entries.
Getting to the track the morning temperature was cool with a slight breeze. After setting up I decided to take a walk on the track. I noticed Gerald Tobin (Jerry) has been busy making some cool changes. Track is a little narrow in a few turns and the new rock garden looks tight with hidden pinnacle rocks that will hang you up. Few new lanes with one section that has boulders your going to have to zig zag through. All the jumps are small and pointed looking. Looks like it's going to be a tuff track. Dirt is mostly small BB pebbles so traction is always tuff on this track.
Pro-Line Racing Hyrax Tires and Closed Cell Foam Inserts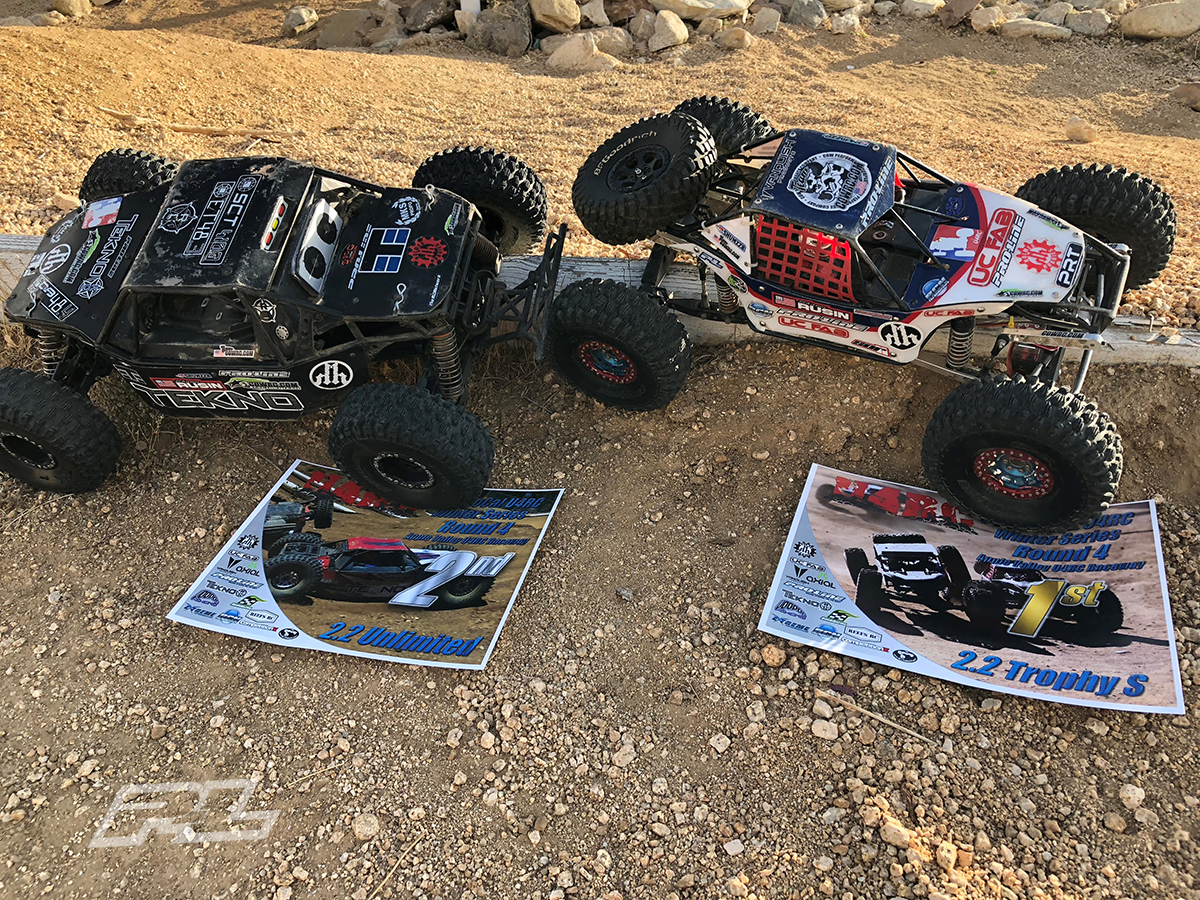 1.9 Trail was tuff the TRX4 was too heavy due to the battery pack I ran. This caused me to take the turns slow to not roll over. The jumps I would have to take easy and try not to get to much air, the rock sections were tuff enough on the truck. Q1 & Q2 took 3rd and Main I took 4th.
2.2 Trophy we only ran one qualifying round. This class is small but still the cars are a blast to drive. The UCFab (Ultra Custom Fab) PRTHD is heavy and has a totally different feel to it then any of my other rock racers. It will roll over if you go to fast in the turns. When coming into a turn you need to use the berm if you can and if the car is in a off camber section you have to take it easy. Jumps at Apple Valley are small but I still roll over most and if I did jump I tried to land flat. Rock gardens with the PRT and the Holmes Hobbies Puller Pro R 540L 4100kv on 3S has lots of power to get through the garden. Pulled 1st in qualifying round and a TQ 1st in Main.
2.2 Unlimited the TeknoRC DB48 felt good. I had a great time racing this class. I was concerned a little about how narrow some of the turns were for this car but to my surprise it did very well with the right line picked out. If you got off that line your likely to get off the track. Everyone is fast in this class as well as all the classes but because this is one of the fastest classes in the rocks it can get tense. I had the pole for the main but first turn that goes up hill into a small rock section I pooched it, flipped and got turned over just in time to now be at the back of the pack. From the qualifying rounds I had a few lines picked out that I did my best to stick to in the rock gardens and in the lane with big boulders. I liked that section it was not fast you had to keep it clean and not hit the rock or risk stopping or tipping on your side. The jumps are so tempting but most are a risk due to placement. Jump to far and your off the track of in the wrong lane. I did fine one section I could get some good air and makeup a little time depending on landing. Had a few tuff battles but I just tried to keep it clean I know I drove over one TLR out there so it did get ruff in a few spots. Once I was back up front with Jesse Villa we just went at it till the end what a great time. Was glad to have my Pro-Line Teammate Chris Monroe Pickering up on podium with me with his Tekno RC DB48 taking 3rd.
Q1 and Q2 I pulled a 1st and Main I got TQ with 2nd the DB48 did great. All cars run Holmes Hobbies power with MKS Servos. All cars are running Pro-Line Racing Hyrax tires and foams. CowRC keeps me Moo Kleen and running smooth with CowRC udder butter.
Special thanks to U4RC Brian Jones and Apple Valley U4RC Gerald Tobin (Jerry) 🤙🏁
#teamteknorc #teamprolinercing
#teammksusa
#cowrcfactoryteam
#teamholmeshobbies #sorgraphics
#skgrcpainting
#socalu4rc
#u4rc