2018 ROAR Super Regionals! Yesterday I went to G's R/C Raceway for the ROAR Super Regionals which was a regional championship for regions 1,2,3 & 5 so it was a really big championship event. Me and my bro Taylor Cooksey would roll up Saturday morning to get setup early for the long day of racing.
"For the Main I decided to go out on Pro-Line M3 Fugitive Lites…"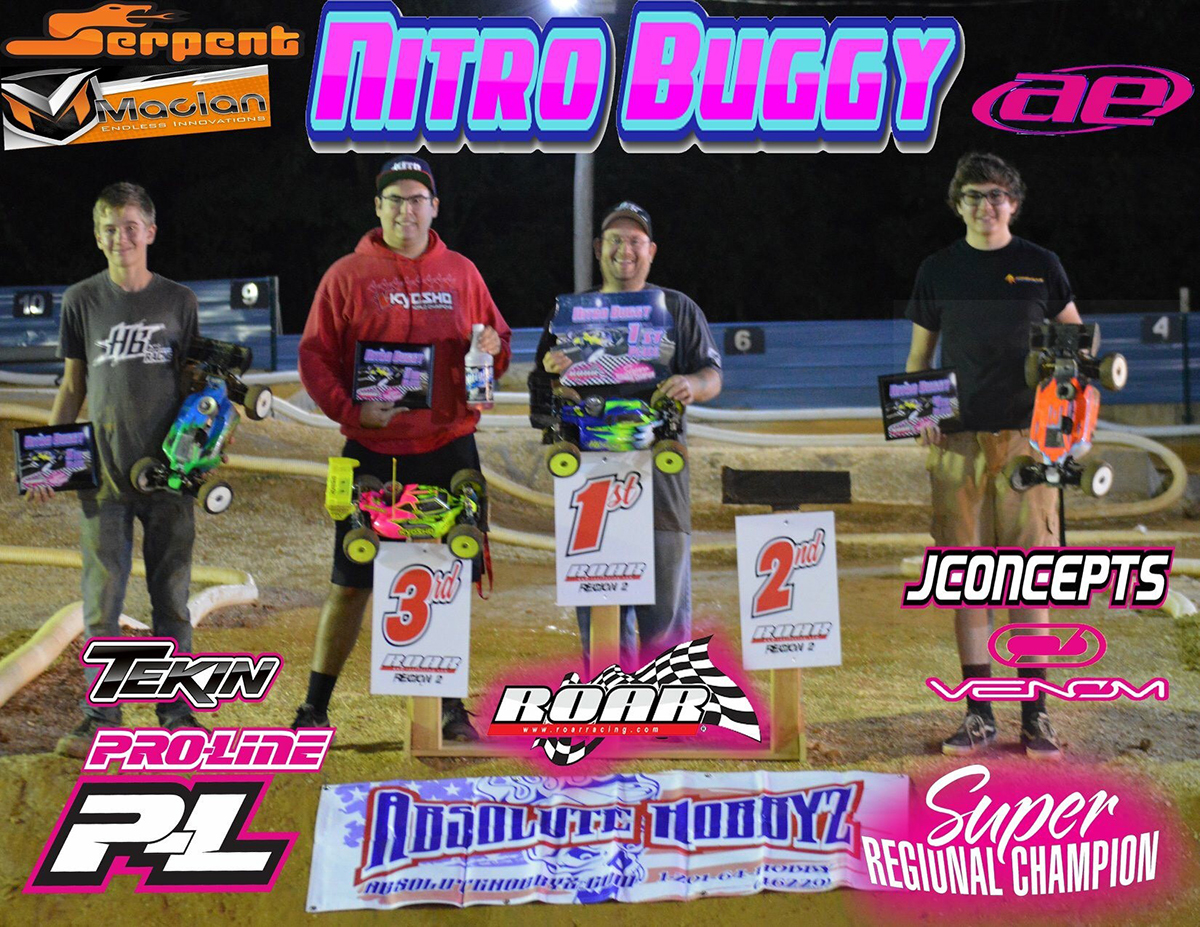 Qualifiers where a little up and down as I had an unfortunate dnf in Rd 1 but had strong runs in Rd's 2 and 3 after making some changes to my Kyosho MP9 TKI 4 to start 4th in the 30 Min A-Main. For the Main I decided to go out on Pro-Line M3 Fugitive Lites and they where the ticket! Started off the main good got around some pile ups and from the start I would get into 2nd and have the first half of the race battling with Anthony for 2nd, around a little past half way through the race I had stepped a comfortable gap to 2nd with me just driving and putting in clean laps. On my last pit stop I noticed a screw came lose on my wing mount and caused the wing to swing around freely so it was messing up the way the car was jumping a little bit. I continued to drive hard and clean until I made a small mistake letting Anthony get by on the 2nd to last lap and it was an all out race to the line, with attempts of air passes and hard clean racing finishing not even a car length behind, literally crossing the line on his rear wing on the last corner haha. It was a hell of a battle to the line and although I really had 2nd locked driving mistake and unfortunate screw backing out played a factor. But I never gave up and came out with a podium, I'm still super happy with finishing top 3 at a really big regional championship race knowing that I gave it my all. My MP9 TKI 4 drove amazing, everything worked great. my REDS WRX came back in after the 30-min main with a perfect idle and gave me no problems. Program was dialed!
Kyosho America
REDS Racing USA
Pro-Line
Sanwa
MKS Servos USA
NitroPro Fuel
FDJ Motorsports
JTP
MIP
PT Oils
A1 Graffix
92Zero Designs
–Enzo Albertoni