This weekend I attended the first ever Texas Two Step. It was setup like the Pro-Line Duel race in California. The scoring would be combining your results from Saturday and Sunday to make a overall. We would be racing at Gulf Coast Raceway at Mikes Hobby Shop in Porter, Texas and Thornhill Racing Circuit in Hutto, Texas. They are about 3-hours apart from each other. Friday you were able to practice at either track. I choose to practice at Gulf coast as that's where we would be racing Saturday.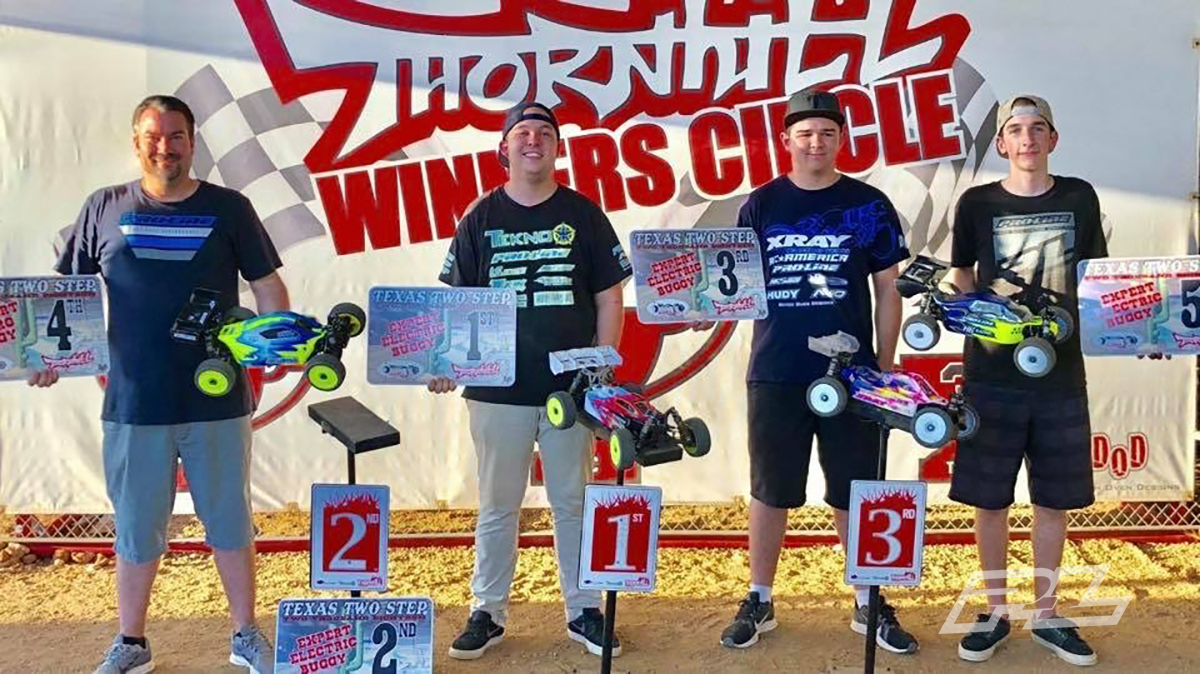 Friday my Buggies would be setup very well from the start as I was able to go down a few weeks before with teammate ( Daniel Grobe ) for testing. I used practice to learn what Pro-Line Tires to use at what time of day as the track is very picky on compound and work on staying calm and nice clean lines. Saturday I was able to take second in the first round of Nitro Buggy and E-Buggy. In the 2nd round I would make a few mistakes and fall down to 4th in both. They would decide that we would only be doing two rounds so people had time to travel either home or to Hutto for the next day. In the first E-Buggy main I would have a horrible start as I got hit from behind but was able to make my way back to 5th at the end. Up next was the Nitro main. I again would have a rough start and fall back but by about the half way point I had made my way to second. After a few mistakes myself and some rough driving by others I would finish 3rd. In the 2nd E-Buggy Main I made a few mistakes and finished 5th in that one also but 4th overall.
Sunday was up and at my home track Thornhill!

In the first round I would end up 3rd in E-Buggy after a few mistakes and having to be marshaled. In nitro I was able to take TQ by 5 secs. In the second round i would have mistakes not improving my times. I would also loose nitro TQ by 0.213 of a sec. In the 3rd round I was able to improve my runs and move up to 3rd in E-Buggy and retake the Nitro Buggy TQ by 0.596 of a sec. I knew going into the mains it would be really close.
In the first E-Buggy Main I would have a rough start crashing in the whoop section and falling way back. I would be able to make my way back to 3rd at the end. In the Nitro main I would lead most of the race. I would make one mistake in a no marshal area and loose the lead. I was able to catch back up but ran out of time and finished 2nd. With the my 3rd in Porter and 2nd in Hutto they would be enough for the overall win in the Nitro buggy class for the weekend. In the second E-Buggy Main I would get a good start and finish 2nd. With that I would tie for 2nd overall but loosing the tie break after combining your best 1 main from each day I would end up 3rd overall.
Overall it was a very successful weekend! Winning the Nitro Buggy class and 3rd in E-Buggy made the weekend great!
Thanks For Everything!
Ethan
Pro-Line 1,2,3,5