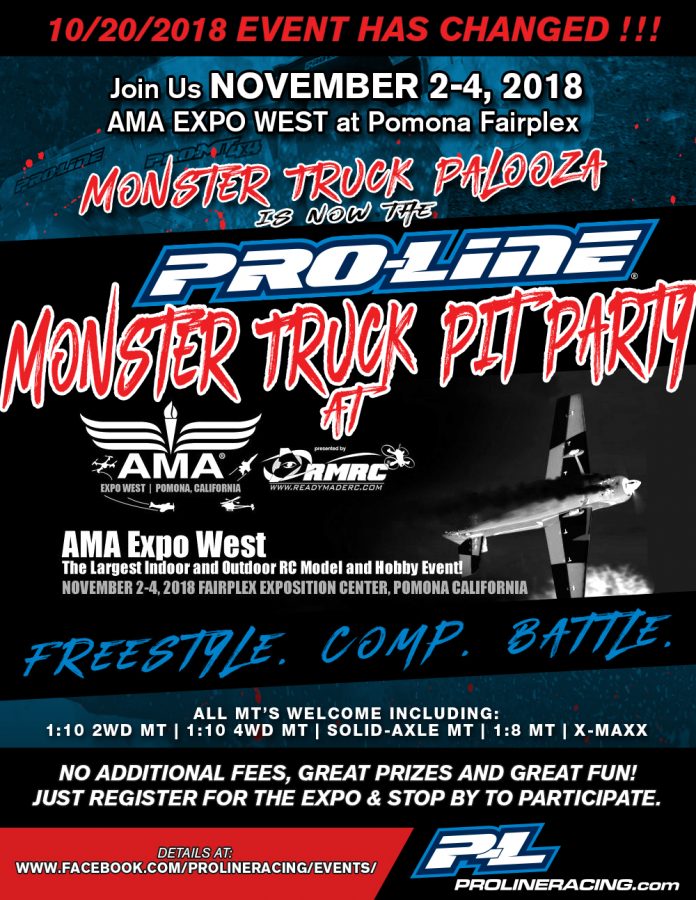 BIG Update to our event… It is moving Time and Location in order to bring you an even better event!
Pro-Line Monster Truck Palooza is now the Pro-Line Monster Pit Party at the AMA Expo West being held Nov, 2-4, 2018 at the Pomona Fairplex!
We hope you are as excited as we are about this awesome Monster Truck Party ath the AMA Expo West
Including FREESTYLE, RACE , and Head-To Head BATTLE!
Price to get in the expo is $17/day or $15 for AMA members, but there is no additional Charge for the Pro-Line Monster Truck Pit Party!
We will have a great spot for you. Just come by, hang out and drive Your Monster Truck!
Plus show us your best MT driving for a chance to win one of the $1,000 in Prizes we will be giving away!
Get Your Tickets here: https://www.etix.com/ticket/v/13635/pomona-fairplex to save some money on the "At The Door" Price. We look forward to seeing you there!
To follow all updates for this event, please visit our Facebook Event Page: www.facebook.com/events/231854257489667