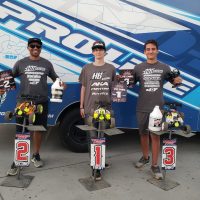 Last weekend I raced the 2-day race….The Dual. Saturday we raced at Thunder Alley in Beaumont, and Sunday at Pro-Line Racing in Banning. Two great tracks! Long, but productive weekend. Six head to head races, between the two days.
"I used Predator Body and Hole Shot X3's all weekend."
Saturday, I started out a bit rough….taking 4th in first main, due to a mistake I made. But the 2nd and 3rd mains got better….I finished in 2nd and 1st. Once I found my groove, I was good. Had some good battles out there on Saturday.
Then Sunday had Pro-Line….different track….same consistency. I got hung up making a few errors throughout the day….but was always doing some good battles. I fought hard through the end of the race day. Consistency paid off….I finished 3rd overall! Great race day….great tracks! #Proline #HB #Sanwa #Reds #NitroProFuel #J&TBearings
I used Predator Body and Holeshot X3's all weekend.
Until next time…….
-David Carrasco Jr.