This was the grand opening of the 1:8 track, with about 78 entries competition is going to be tuff. Lots of familiar faces that I know are fast.
I decided to race the Tekno RC #eb48 in 1:8 E-Buggy and the Tekno RC DB48 in 1:8 E-Truggy.
Q1 with the EB48 taking 3rd and Q2 taking 1st gave 5th position in the A-Main.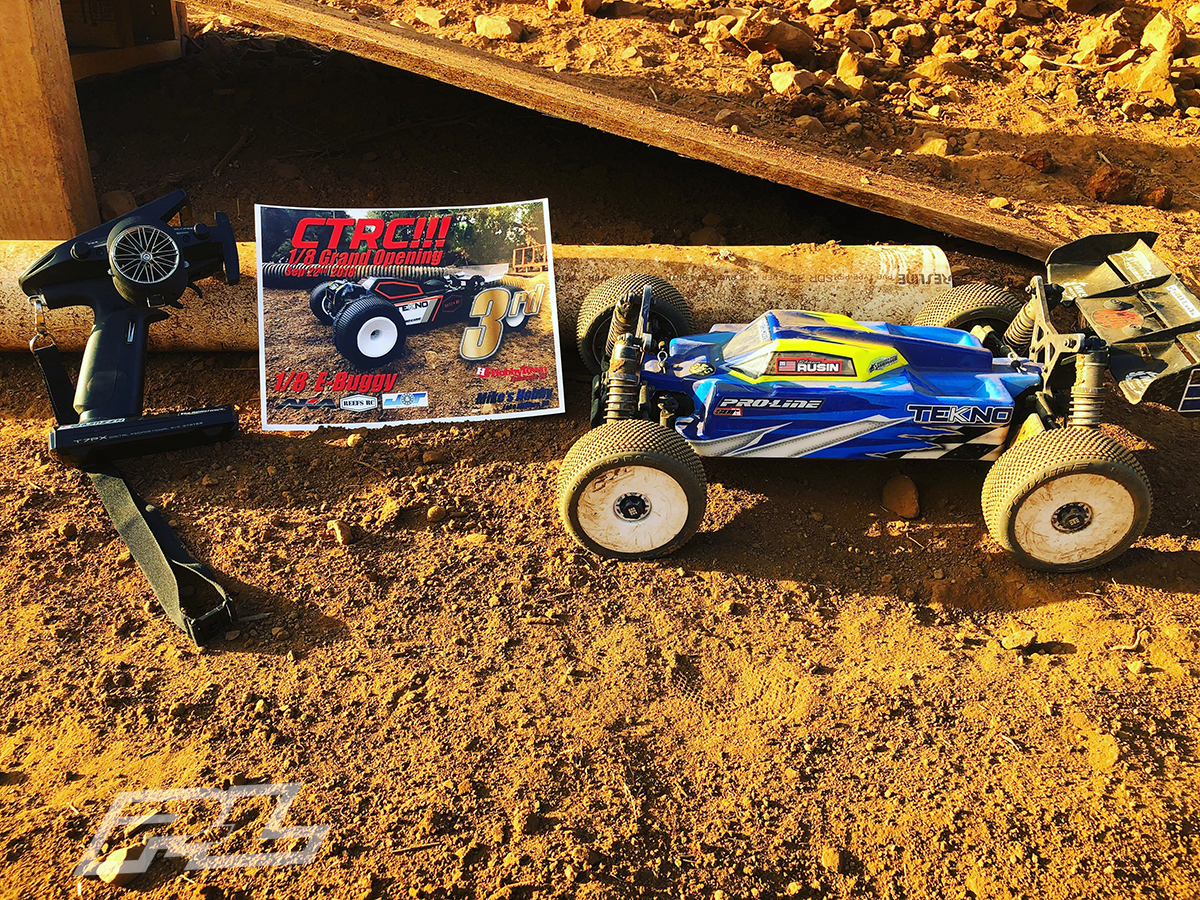 For E-truggy it's tuff racing with 2.2 tires and short track width SCT410 a-arms vs a true Truggy. I could hold em off in the straight sections and jumps, but when I would come into a turn I would definitely have to slow down more so not to roll over. I did a few times making it tuff to keep up with the faster drivers. I still managed to get some good times because in Q2 I broke a axel and was out first lap. I still got 3rd in Q1 so this did fix me a spot in the A-main in 6th position. I was worried I was going to be pushed to the C main on that one. Guess Q1 was fast enough. Now it was time to clean up the cars with the MOO from CowRC and get a chance to relax have a hamburger and some drink. It was very hot out. So I was glad I did not have to race any C or B mains. I did however help pit in 1/8 Nitro Buggy for my buddy Kenny and his TLR. Car looked good out there but he had some troubles with steering there at the end. Better luck next time buddy. Car did look good suspension setup was on point. The track was super bumpy, some nasty ruts and rocks out there. Being it's on a hill your racing up hill then down a few times, so coming in fast going down hill you would have to be very hard on the breaks. Once you go through the turn it's a drag race up hill with slight jumps to keep you on your toes. Only one huge jump at the end that really you want to roll over. But boy when you have someone on you, you can't help but to #sendit and hope you land flat as possible.
Watching the C and B-Mains was fun to cheer your friends on and hope they get the bump so you get to race with them.
A-main 1/8 e-truggy I did manage to fix up the DB48 and make the A-Main. Race was very tuff the pack pulled from me fast. I had a few roll overs and at one point jumped off the track on the 1st tabletop into the ditch. This ate up some time and lost a few positions. Had to dig from the back to get 5th over all.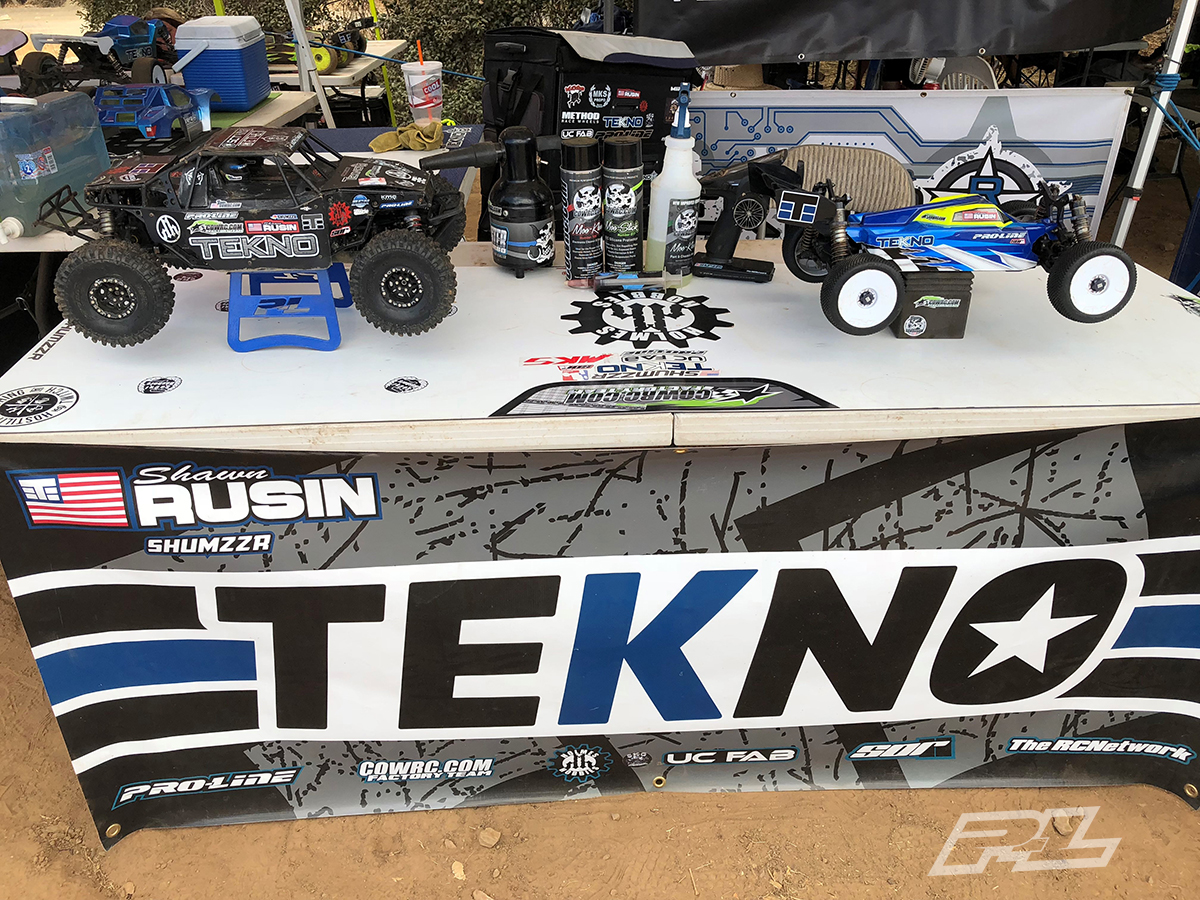 Naturally I want to win but let's be real. The DB48 might be made from parts of a Truggy but it's no Truggy it's a rock racer. So I felt that the truck did awesome even with a broken axel. This rig see's more RC action that any of my other cars and most of it is in the rocks. Running gear new Holmes Hobbies HLM-SS4274 2100kv on 4S was fast plenty of power. Ran a 46T spur and 16T pinion. MKS HBL599 servo Tekin RX8 Esc.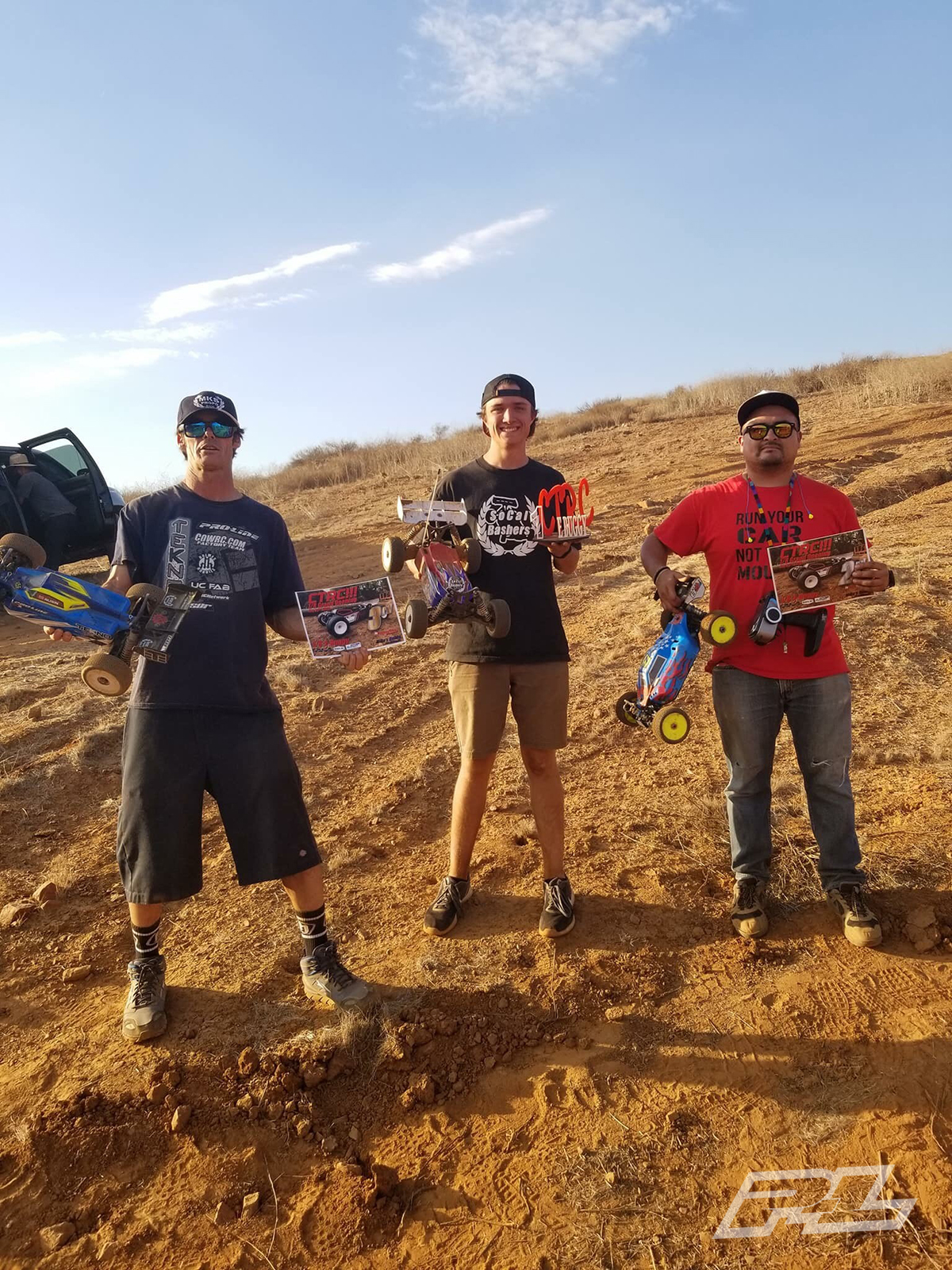 A-Main E-Buggy, I'm super excited to run this car right now. Same as the DB48, new Holmes HLM-SS4274 1900kv on 4S, the new MKS HBL550 servo, fresh paint from SKG RC painting and Fresh Diamond Back Pro-Line Racing Racing Tires. Ready to race!!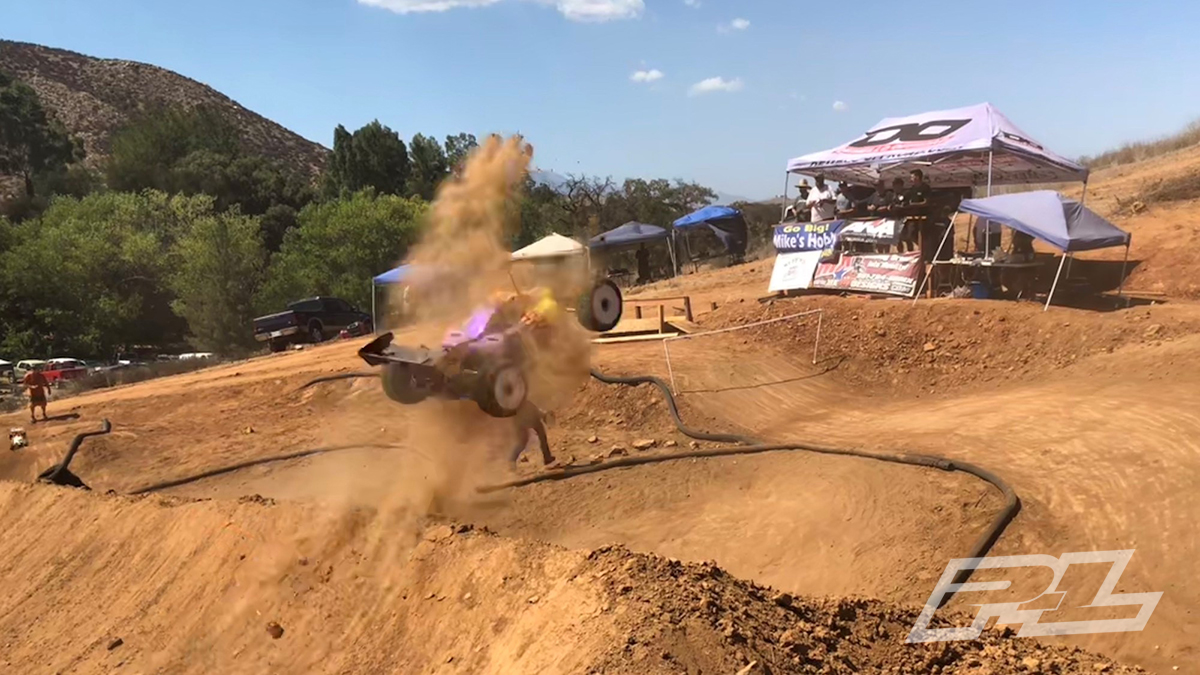 At the tone, "boooop!" I was gone!!! I got out front quick as was able to hold 1st for a bit but I see my buddy from C-Main Richard Vasquez coming in hot and hungry. I got loos a few time and just could not hold him off I had to let him by not to over drive the car and make a costly mistake. Few more laps and here comes my other buddy Cory Lesovsky, he to hungry for the number 1 spot and one of our top drivers here in the neighborhood. I just held my line and he had his, we managed to trade positions a few times but he got the better end and I now was in 3rd. As the race was getting towards the end I can feel 4th nipping at my heals. Oh no, lol I definitely was pushing now to hold a podium finish. That was a tuff race. Track was very worked over being this was the last race of the day. Ruts, rocks, pot holes, loose sections, some dry some wet, made my setup tuff to drive. What a blast but I'm wiped out after all that. The Pressure was definitely on today.
Great work to all podium drivers. Special thanks to the CTRC, Cody Thompson and family.
#teamteknorc
#teamprolinercing
#teammksusa
#cowrcfactoryteam
#teamholmeshobbies
#sorgraphics
#skgrcpainting
-Shawn Rusin