The 2018 Wicked Weekend was definitely one of my most memorable RC weekends. The lead up to the weekend was very unusual. After wrapping up summer school, I only had a couple days to rebuild all my RC vehicles and pack all my gear so it would be ready for Wicked Weekend before flying to Colorado to celebrate my 10-year wedding anniversary for a week.
Race Classes & Results:
4WD SCT – 21 Entries, Qualified–7th/ Finished–2nd
E-Truggy (XT8e) – 50 Entries, Qualified–18th/ Finished–10th
Open E-Buggy (XB8e '18)– 51 Entries, Qualified–29th/ Finished–17th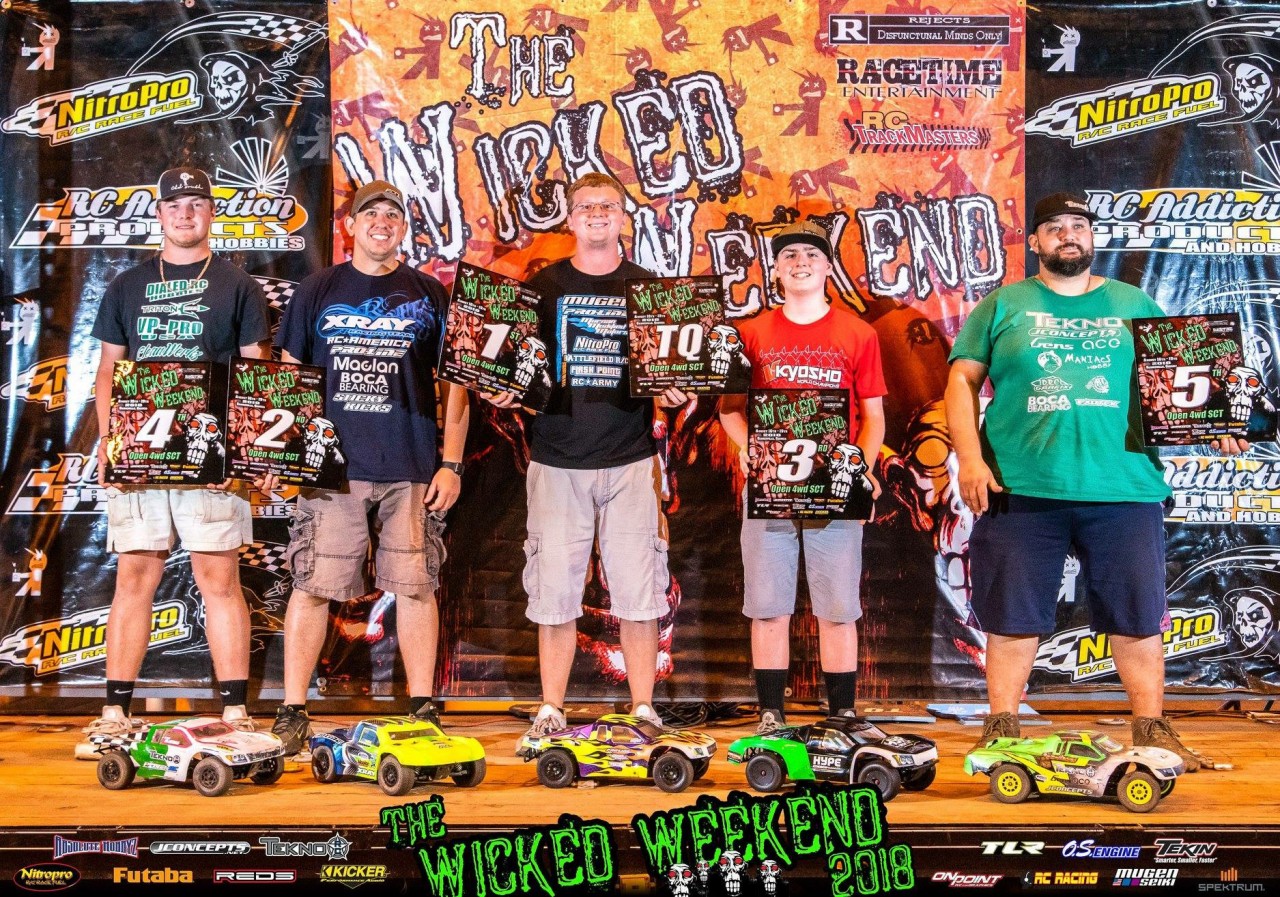 Personally, I thought the idea of flying back to North Carolina, immediately grabbing my RC gear and trailer and heading straight to Georgia was a bad idea. However, Miranda convinced me it was a good plan and that she really wanted to attend Wicked Weekend as it is her favorite race. So, once it was decided we would be attending Wicked Weekend for the fourth straight year, we started working together to make sure everything was organized, rebuilt and ready for a full weekend of racing.
Due to our unusual schedule, we arrived in Gainesville, GA at 5:40am Friday morning. This made things extremely difficult as I scrambled to set up our trailer and log as much practice time as possible before the first round of qualifiers later that day with no sleep.
I felt things went ok but the lack of sleep contributed to sub-par results on the first day. I thought I was putting down decent runs that were fairly smooth as I attempted to avoid major wrecks that would cost me a lot of time. However, my pace was nowhere close to where it needed to be and I confused being smooth with being flat out slow. When I walked off the driver stand after my final run in the first round of qualifiers, I was eager to finally get some sleep. I knew my run was poor but even Miranda commented how poor of a run it was and told me I was capable of a lot more. It was kind of a slap in the face at the time because I was extremely exhausted and just wanted to head back to the trailer and sleep but she was telling the truth as I showed very poorly in the first round of qualifiers.
After a decent night of sleep things began to steadily improve on the second day and with each round of qualifying I was able to improve my qualifying position.
In Open E-Buggy, I ended up qualifying 29thwhich placed me into the C-Main though I had my strongest run in the final round of qualifying as I cracked the top 20. I am terrible at bumping out of mains but I didn't want my E-Buggy to end so early in the weekend. I had made some changes which I really felt helped the handling of my XB8e. I reduced the weight of my buggy by installing the Pro-Line Trifecta lexan wing and using the new Maclan LCG 5200 4s battery. I also glued up a pair of the new Pro-Line Slidelock tires. These three changes improved the handling of my buggy and helped me take the win in the C-Main. I made a huge charge in the B-Main and had one of my best E-buggy races ever. I came up a tad short finishing 4thand missing the bump up by one spot. The racer who finished 3rdin the B-Main eventually went on to claim 4thoverall after the double A-Mains of open electric buggy. So, I was extremely happy with my buggy and the final day of racing, I missed my goal of making the double A-Mains but I came really close and will keep on pushing. Maybe 2019, will be the year I finally make the A-Main but I was still happy with the way I raced in the mains and hope I can continue improving.
In E-Truggy, my XT8e felt great the entire weekend. I was able to put down some strong runs in rounds 2 and 3 of qualifying. I found myself near the front of the grid in the B-Main group and was able to capitalize on a clean start and bump my way into the double A-Mains. From that point on the rest was icing on the cake, I was happy for the extra track time and enjoyed the opportunity to continue turning laps with my truggy. I had a pair of top ten finishes (9th and 8th) in both A-Mains and after the points were all tallied, I found myself 10thoverall. So once again, there were no complaints and I believe I had a solid showing. I was happy that my A-Main appearance at Psycho Nitro Blast wasn't a fluke and that I was able to back it up with an A-Main appearance at Wicked Weekend. I know I have to continue improving if I hope to earn extra track time in the future. It is amazing how close the racing is at these huge events so I want to improve my overall knowledge of my truggy as well as what adjustments I need to make at the different tracks and as always, I need to improve my lines and find areas where I can shave off time and gain efficiencies in my racing.
The 4wd SCT class probably had the most pressure, I finished 5thoverall in 2017 and didn't want to have a huge letdown or step backwards. Things got off to a rocky start when my ESC died in the final round of practice. The next day or so was an adventure as I attempted to sort out my electronics and find the best combo. I ended up running three different ESCs and two different motors as I struggled with the throttle and braking of the back-up ESC I had on-hand. My main focus was just securing a spot in the double A-Mains so I had two lackluster qualifying rounds where I finished 8thand 7th. With my spot in the Double A-Mains secured, I decided to try something new in the third and final qualifying round. I borrowed the electronics out of my son's short course which was an ESC and motor combo I ran a few years ago. Things started to turn around at that point as I gained more confidence in my truck, I raced to a 4thplace finish in the final round of qualifying. In the first A-Main, I charged up the grid to finish 4thagain though it wasn't my best run and I wasn't extremely pleased with my driving or my consistency. In the second A-Main, I wanted to leave the driver stand and track with a run that was strong regardless of where I finished. I focused on racing smooth and tightening up my lines, this seemed to help as I found myself in 2ndplace for a significant portion of the race. With about a minute left in the race, the leader's truck shut down and I was gifted 1stplace. I was able to hold on to that position and ended up winning the second A-Main, I lost the tiebreaker for 1stbut I was very happy to claim 2ndoverall. I couldn't have asked for a better finish and was just happy to finish on the podium let alone to come in 2ndoverall. I used Pro-Line M3 and M4 Holeshots throughout the weekend but in the mains, I went with the M3 compound as the temperature had increased and the rain had tapered off.
In the end, Miranda's decision to attend Wicked Weekend this year was the right one. We both had a lot of fun and were able to spend time together before heading back to the real world.
As always, I would like to express my gratitude to the following companies for allowing me to be a part of their team: XRAY, RC America, Hudy, Pro-Line, Maclan, Boca Bearings, Sticky Kicks, Stickit1 Racing, Xpert, and World of RC Parts in Wilson, NC.
Sponsored Products Used –
Chassis
XRAY XB8e '18 and XRAY XT8e
Electronics
Maclan MR4 4150kv and MR8 1950kv motors, Xpert SI-4431 and GS-6401 Servos
Tires
Pro-Line Holeshots (M3 & M4), Buckshots (M3 & X3) and Slidelocks (M3)
Bearings
Boca Bearings Green Seals
Bodies & Wings
Pro-Line Fusion Short Course body, Pro-Line Lexan Trifecta Wing
Apparel and Decals
Stickit1Racing
Traction Compound
Sticky Kicks Purple Tire Sauce
-Kevin Thomas