Check Out All of our Latest Releases on our What's New Page
Pre-Cut Brute Bash Armor Body (White)
For X-MAXX®
#3513-17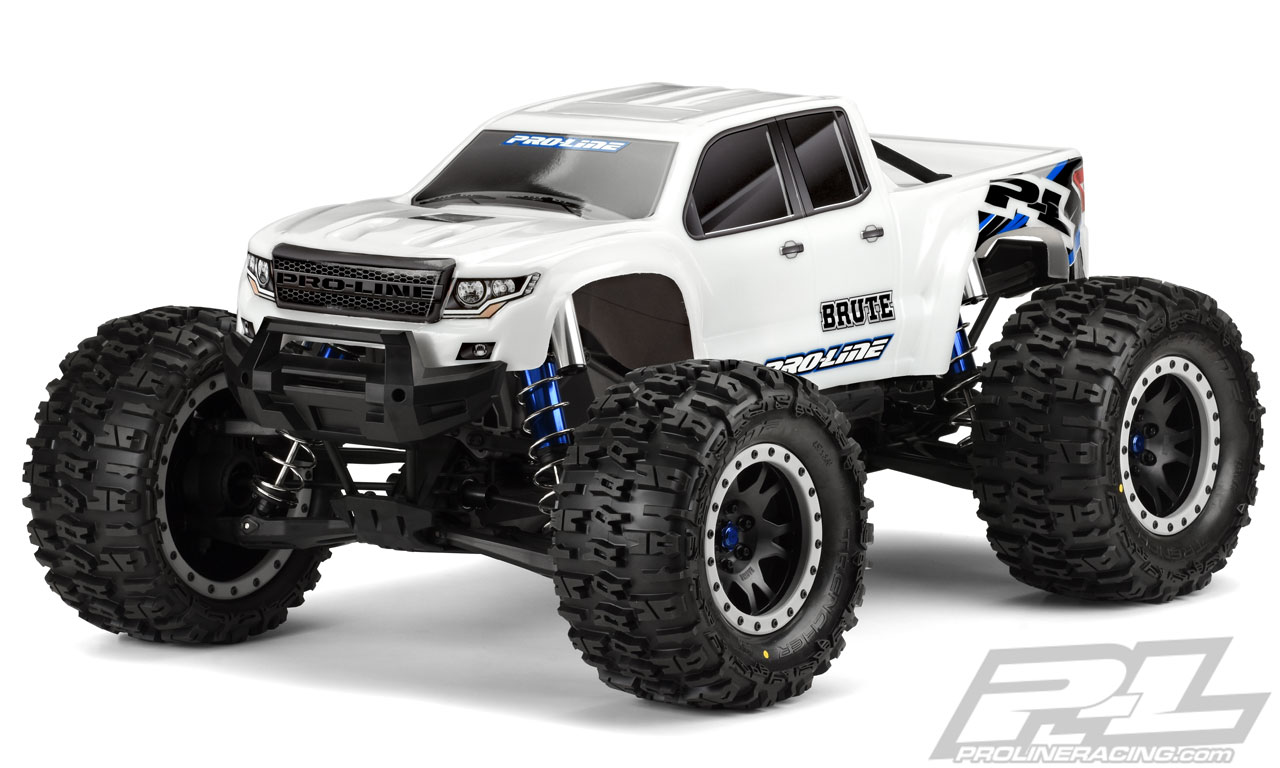 This is a Pre-Cut Brute Bash Armor White Body for X-MAXX®. Pro-Line has developed the Ultimate Bash body for your X-MAXX® – the pre-cut Brute body featuring Pro-Line's all-new Bash Armor material! If you are like us, you want a dependable high strength body you can count on for your X-MAXX®. The Brute Bash Armor White Body has been developed from the ground up to be the toughest body Pro-Line has ever produced. The all-new Bash Armor material is twice as thick as regular X-MAXX® bodies and is ultra-flexible to prevent cracking and shattering. Unlike clear polycarbonate, the Bash Armor material is White and is not paintable, so Pro-Line includes detailed decal sheets that feature fender and window graphics to complete the look. The Brute is Pro-Line's take on a modern truck and features a bold grill with eye-pleasing body lines sure to turn heads at your local bash spot. The Brute body has been designed to work with the stock X-MAXX® body mount and cage system which is sold separately and is required for proper mounting. If you are ready to battle your buddies, then get the strongest body possible for your X-MAXX® – the Pre-Cut Brute body with Bash Armor material technology!
Don't forget to submit your finished Pro-Line body to Reader's Rides when you are done. Who knows, you could get your ride posted on the blog and you could even win a prize!
*Note: The Bash Armor material can NOT be painted. Pro-Line does encourage the use of stickers or wraps to customize the look of your Bash Armor body.
---
for DB8, Senton 6S and SC with 17mm Hex Conversions
#2770-03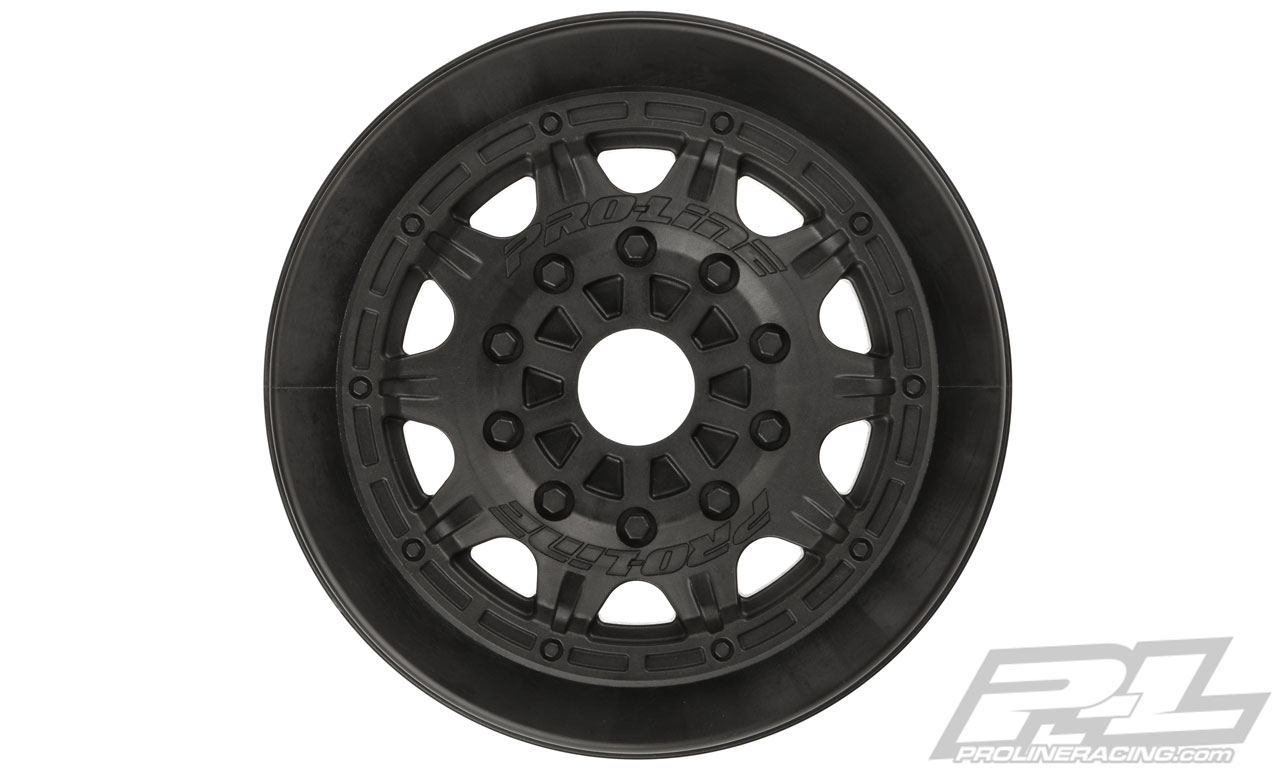 This is a Raid 17mm Black SC Wheel. Pro-Line has a brand-new Short Course wheel style to introduce: the Raid 17mm Hex SC wheel! Inspired by popular full-size off-road wheels, the Raid wheel is extremely tough and has the bold style to match. The incorporated 17mm hexes are stronger and can handle more power than normal 12mm hexes. This makes the Raid wheel a must have if you have installed a 17mm hex conversions and want to enhance overall wheel durability while maintaining a rugged style and attitude. Pro-Line logos are featured on the front face of the wheel and they were proudly made by us in the USA! Get your own pair of Raid 17mm Hex SC wheels now!
Please note: All tires & wheels are sold in pairs, unless otherwise noted
---
for Slash 2wd Front or Rear, Mounted on Split Six Red/Black Bead-Loc Wheels
#1182-30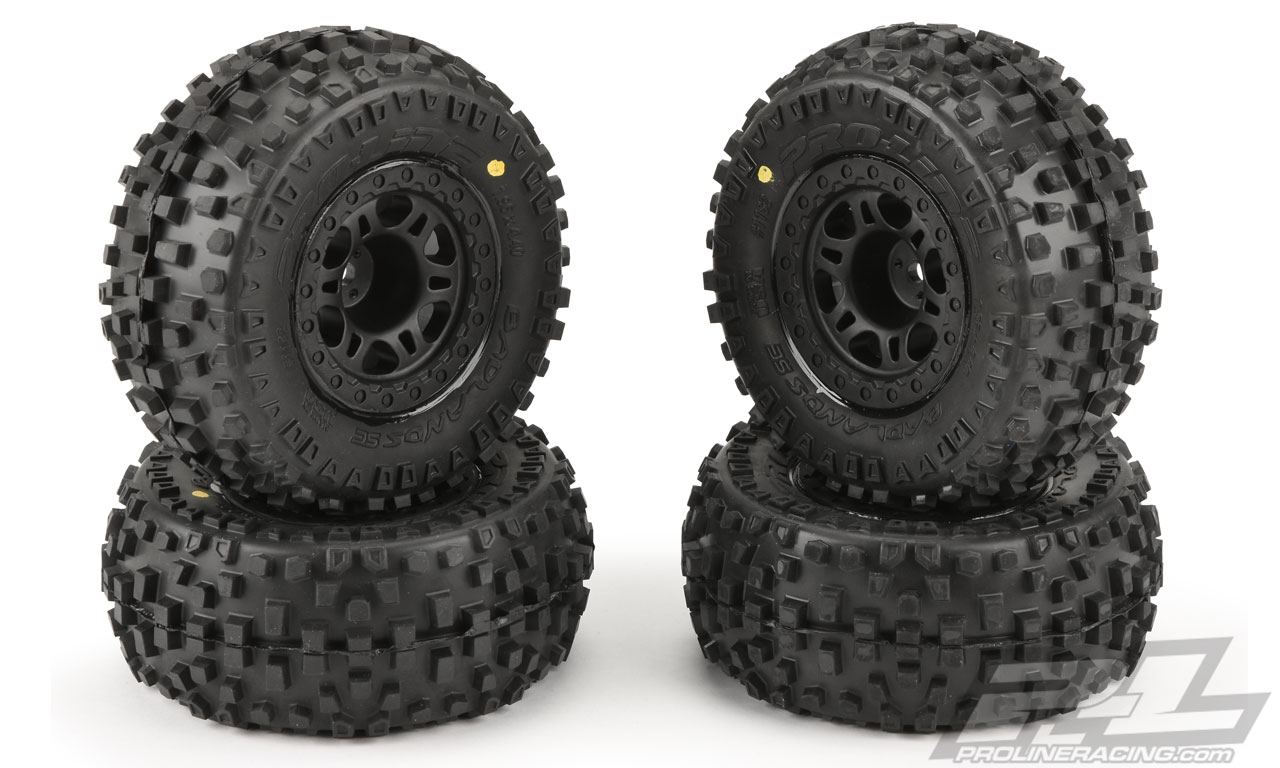 This is a Pre-Mounted Badlands SC Tire on Slash® 2wd Front and RearWheels. Are you ready to chew up the dirt and spit it out in a huge spray behind your SC truck? If so, then the Badlands SC tire is exactly the tire that you have been waiting for. Now available in a complete Slash® 2wd 4-pack! The Badlands SC tire offers motocross style tread with huge, long-lasting lugs giving it the looks and performance that have won over bashers across the globe. The Badlands tread design is made for the die-hard motocrosser in you. Its oversized grass and dirt shredding lugs offer you the ultimate in performance under all-terrain type conditions. The lugs are designed to ensure longevity while spitting up the surface below. Made from soft yet durable M2 compound, the Badlands tire is poised for battle and ready to take your Short Course to the next level of bashing heaven.
The Badlands SC tires are mounted on Split Six 2wd Front and Rear Slash® Wheels. The Split Six wheel has become a best-selling wheel design due to its scale appearance and extreme durability. Pro-Line is making it easier than ever to get outside by offering the Badlands SC Tire on Slash® Split Six Front and Rear Wheels Pre-Mounted for your convenience! Get some for your 2wd Slash® today!
Please note: All tires & wheels are sold in pairs, unless otherwise noted
Slash® is a registered trademark of Traxxas® L.P.
Watch The Badlands Video on YouTube: