Last weekend were one of two Rounds of the German 1:8 Nitro Buggy Nationals. It was at the famous track in Bischofsheim. More then 120 drivers made their way to Bischofsheim. It was a great turn out for one class. Friday were 5 Rounds of practice where the last two counted for seeding.
I ran Pro-Line Blockade X3 as the track came in I went with X2 Blockades.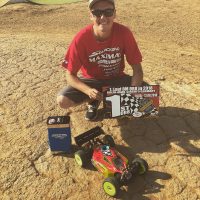 The track had now good grip and lap times dropped down to 39-40 seconds. On Saturday 5 Rounds of qualifying. For Q1 I went again with Blockade's, but had a big crash with a backmarker where I lost some time. The track had now a good groove and I tried Pro-Line Suburbs for the next Round.
It was great and I stayed with them for qualifying and the finals. I could win my semi final to start on pole position for the 40-min Main final. In the beginning it was a close battle, but after a couple minutes I could stretch out a comfortable lead over 2nd place to take the victory.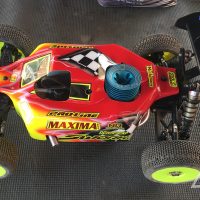 Pro-Line products I used:
6031 Pro-Line Tire Glue
9036 Suburbs 1:8 Tires
9039 Blockade 1:8 Tires
2702-02 Velocity V2 Wheels yellow
3473-00 Predator body
Thank you,
Jorn