This is a double header for me. First race is at Apple Valley U4RC Raceway for SoCalU4RC Winter Series Round 2, then it's pack it up and head to CTRC!!! Raceway for more RC action.
First off we start the day out with some rock racing action at Apple Valley U4RC Raceway. Track is tight, lose and has some great elevation changes, rock gardens, ruts, and few good jumps.
Classes I'm racing this season are 1.9 Trail class with a Traxxas TRX4 that is Holmes Puller Pro powered by a Castle mambaX.
For tires it's Pro-Line Racing Hyrax Predator tires, PowerStroke Scaler Shocks and 2-Stage Foams.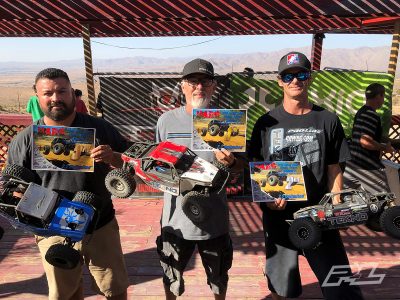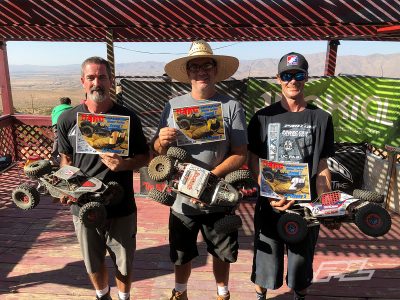 2.2 Trophy S class with a UCFAB PRTHD that is Holmes Puller Pro powered by a HobbyWing XR8 SCT esc. Pro-Line Hyrax tires on solid foams, and Powerstroke shocks.
2.2 Unlimited class with a TeknoRC DB48, Pro-Line Hyrax Tires on solid foams. MKS Servo, and Futaba 7PX all fluids are PTRCRacing, and lubricants by CowRC.
All heats went very well except my first heat in 2.2 Unlimited. I had a Esc go so there was a moment of pit action where I had to swap out the motor and ESC before heat2.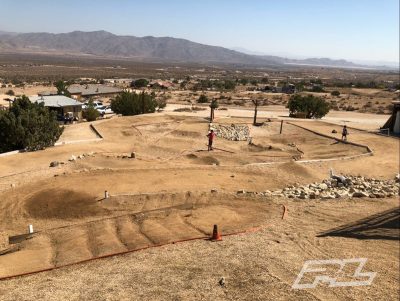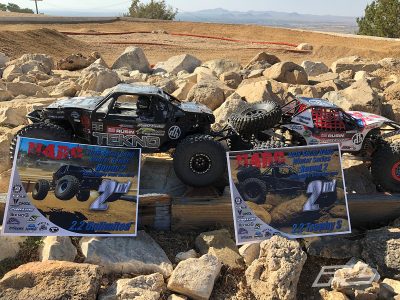 A-Main 1.9 Trail went well with a 4th place.
A-Main 2.2 Trophy S was a great race TQ with a 2nd, the Holmes powered UCFAB drove perfect. I tried to push hard but not to the point I felt I was not in control. Pushing to stay up with Chris Pickerman did get me a TQ for the race but not the win.
A-Main 2.2 Unlimited was an amazing race taking 2nd. It was no easy task, me and Chris Pickerman were bumper to bumper on each other the hole race. Trying to catch Tony Phalen is not easy. I was pushing the DB48 but all 3 of us are running the TeknoRC DB48 and that makes for some competitive racing with zero room for error. With Chris loosing his motor at the end and Jesse Villa and Anthony Vasquez having trouble gave me the opportunity to get up front and as close to Tony but not quite.
Great day of racing special thanks to Jerry Tobin and his family for the hospitality and an awesome track, Brian Jones for all your work on and off the track for #U4RC #socalu4rc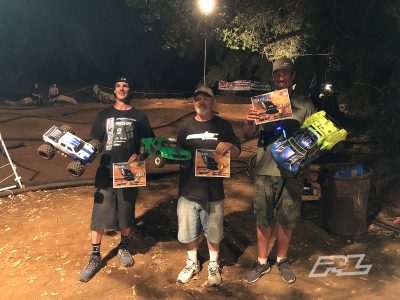 Now it was time to pack it all up and head back towards the neighborhood for some local Night racing at CTRC!!!. This is Cody Thompson RC Raceway, run by Cody and his family with the help from SoCalBashers Manager and Admin Cory Lesovsky. Together they have put together a RC Racing opportunity for your basher/ newbie racer to your Sportsman to be Pro drivers. It's relaxing with raffles and BBQ's. Thanks from the support from our local brick and mortar hobby shops "Mike's Hobby Lake Elsinore" and "Hobbytown Temecula"
Racing started at 5:00 but due to the 1.6 hr drive between tracks I was a bit late.
This track has a few big jumps with a over under gap jump. It's all right had turns, is lose and very bumpy.
I got the night pit out setup to race with the help from my CowRC Moo-Pit lamps making my pro mag xl work mat nice and bright.
4WD SCT class with a Pro-Line Pro-MT 4×4, Tekin powered. I like the challenge of trying to drive a Monster Truck fast on a track. It's not as easy in the corners as a full race SCT like a TeknoRC SCT410, because really this is the car for this class, but this is for fun and just to see how well the pro MT will perform in a race.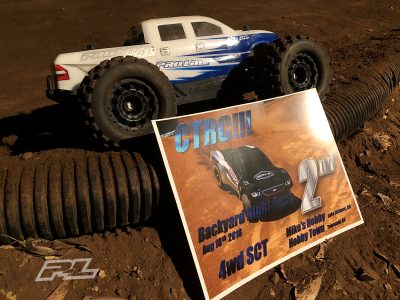 B-main I got the bump with a 1st giving me 2nd for the A-Main podium.
1/10 Vintage class with the AE RC10 1990 gold pan was a blast, there were some seriously fast cars there was not easy to hold the pace so placed 4th for the A-Main.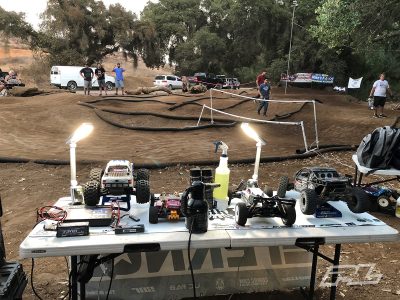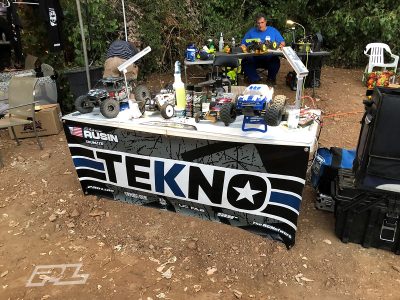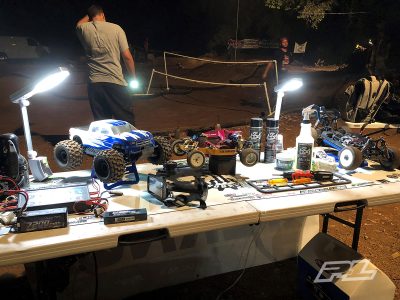 1/8 E-Buggy class with the Tekin powered TeknoRC EB48.4, always enjoy racing this class and car. This is definitely the most popular class. B-Main was tuff but once I got out front I just tried not to crash. Taking 1st for the win gave me the bump in to A-Main but competition is tuff and I finished 4th.
All in all it was a great day taking home 3 2nd place podiums out of racing 6 cars total for the day.
I want to thank all my sponsors for your support
#teamteknorc #teamprolinercing #cowrcfactoryteam #teamholmeshobbies #sorgraphics #skgrcpainting
-Shawn Rusin