The week leading up to Axialfest was a packed week of last minute changes and prepping the crawlers to make sure they were ready to handle a week of crawling. We hit the road Wednesday morning at 3:00 am with our convoy of three trailers in tow. We finally arrived at Cisco Grove at 1:00 pm where we were excited and looking forward to seeing what our third Axialfest had in store. We started with tech inspection and registration, both were seamless and quick. We proceeded to our campsite to get everything setup for this week's axial adventure.
I brought two crawlers with me to tackle the 1,650 gates of Axialfest. My scx10 2.0 with CBE rails, Pro-line 1979 Ford-F150 body with the Pro-line cage, Mamba X esc, with the 2850 motor, and a Reef's RC Triple 4, with Pro-line K3 tires. I had my Axial Bomber for night runs, running a Mamba X, Reef's RC triple 5, supershafty bombproof transmission, Hyrax tires, and Roberts RC lights to light up the trail.
Day 1: Our group of 7 hit trail A to start. The trail was covered with loose sharp rocks, steep off camber climbs, and a few bridges built by the ASD Crawlers. My K3 tires made light work of the sharp rocks and the gaps in the bridges. We finished gate 150 without any issues.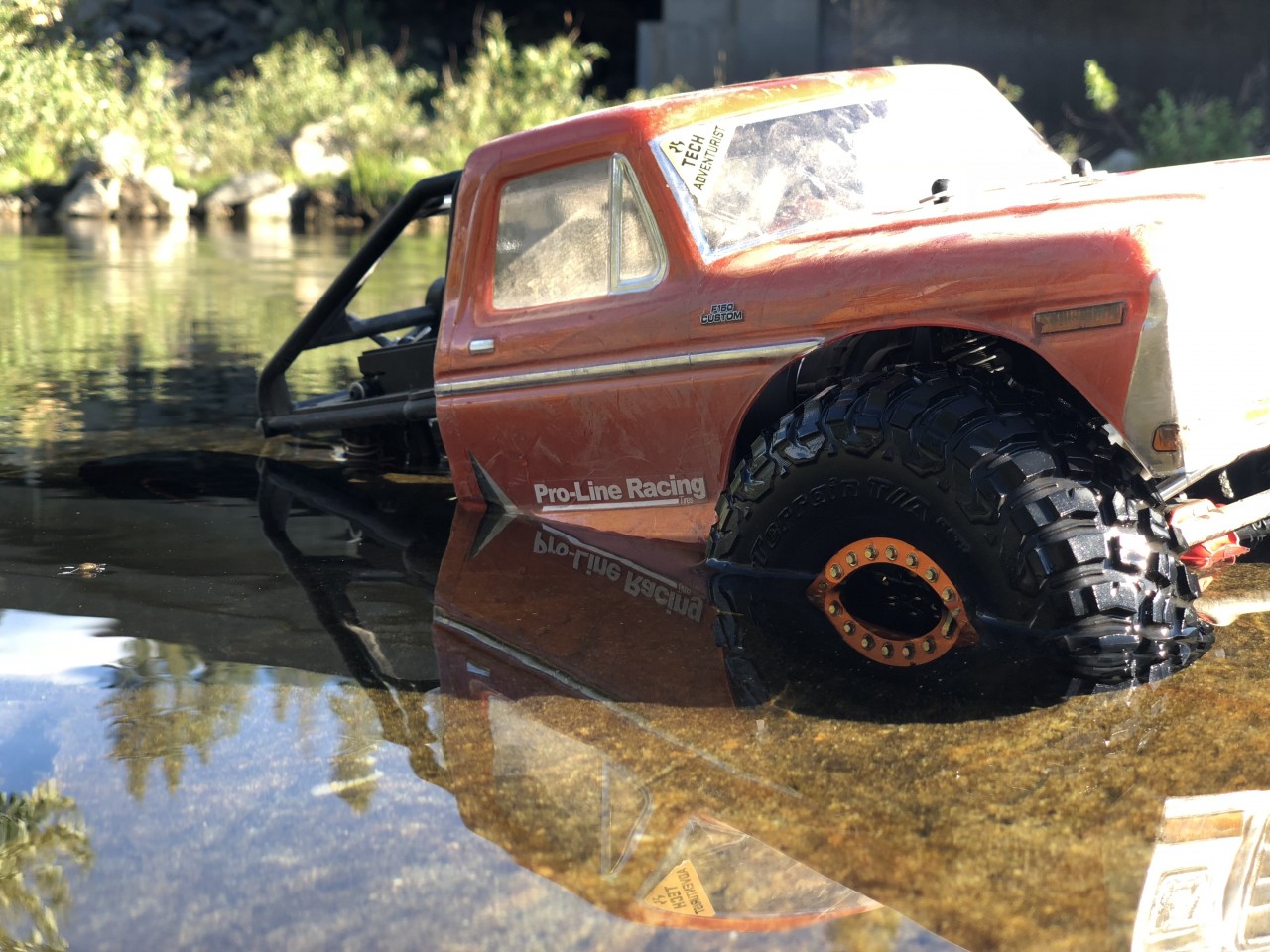 Day 2: Our plan was to hit trails B,C,D, and E today. Trail B was a great trail with a mix of running in the riverbed and navigating your way through the woods of cisco grove. The bomber did amazing with no issues bouncing through the river sections, and treating the wooded area as if it were a rally course. Onto trail C, trail C started with the two chains sealers scale camp ground exiting on a tension bridge. The CKRC, and Two chains group out did themselves with the obstacles on this trail. In the middle they had a four way PVC pipe slide that went down forty feet. There were bridges going up over 8 feet in the air across the trees, this was a challenge in the bomber since the width was meant for the scx10. But with a little luck I was able to cross the over 30 foot bridge which ended on a slide down into a bed of pine cones. Trail D was one of my favorite trails it started off climbing up loosely stacked rock with the K3 making it look easy. Half way through it dropped down in to an ultra-slick natural water way with small water falls. This is my favorite trail with the running water and water crossings it is always a highlight. The Ford handled all the water and steep slick climbs trail D had to offer. We stopped for some epic shots with waterfalls as a background. Trail E was the Pro-Line Racing trail and was our night run. The bomber did great with no issues. Trail E took us all over the camp ground covering more ground than most the trails. The Pro-line crew had the trail all done with scale buildings and figures.
Day 3: Day 3 started with a trip to the Pro-line racing booth for some class 1 hyrax. I wanted to see what the smaller tire was all about. The plan for that day was to hit Trail F, G, H. We started with F and a new set of tires, I was slightly worried knowing I had dropped in tire height pretty significantly, and trail F started in the riverbed with slick steep climbs. Our group was struggling with tires that were broken in, I was worried being on a fresh set. The new set of tires proved to be more than capable and sticky out of the box. Running a 4.19″ tall tire meant I had to pick my lines more carefully, while setting myself up with a good approach angle for the next gate. About halfway through the trail there was another bridge, this one had nearly a 60 foot span. The Rest of F took us through sand and river rock until gate 150. From F we went onto Trail G which took us up into a dry waterfall. Getting through this section was rather difficult with the small tires and super slick rock. The small water crossings and pools of water made G a fun trail. You ended up in the trees of cisco grove in some very fine loose dusty dirt, and combined with the little water on the truck made for quite a mess. We finished the day with a night run on trail H which was a new trail that hadn't been done before. It took you alongside the river at the front of the park with a mix of downed trees and loose rock, it was a challenge for most rigs. My Axial Bomber and Hyrax tires walked right through it, including a giant sand hill that we used as a king of the hill challenge.
Day 4: We got up and headed to I trail, which is notoriously known as the hardest trail on the course. With silt dirt, steep angles and climbs it makes for a difficult trail. Our group had two bomber axles failures on this trail. The Ford truggy and class one Hyrax's concurred all one hundred and fifty gates. This trail was a challenge trying to find traction with the rocks covered in very fine dirt and most of the starts dug out from previous crawlers. With a little wheel speed from the castle Mamba X system and the stickiness of the hyrax, there was always a way. We hit J trail after lunch, it was a nice mellow trail through the forest with a few off camber rock climbs mixed in. Day 4 ended with the award ceremony and raffle. Axial gave away over twenty four thousand dollars in raffle prizes.
This is my third year going to Axialfest and every year it is an amazing time. It is always great to see faces you don't get to see often and meet new people. The trails are always amazing and the axial racing team puts a ton of time and energy into the event. I would like to thank Pro-line for the opportunity to represent them and to the Axial racing crew for putting on such an amazing event. I'm already looking forward to AF2019!!!!