The 2018 ROAR Fuel Offroad Nationals is in the books, what a week, this was probably one of the most challenging nationals I have raced, with the rain, heat, humidity, the shipping company losing the majority of the Pro-Line Tire Shipment, and finally delivering it Saturday morning, it was definitely a test for the racers but everything worked out in the end.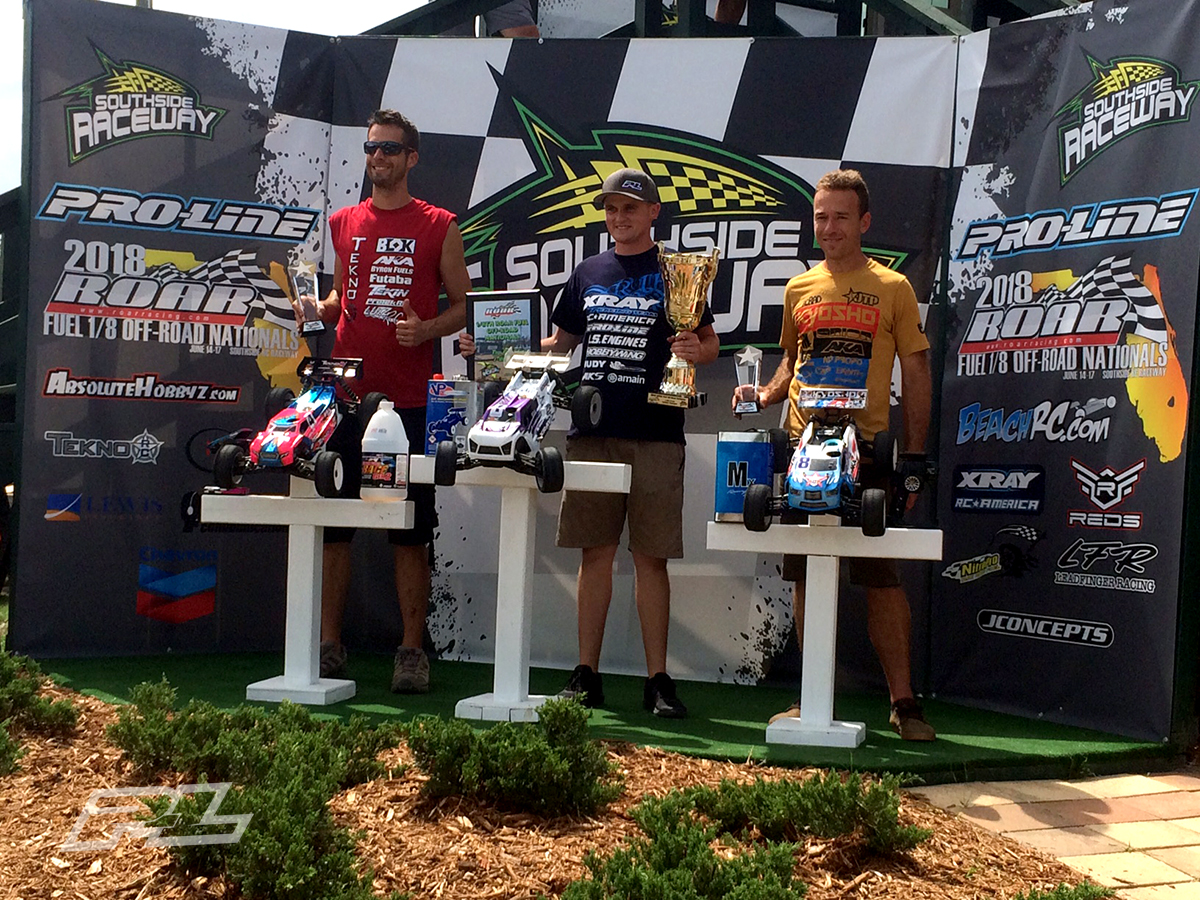 Sunday was a beautiful day with no rain and we were able to run all the Mains. The track and facility crew did an amazing job with all their challenges, huge shout out to them for all their hard work and for making a beautiful facility.
Wednesday we had open practice for the first part of the day which allowed everyone 1 practice session and then went into heat practice, the track was very green but the team worked together to get our cars setup.
Thursday we ran 2 rounds of seeding practice and I was able to top seed in Truck and seeded 4th in buggy.
Friday we were only scheduled to run 2 rounds of qualifying but with the threat of rain they decided to run 3 rounds in case we weren't able to run on Saturday.
I was able to tq the first 2 rounds of both buggy and truggy, and the 3rd round of truggy, in the buggy 3rd round I made some changes that were definitely not good and although my pace was good I had way too many mistakes.
Saturday we ran the 4th qualifier and I knew I needed to tq this round of buggy or at least finish ahead of Maifield to lock in the TQ and go straight into the final. Everything worked out right and we were able to get the car really good, chose the right tires and I was able to take the tq in round 4 but only by 1.2 seconds over Maifield.
Sunday was sunny, hot and humid….did I mention it was hot? First up for me was truggy warm up, my truck felt great and I was confident going into the main. The truck main went just as planned and I was able to lead tone to tone, my Dad and Mom were super fast in the pits, I gave them a bit of a challenge when I came in too hot, bumped another truck and flipped off pit lane but it all worked out in the end.
Right after the truck main we had the semi warmups, I tested some tires, my car felt good and I was looking forward to the main.
The semis were the next up for the team with 4 Xray cars in the semis, the team worked together to pit everyone and keep things running smoothly, they were all running strong when they ran into issues of one sort or another.
The Junior final ran as the second last race of the day and Xray was able to take the win with Cj Jelin crossing the line first with Evan Jones another Xray team mate finishing 7th. Great job to both drivers.
The last race of the day was the buggy final and I knew that I would have my work cut out for me as I had Cavelieri starting in 2nd behind me and Rivkin in 3rd. We had a good start to the race and the top 4 pulled away a bit, Cavalieri was pushing hard behind me and he was fast, about 5 laps in I went a little wide on the far left corner of the track and he snuck in and got by me to take the lead for about 3 laps. I was able to take back the lead for awhile and create a little bit of a gap, but while trying to go by a back marker he tangled with me flipping me over and I lost the lead to Cavalieri for a few more laps. I drove hard to catch back up and made another pass to take back the lead, Cavalieri was still close behind me but then he made a big mistake which gave me some breathing room and I was able to hold the lead through to the end. It was close at the end, Spencer was driving hard to catch me but I was doing my best to keep the gap consistent, it was a hard fought battle but I crossed the line 1.7 seconds ahead of Spencer to take the win.
My equipment worked well all week, I want to thank my sponsors for providing me with the best products to race with. Xray, RC America, Pro-Line, OS Engines, Hobbywing, MKS, VP Fuel, A Main Hobbies, Protek RC, Hudy, Lunsford, Avid, StickIt 1, Darkside Designs, 110% Racing, MR33, Live RC, Red RC.
Thanks to my family for always being there for me and supporting me, and most importantly I want to thank my my Lord and Saviour Jesus Christ, I wouldn't be here without him.