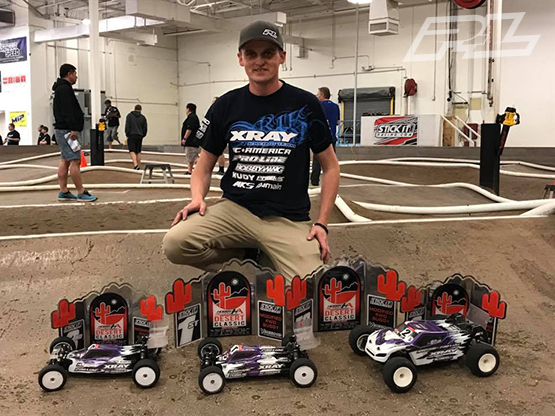 This weekend I raced at the Desert Classic held at Hobby Action RC Raceway in Arizona, for this race I ran 2WD, 4WD and Truck. The track has a very unique type of dirt that provides extremely high traction and then the surface breaks up a little bit which can make it edgy and very challenging.
Early on all 3 cars were very good in practice, but as the weekend went on the grip level increased dramatically and we were forced to constantly be adjusting setup to the traction level and at times this became very frustrating.
Ty ran Pro-Line Electrons and Positrons
Day 1 of qualifying was very challenging, I TQ'd 2nd and 4th rounds of qualifying which would have me starting on pole for the 4WD Main. 2WD was a major struggle my XB2 had a lot of steering which in normal situations would be very good but with the high grip level it was difficult to calm the car down and I was only able to qualify 6th, but towards the end of qualifying we made some setup changes that brought us much closer to being on pace with the fastest drivers. In truck I was able to qualify 2nd, again struggling a bit but by the last qualifier I felt we were definitely closer and I was confident going into the Main.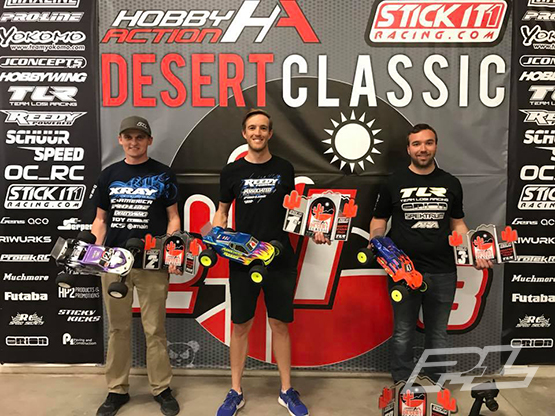 Overnight Saturday night we came up with some setup changes to try and while running the mains we found the car was really good and I was able to lead the first 2 A-Mains for 4WD start to finish to take the overall win.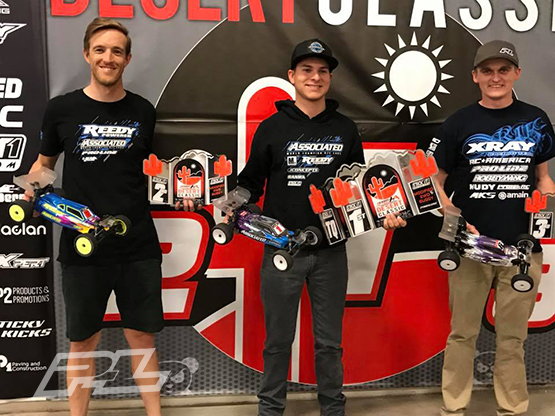 In 2WD we made small changes to the car throughout the 3 Mains, and by the 3rd main I felt my car was good and I was able to take second in that main to finish 3rd overall, considering I started 6th I think we made some good progress and I am looking forward to the next race at this track.
In Truck we only ran a single A-Main, even though the last qualifier was pretty good, we felt we could still get it better and we made some changes. In the warmup before the main I knew my truck was really good, and I was able to finish 2nd overall only one tenth behind Dustin Evans.
I want to thank my sponsors for giving me the opportunity to race with amazing products, Xray, RC America, Pro-Line, OS Engines, Hobbywing, MKS, VP Fuel, A Main Hobbies, Protek RC, Hudy, Lunsford, Avid, StickIt 1, Darkside Designs, 110% Racing, MR33, Live RC, Red RC.
Thanks to my family for always being there for me and supporting me, and most importantly I want to thank my my Lord and Saviour Jesus Christ, I wouldn't be here without him.