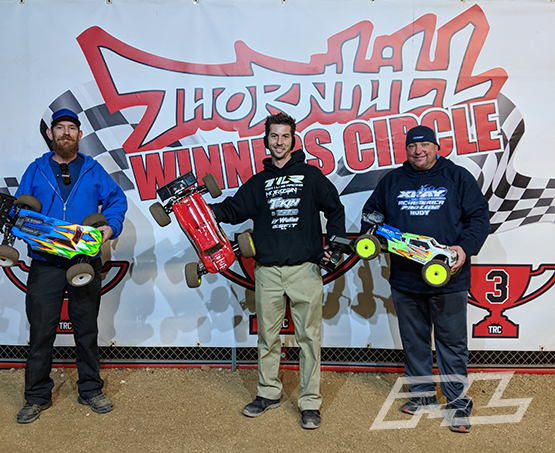 Round 2 of the Thornhill Championship. We had 96 entries for this event with drivers from all over the state, Dallas, Houston, San Antonio, Corpus Christi. I ran Electric Truggy
In Qualifier one, truck felt good, almost too good, Pro-Line Buckshot M3 made the rear grip higher than i wanted, and the truck seemed to push in the high speed corners. I also had too many mistakes on the track, would put me 8th overall in qualifying.
In qualifier 2, there was no watering of the track. I decided to run Pro-Line ElectroShot M3 Tires, which I liked. Also the truck freed up some, which allowed me to carry more speed in some of the higher speed corners. I was only truck to improve my time, and actually was fastest of the round. Moved up to 5th overall.
In qualifier 3, I didn't change anything except tires, went to Pro-Line Hole Shot M3 due to the track being watered again, wasnt a heavy watering, so I thought Hole Shots would be the ticket. I ran quicker, however, i was beat out Tekno driver Ron Simpson by .2 of a second. Held my 5th overall.
In the main, being one of the last heats, I went back to Buck Shot M3, and starting 5th, i was hoping for a good start, as the last few races in truck, the start would be what cost me the races. With the first turn being a long sweeper, this would be much better. Got a good start, passed one off the line, and a mistake from 2nd, i was able to move to 2nd place behind Losi driver Brad Ripple. Brad would get away with this race due to a very tight battle with #2 qualifier. This battle would last for about 7 minutes of the 10 minute main. Side by side, over under, very clean racing between us both. We were able to gap 4th place. A late mistake by me dropped me to 3rd. I finished 3rd.
Podium
1st – Brad Ripple, Team Losi
2nd – Jason Hill
3rd – Daniel Grobe, RCAmerica/Pro-Line
Pro-Line XT8 body
Pro-Line Trifecta Lexan Wing
Pro-Line Buck Shot M3 Tires
Pro-Line VTR Truggy Wheels
– Daniel Grobe