Jeep Wrangler Unlimited Rubicon Clear Body
for TRX-4
#3502-00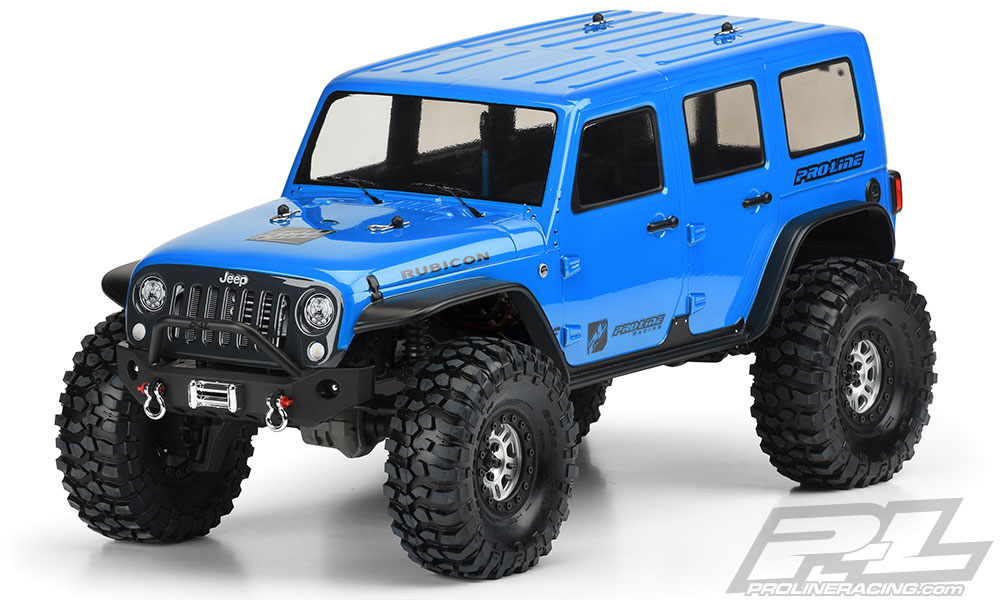 This is a Jeep® Wrangler Unlimited Rubicon clear body for TRX-4®. Pro-Line is ready to unleash the officially licensed Jeep® Wrangler Unlimited Rubicon body for your Traxxas® TRX-4®! This body will completely transform your Truck into an Ultra Scale modern Jeep Rig perfect for Rock Crawling. The details from the full-size Jeep® Wrangler Rubicon have been faithfully recreated and feature a few molded in full-size style upgrade parts like rock sliders and tube fenders. This Pro-Line body is much lighter than the stock TRX-4® body for lower center of gravity and improved crawling performance. The Jeep® Unlimited Rubicon body also features improved clearance front and rear allowing you to tuck in the bumpers for massively improved approach and descent angles to get you up and over obstacles easier than ever before! Window masks, Paint-then-peel overspray film and fully licensed detailed stickers are included to finish off the look. Get your Jeep on with Pro-Line's new Jeep® Wrangler Unlimited Rubicon Body for TRX-4®!
Don't forget to submit your finished Pro-Line body to Reader's Rides when you are done. Who knows, you could get your ride posted on the blog and you could even win a prize!
 Jeep, the Jeep grille and related logos, vehicle model names and trade dress are trademarks of FCA US LLC and used under license by Pro-Line. ©2017 FCA US LLC.
TRX-4® is a registered trademarks of Traxxas® L.P
Please note: All bodies are sold in crystal clear Lexan® and are painted for advertising purposes only.
---
Sling Shot 4.3″ Pro-Loc Sand Tires Mounted
for X-MAXX Front or Rear, Mounted on Impulse Pro-Loc Black Wheels with Stone Gray Rings
#10146-13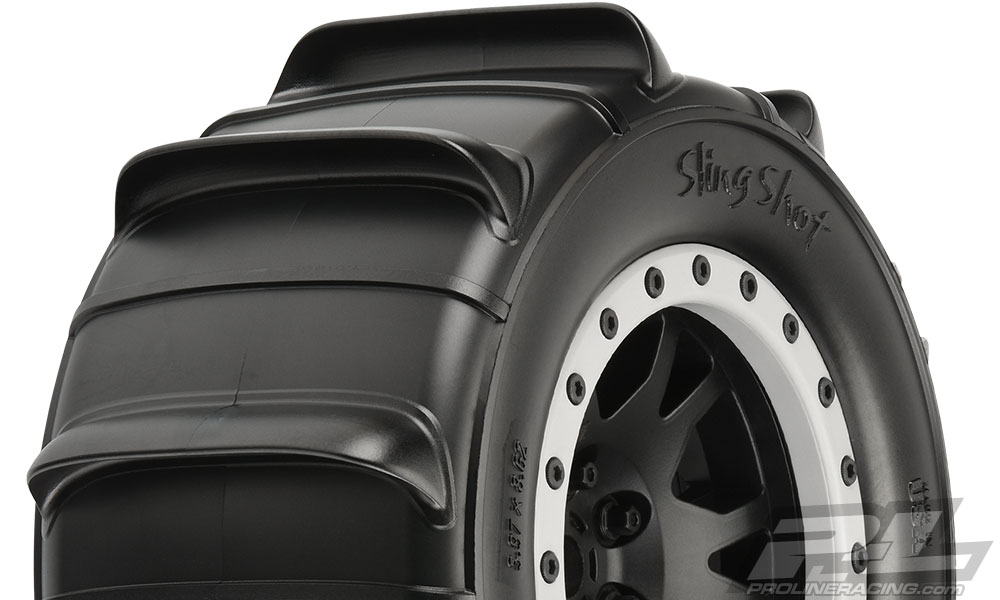 This is a pair of pre-mounted Sling Shot Paddle tires for X-MAXX®. Pro-Line is ready to unleash the Sling Shot paddle tire for X-MAXX® owners! Pro-Line Sling Shot tires are known for having an incredible scale paddle tire appearance combined with unbelievable Sand and Snow performance! These tires have been developed from the ground up for extreme X-MAXX® punishment with an all-new ultra-durable compound that prevents tire ballooning even at high speeds. The Sling Shot 4.3" tire features Pro-Line's ground breaking proprietary Pro-Loc Technology that creates an ultra-secure bond to Pro-Line's Impulse Pro-Loc X-MAXX® wheels while still being removable when required. The reinforced Tire bead fits into a uniquely shaped channel on the wheel and the bead-loc screws actually pass through the tire rubber before being pinched by the outer bead-loc ring to create the maximum possible mounting security. This technology debuted on the Badlands MX43 Pro-Loc Tires and has proven to be extremely popular for the X-MAXX® fans.
The Sling Shot tires come pre-mounted to Pro-Line's Pro-Loc wheels. Pro-Line has the ultimate Wheel solution for X-MAXX® owners with the all-new Impulse Pro-Loc Wheels! The Impulse design is inspired by full-size off-road wheels with a Tough, Blacked-out look and is manufactured at Pro-Line Headquarters in the USA out of extra thick, extremely durable material designed to take some serious abuse. The look of the Impulse Pro-Loc Wheel is finished off with the Stone Gray Bead-Loc Ring that will get your truck noticed wherever you go!
If you want to take your X-MAXX® to the next level of Sand & Snow Performance and throw up huge rooster tails then you need to get Pro-Line's new Sling Shot 4.3″ Pro-Loc Tires mounted to Impluse Pro-Loc Wheels!
*Please Note the Sling Shot 4.3" Pro-Loc Tires only fit on Pro-Line Pro-Loc Wheels*
Please note: All tires & wheels are sold in pairs, unless otherwise noted.
X-MAXX® is a registered trademarks of Traxxas® L.P
---
Wedge SC 2.2″/3.0″  Off-Road Carpet Tires
for SC Trucks Front
#10147-103 Z3 (Medium Carpet)
#10147-104 Z4 (Soft Carpet)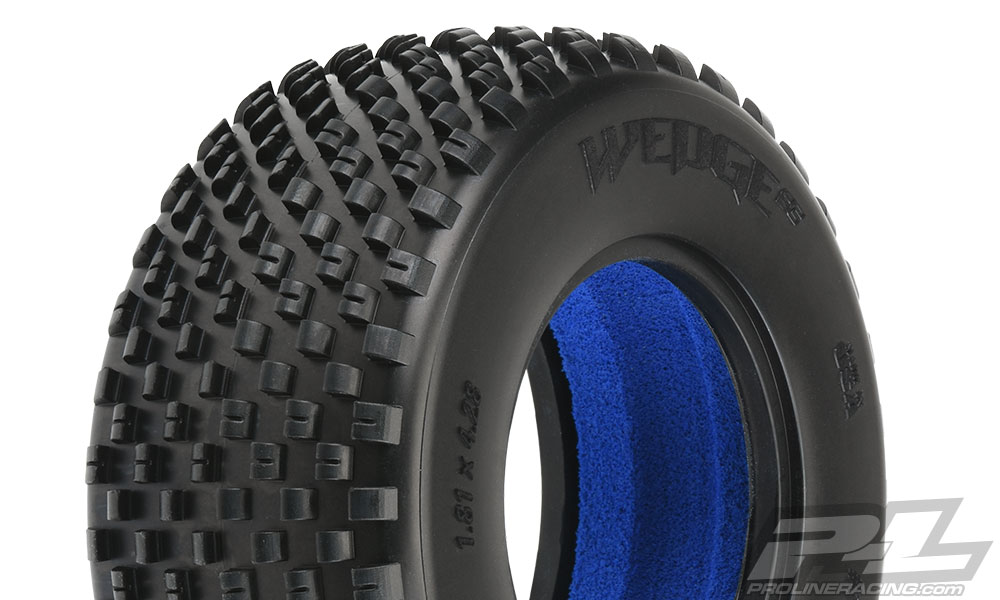 This is a pair of Wedge SC Front Tires. Pro-Line is ready to bring the popular Wedge tread pattern to the Short Course class! The Wedge SC is perfect for the front of your Carpet 2wd or 4wd Short Course Truck and provides just the perfect amount of steering you need without being too aggressive. The Hook shaped pins of the Wedge provide all the steering you can handle without being grabby. Pro-Line's Z compounds provide unparalleled grip on a variety of surfaces used for indoor non-dirt racing (carpet, wood, cardboard, plastic, etc.) while still being long lasting. Be on the cutting edge of carpet tire technology with Pro-Line's new Wedge Front Tires for your Short Course Truck!
Please note: All tires & wheels are sold in pairs, unless otherwise noted.