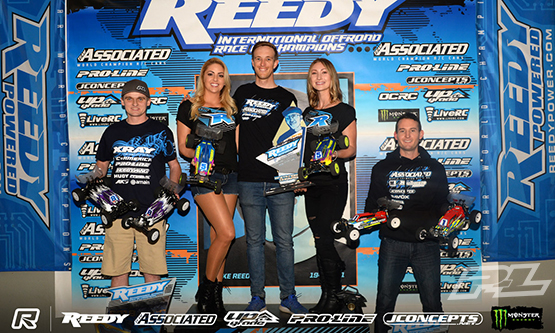 This past weekend I race the Offroad Reedy Race of Champions, at OCRC in Huntington Beach, CA. The top drivers in the world are invited to participate in the Invite portion of the event which is comprised of 6 rounds of heads up racing for each 2WD and 4WD, your top 5 finishes from each class are counted for the combined total and that is how the winner is determined.
The track layout was very challenging, there were 2 very demanding triples along a rhythm section and a whoops section all these parts combined made it very hard to clean consistent laps. Everyone in the invite class was limited to 3 practice runs for each car.
4WD would be run first, my XB4 was amazing, I felt going in to the races that I would do very well, and my confidence was high. First heat I started in 10th place and made my way up to finish 2nd, in the second race I started in position 4 and was able to win that one, after those 2 rounds everything seemed to go down hill. It seemed I would experience some unfortunate circustmances during the next few races and would finish 5th, 6th, 3rd and 2nd which was unfortunate because my car was amazing and I definitely should have had better results.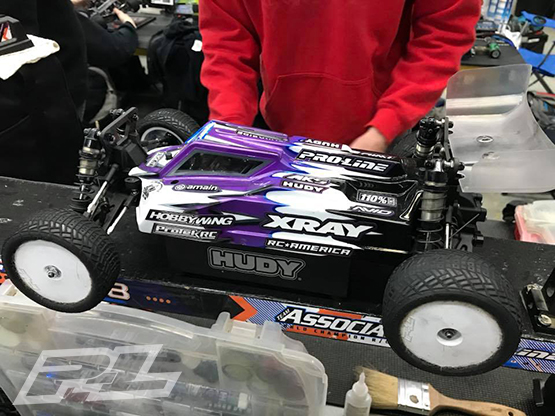 Going into the 2WD portion I was sitting 6th overall, we would get one more practice session in 2WD just to get back in the 2wd groove . Since the grip had come up since we last ran 2wd, I made a couple of changes to the car. In the first 2wd heat I started in the 1st position, my car felt really good and I was able to maintain the lead to take the win, in the 2nd heat I started in the 10th position, the car was really good again, I made my way up a bit but made a mistake all on my own which set me back and I would have to settle for a 6th. The next 4 races for 2WD, I started in the 3, 9, 3 and 5 positions, my XB2 was super good and I was able to win all 4 races and since we were allowed to drop 1 I had a perfect score for 2WD. With my combined points I finished in 2nd, 3 points behind Dustin Evans who won, great job Dustin!
The Xray team worked very well together this weekend with Cj Jelin taking the TQ and win in the Open 4WD class and Cj also took 3rd in the Open 2WD class with Tommy Hinz finishing 2nd in Open 2WD.
All my equipment perfomed flawlessly this weekend and allowed me to finish where I did.
I want to thank my sponsors for giving me the opportunity to race with amazing products, Xray, RC America, Proline, OS Engines, Hobbywing, MKS, VP Fuel, A Main Hobbies, Protek RC, Hudy, Lunsford, Avid, StickIt 1, Darkside Designs, 110% Racing, MR33, Live RC, Red RC.
Thanks to my family for always being there for me and supporting me, and most importantly I want to thank my my Lord and Saviour Jesus Christ.