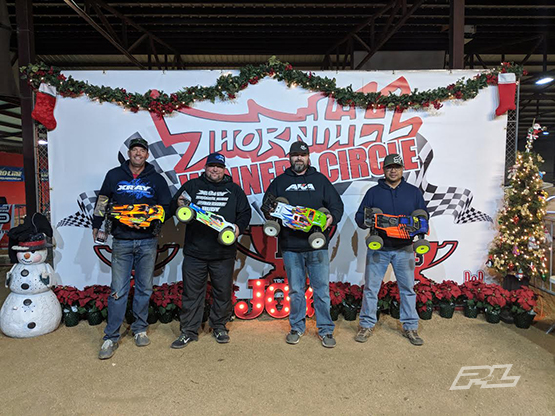 Toys 4 Tots race weekend at Thornhill Racing Circuit, with drivers from Houston, San Antonio, Dallas all making the trip, turned out to be a pretty nice turnout.
I raced E-Truggy, and E-Buggy in this event. I didnt make many changes to the setups on either vehicle, based off previous runs.
Pro-Line Hole Shot X3 and Trifecta Lexan Wing for E-Truggy and E-Buggy
E-Truggy started off rough. In the first qualifier, on the first lap, i got a little loose on power, over corrected going towards a jump, landed incorrectly, and broke the front right caster block on the truck.
Qual. 2: After repairs, I went out and ran, noticed the front right wasnt working correctly, had more camber than normal, turns out the screw on the bottom of the knuckle came out, probably from damage in the previous race. I finished the race Q6 overall.
Qual. 3: I got a new steering knuckle from teammate Nick Vanderpool. He would put down a good run, and take TQ that round. in my heat, i put a good run, with one late mistake dropped off TQ, behind teammate Nick, and qualified 2nd.
For the Mains, A1, Pro-Line Hole Shots M3, with Pro-Line Trifecta Lexan Wing, bad start dropped me to last, but was able to work through traffic. Some of the top guys broke out, Nick, and the 3rd overall qualifier. i was able to make a late pass over Tony Kiegly, and win the round.
A2- Pro-Line Hole Shot X3 (new) track was slick, got a rough start being pushed wide in the first corner, dropped to 4th. had a tight battle with the Top 3, made a pass into 3rd, the leader had a late issue, so the battle i was in with Tony Kiegly, turned into a battle for the win. a late pass opportunity for the win, was blocked by tony, who really blocked me into the corner, causing me to lock up the truck, and spin. I didn't have enough time to chase him down for the win, but finished 2nd in a Tie Break.
Overall
1st Tony Kiegly (Agama)
2nd Daniel Grobe (Xray/RCA/Pro-Line)
3rd RJ Labrador (Mugen)
TQ Nick Vanderpool (Xray/RCA)
E-Buggy was a stacked class. My buggy very stable, and predicable. lacked front grip on turn in, due to track conditions.
Q1, got a descent run in. wanted a good solid run. tire choice was not that good, although i was able to get into the top 8.
Q2, changed tires, and the track was wet, got a descent run in, moved up to 4th overall.
Q3, pushed harder for faster lap times, made too many mistakes, but the track was slower this round for everyone, held my 4th overall.
A1, using Hole Shot M3, Pro-Line Trifecta Lexan Wing, starting 4th, got a good start, car felt loose, but was fast. TQ Tyler Hooks (Tekno) had electrical issues, and dropped out. i fell into a tight battle for 2nd, with Sean Gallagher (mugen) Ron Simpson (Tekno). i was able to hold off a tough race with Sean, to finish 2nd behind teammate Jason Woolridge.
A2, Hole Shot M3, another good start, and another tight battle with Sean Gallagher, the whole race. Track conditions were colder, looser. I missed on tire choice, finished 4th that race behind Sean Gallagher and Tyler Hooks 1st, Jason Woolridge 2nd.
Overall
1st Jason Woolridge (Xray/RCA)
2nd Daniel Grobe (Xray/RCA/Pro-Line)
3rd Sean Gallagher (Mugen)
TQ Tyler Hooks (Tekno)