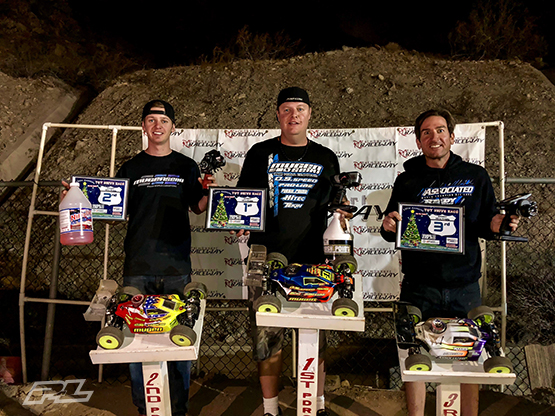 Palm Desert R/C Raceway hosted the 13th Annual Toys for Tots Race this past weekend. Mugen Seiki Racing was on hand to support the event and the racers. The event had nearly 80 entries.
In the Pro Buggy class Adam Drake set the pace in both rounds of qualifying and started first in the 25-minute final. Drake went on to win the 25-minute final followed by Anthony Westergaard, and Richard Saxton. In the Electric Buggy class Anthony Westergaard was the top qualifier and won the 10-minute final!
Products used:
Expert Nitro Buggy – Adam Drake
Mugen Seiki MBX7R buggy.
O.S. Speed engine, O.S. 2090 pipe with 85mm header, and P3 gold glow plug.
Pro-Line Hole Shot 2.0 tires, Velocity V2 wheels, Predator Body, and Trifecta Lite Lexan wing.
Hitec Lynx 4S radio, Hitec 9381 servos, and Hitec X2 charger.
Flash Point 30% fuel, 2500mah receiver and transmitter battery.
Trak Power accessories.