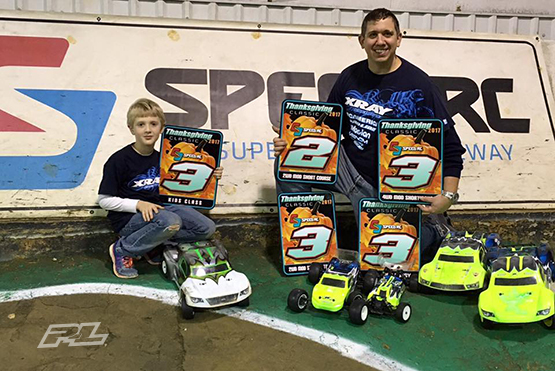 The 2017 Thanksgiving Classic at Speed RC was non-stop action as I ran four classes and my 8-year old son tacked on a fifth class for good measure.
My wife kept everything rolling as she kept all our Venom batteries charged and our  Pro-Line Positron Tires prepped.
She even jumped in to cover my marshaling responsibilities so a huge thank you to her is in order.
I tried to get her to race in the novice class but she prefers to handle the pit and pre-race responsibilities so I had no luck in convincing her to race.
Due to her assistance, I was able to have a big day by racing to podium finishes and collecting some cool plaques in each of the four classes.
I narrowly missed TQ in 2WD SCT with my Pro-Line Positron equipped XRAY XSC2. In the Main, I made a strong push for first and swapped lead changes a few times. The race was ultimately decided in the final turn. I was following on the rear bumper of the first-place truck as we entered the final turn. He bumped into lapped traffic causing him to bounce off the pipe and into the path of my truck. I was able to drive through the wreck but decided to pull over on the straightaway and give the position back. I did not cause the wreck but it wasn't the way I wanted to win after 8 minutes of close, competitive racing. As a result, I settled for second overall which was a solid finish considering the level of competition.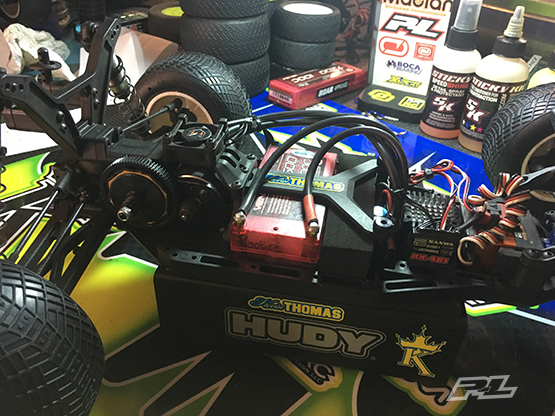 I believe that decision allowed me to have karma on my side for the final three A-Mains.
In Stadium Truck, I piloted my XRAY XT2 to a third-place finish. I believe I am getting more comfortable each race out with my XT2, as it is my newest class and I only have 4 races underneath my belt.
In 4wd mod buggy, my Maclan powered XRAY XB4 was solid throughout the day and I was able to capitalize on my qualifying position to race to another 3rd place finish.
My fourth and final class was 4wd SCT, unfortunately my main was not as clean as I would have liked. I dropped from the 2nd place qualifier to end with yet another 3rd place finish.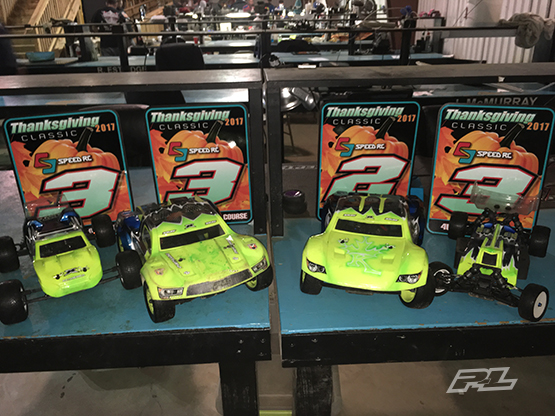 I am extremely happy with the overall consistency and the fact that I was able to reach the podium in each of my four classes. While it was a very tiring race day, I am hoping all the track time will help me improve as a racer. Plus, it is roughly a 6 hour round trip to Speed RC so I wanted to log as much track time as possible and preparation for the upcoming Indoor National Series Finale at Speed RC.
Next up is World of RC Parts' Turkey Throwdown race and a return to 1/8 Scale.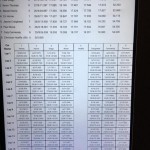 Sponsored Products Used –
XRAY XB4, XT2 and XSC2
Maclan MMax Pro, Maclan MRR 8.5t, 6.5t, and 4150kv motors, Xpert SI-4431servos
Pro-Line Positrons and Electrons (MC)
Venom 7200 and 4500 mAh 100c 2s
Boca Bearings Green Seals
Pro-Line EVO and Fusion Bodies and Champion/Trifecta Wings