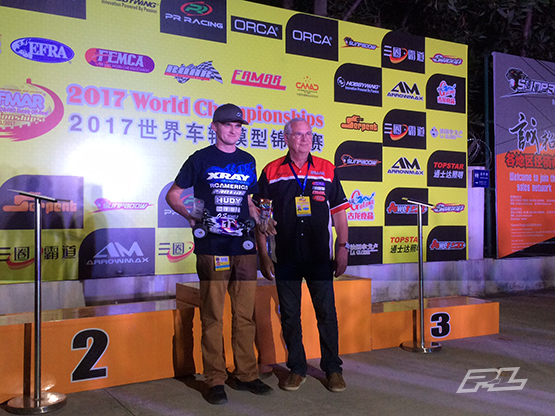 This past week the 1:10 Electric Offroad World Championships were held in Xiamen, China. The track being very different from the typical 1:10 tracks in America, it was very large, high speed, bumpy and high grip, this made it a challenge to get around with such small cars.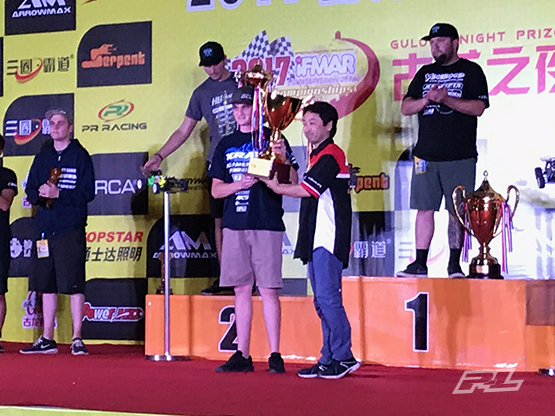 The 2WD portion of the worlds was up first and based on what we knew from our testing, practice went pretty well with our car handling the high grip, high speed surfaces really well and I felt comfortable driving it around the track. Unfortunately the weather went bad after practice and it rained over night, luckily they had covered the track for the forecast of rain but water still seeped onto the track through the tarps and more ran on while they took the tarps off, this giving a completely different surface for us to race on. They did their best to dry the track out as best as they could but puddles had left some very slick spots, while some of the track remained fairly high grip. Not really knowing what to expect, and since they cancelled the last practice round we didn't change much on the car which we realized later was a mistake.
In Q1 my car was ok but not perfect so we made some changes for Q2. Q2 was another ok result but the track seemed to lose grip dramatically as it became polished and had much less grip. Looking back we should have gone for it and put on a bigger setup change, but hesitating ended up costing me the tie for 10th place, Kyle McBride won the tie breaker leaving me in 11th place, starting 1st in the B main.
We put on the setup that we would typically run in the US, taking into account the high speed of the track and for the B main my car was the best it had felt on the lower grip surface, I had a good battle with Dustin Evans and Naoto and was able to win the B main with a good run. Unfortunately we adjusted our car to this setup just too late, I was super disappointed with the result, but we learned some things and made good progress with the team and we are very excited for the future.
After a "day off" which we spent at the track preparing our 4wd car and gluing tires, the 4wd portion of the race was underway. Wednesday they resurfaced the track putting more molasses water on the track but the grip was never as high as it was for 2WD. This time we started with our typical US setup with a few adjustments to handle the high speeds. Right from the start of 4WD I was fairly happy with my car making small adjustments throughout. Going into qualifying I felt very good about 4WD and high hopes that the result would be much better. Qualifying went pretty good, I TQ'd round 2 , and was also able to TQ round 5 but they cancelled round 5 due to them not being able to finish because of the rain, but with 2 of the 4 qualifiers being counted I was TQ. Once the rain cleared and they were able to remove the tarps, they had a short practice for all heats and then went into the mains. The wind picked up and was blowing very hard which greatly affected everyone especially in the jump section, which made for chaotic Mains.
A1 I finished 2nd and A2 I finished 3rd, so I knew that in A3 if I could win with a good time I had a chance at the overall win, early on in the race I was able to create a good gap on the rest of the field, that's when I hit a bump on the end of the straight and it sent my car flying. I was probably charging a little too hard as I wanted to make a good time, but this crash cost me the lead, the next part of the race was kind of a blur with so much happening and so many cars crashing, at some point Maifield got ahead and I was pushing to get by him, when I got together with Maifield I waited to let him get by again which allowed Spencer to get by to take the lead, I pushed super hard to find a way to get by them but I was unable to do so and would finish 3rd in A3. This race was even more frustrating than 2WD as I felt I had a car that could have won but I just made too many mistakes.
Thanks to the whole Xray team for the help and support, it is great to be on such an awesome team.
Thanks to all my sponsors for making it possible to race and do what I love to do, Xray, RC America, Pro-Line, OS, Hudy, Orion, MKS, VP Fuel, A Main Hobbies, Lunsford, Avid, Muchmore, Stick It 1, 110%, Darkside, Live RC, Red RC, Neobuggy.
Thanks to my family for all their help and support, they have stood by from day one and have sacrificed a lot.
Most importantly I want to thank my Lord and Saviour Jesus Christ, without him I would not be where I am today.