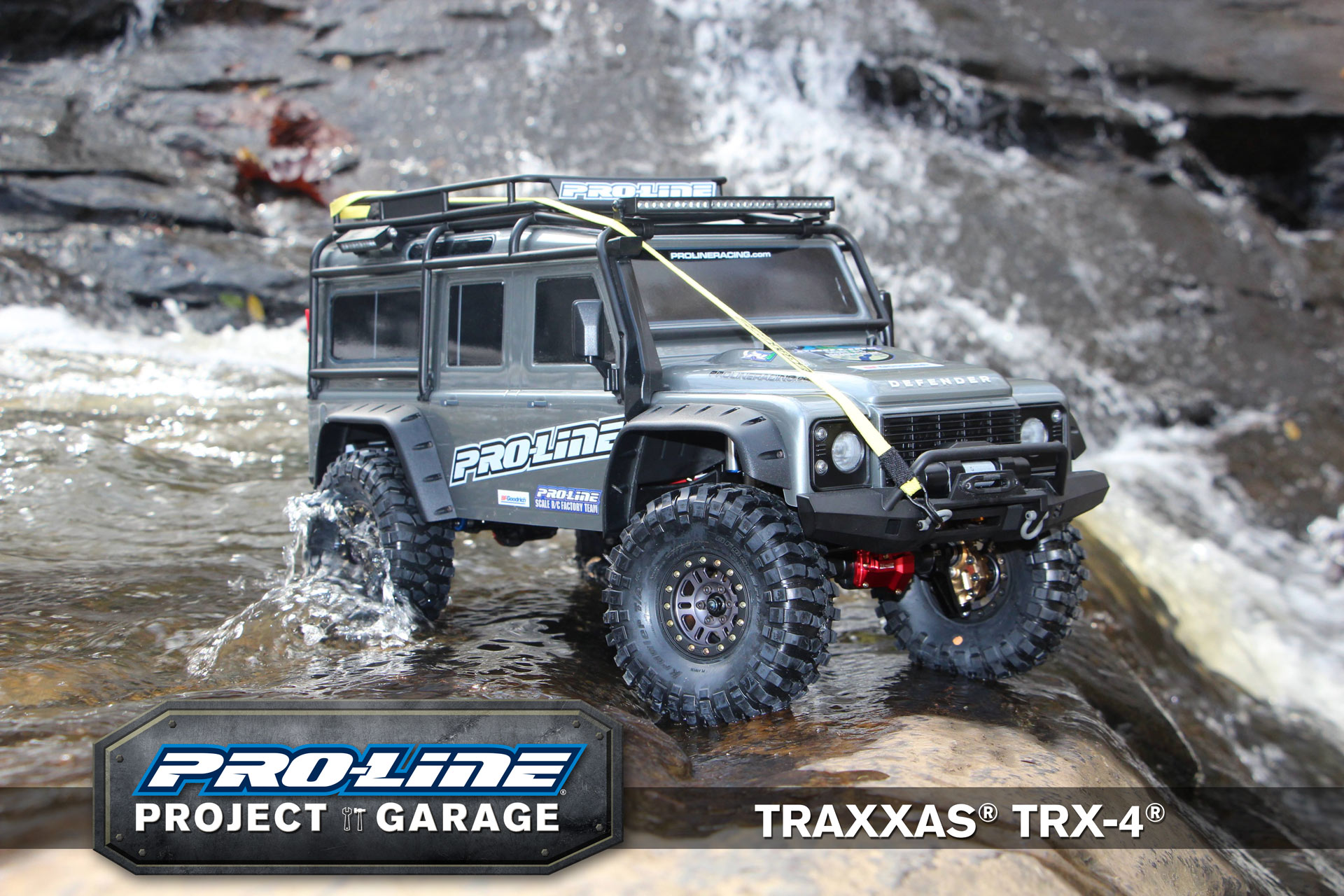 One of the most talked about new scale truck entry this year is the Traxxas TRX4. This trucks key features combines Portal axles with locking front and rear differentials. While the TRX4 is new to the scale scene, Pro-Line Racing has been scalin' for well over 10 years with various scale accessories. Looking over the TRX4, Lets take a look at one of our project trucks to show you what can be done With Pro-Line Racing's Scale Parts and Accessories.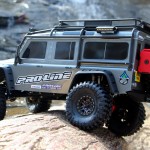 The scale body of the TRX4 is a great start and lends its self well to the addition of more scale accessories!   First we added our Super bright LED Light bar kits. A 6276-02 6" Curved model was placed at the front of the trucks roof and several 6276-00 2" models were used around the trucks roof line to light up the sides and rear at night.  These make a great addition for night crawling adding Super Bright lighting for high visibility
Next we added several of our accessories packs to the roof rack of the TRX4. You can add items like the 6314-00 Scale Recovery Tow Strap, additional 6311-00 Scale Modular Packs. Our 6106-00 Camping Pack with the Grill, Keg and Propane tank pack, or our 6107-00 Scale Drive Line Parts Pack with the drive shafts, Axles, Locker and Air Compressor. These are just a few of our packs you can find at Pro-Line Racing.com . Be sure to check out our Rock Crawling Performance parts section for all of your scale items needs.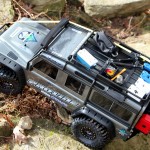 For Wheels, a set of 2764-02 Pro-Forge 1.9 Gun Metal 6 Lug Bead lock wheels were added. These match the Silver color of the stock body very well. A set of the 6292-00 6 Lug 12mm Standard Offset Hex adapters connect the wheels to the axles.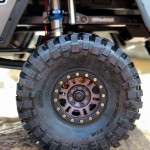 A Set of #10136-14 1.9 BFGoodrich Krawler TA KX Rock Terrain tires and mount them to a set of Pro-Forge wheels using the 6173-00 1.9 Single stage Closed Cell Rock Crawler Foams. These leave a slight air gap from the inner tread casing to the foam but the tire will wrap better over tougher obstacles.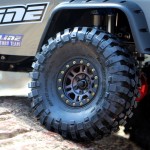 Swapping the stock shock towers for some Hot Racing Aluminum ones, we were able to modify / mount a set of the 6288-00 Ultra Reservoir Shocks. Internal limiters were installed to adjust for proper ride height. You need to trim the inner fender wells slightly to clear the oil reservoirs, but the scale look is well worth the extra time to complete the modifications.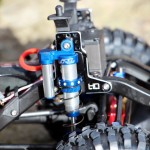 A special thanks to all of our technical partners in the build. Holmes Hobbies for supplying awesome Power, Hot Racing for the cool aluminum upgrades in mounting our shocks. Team KNK Hardware for all our hardware needs and SOR Custom Graphics for the Cool P-L Scale Team stickers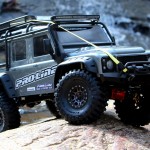 We hope you use this article as a starting point to source the parts and let Pro-Line help you work towards building the scale rig of your dreams!
Thank you for reading and hope you enjoyed the article!
– Aaron Arndt, Pro-Line Racing
The following Pro-Line Racing parts were used in this build:
2764-02 Pro-Forge FaultLine 1.9″ Gun Metal Aluminum/Black Bead-Loc 6 Lug Wheels
6040-00 Scale Accessory – Assortment #1
6100-00 4mm Serrated Wheel Lock Nuts
6107-00 Scale Accessory Assortment #10
6173-00 1.9″ Single Stage Closed Cell Rock Crawling Foam Inserts
6276-00 2″ Super-Bright LED Light Bar Kit 6V-12V (Straight)
6276-02 6″ Super-Bright LED Light Bar Kit 6V-12V (Curved)
6288-00 Ultra Reservoir Shocks (105mm)
6292-00 6 Lug 12mm Standard Offset Hex Adapters
6311-00 Scale Modular Fuel Packs
6314-00 Scale Recovery Tow Strap with Duffel Bag
6315-00 Scale Pro-Line Factory Team Banners
9915-33 Pro-Line Team Decal
10136-14 BFGoodrich Krawler T/A KX 1.9″ G8 Rock Terrain Truck Tires