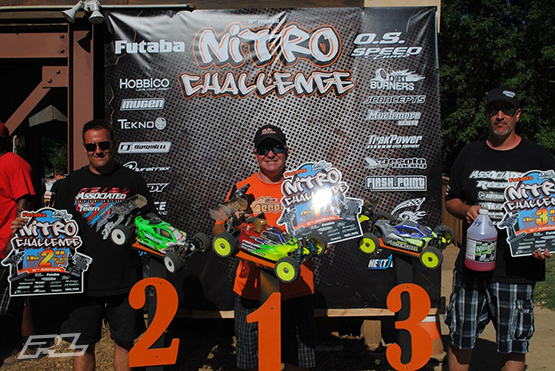 This summer was a little rough on racing for me. I started the outdoor season off with some club racing at the local outdoor track, but then the rains came. The track was flooded for the entire month of May. I started back up in June to get ready for the Futaba race. With my work schedule, I was unable to attend a couple of races out of town. After the Futaba race I was so busy at work that I shut my outdoor racing down. I decided that I would start back up this fall once work slowed down and I was able to get off on Saturdays again. The construction field is really busy during the summer so that limited the time I had to race.
In Buggy the best tire was The Pro-Line X2 Electro Shot. It was fast and very consistent.
First up was the Futaba OS Nitro Challenge. July 27th-30th
I always look forward to this race every year. Not only do I organize the race, but I also compete to. This year was about the best it has been in some time. With 275 entries, a late start due to rain on Thursday and Friday morning, it was difficult to get good practice on the track. But with that being said it was still good practice.
The track was high speed but technical at the same time. Throughout practice, my cars were good, but not great. I was running in Pro Buggy, Pro Truck, and 40+ Buggy. During qualifying, it stuck to my setups on my cars and tried different tires each round.
In Buggy the best tire was The Pro-Line X2 Electro Shot. It was fast and very consistent.
Truck was a mix, it felt really good on Hole Shots, but was faster on Electro Shots.
I ended up qualifying 8th overall in Pro Truck, 5th overall in 40+ buggy, and 10th overall in Pro Buggy.
First up was the first 20 minute Pro Truck main. My truck was good, but the driver was not. I kept pushing the truck and overdriving it over the first 10 minutes of the main. In the end I was in 8th.
Next was the 40+ buggy main. During qualifying I had some issues with the tune on my motor, but worked hard to get them fixed for the main. I started out 5th and quickly started moving up to the front. After a couple of brief battles with Jimbo and Tim Garland, I started to pull away from the field. I ended up taking the overall win by 4 laps over second place. The car, tires, and motor were awesome.
Next was the first 20 minute Pro Buggy Main.
With the success I had in the 40+ class, I decided to stick to the X2 Electro Shots. They were good, but a couple of laps in I blew one off the rim.These were the tires that I sued in practice and thought they would be good. I had to come in for a tire change and that ended my good run. I ended up flaming out around the 12 minute mark and pulled the car from the track. I was driving way to hard trying to make up time, but just pushed it to much.
The final Pro Truck main was a little better that the first one, but again I was pushing the truck too much and made to many mistakes. I ended up 8th again. This put me 7th overall after the combined runs.
The final Pro Buggy Main was also not great. Pushing too hard and 2 flame outs really hurt. I ended up 9th for the second main and 10th overall.
My cars were good at time, but the driver was not at times.
Equipment used
Pro-Line X2 Electro Shots Buggy
Pro-Line X3 Electro Shots Truck
OS speed XZ-B Spec 2 motors
Futaba 4PX Radio
Futaba 9353 servos
Trakpower receiver batteries
Serpent SRX8 buggy
Serpent 811T Truck
Next up was the fall opener at the local indoor track. This would be a good break from work. IT was the first race with the new dirt. This summer they changed the dirt from top soil to clay. I started out trying some tires that I had used at the Chitown race earlier this year and they were ok. Then I decided to try MC Primes. They were awesome and it was a nice feeling to finally watch the JC guys struggle with traction for once. I had always struggled indoor on this track because of the dirt type here. I ended up qualifying 2nd overall in 2 wheel and 6th in 4 wheel. In the 2 Wheel main, I ran into the back of Matt Gosch at the start and had to work my way back up through the pack. But the race wasn't long enough for me to get back to the front and I ended up 4th. I set the second fastest lap only .09 seconds behind Matt Gosch, which was awesome for me as I hadn't driven a car since July. In 4 wheel, I had a good start and some good battles with the top guys for the first half of the 8 minute main. I made some small bobbles and ended up 3rd overall.
It was nice to finally have some kind of advantage over the rest of the indoor guys. I think the tire compounds for Pro-Line are spot on for clay.
Equipment used:
Pro-Line MC Primes – 2WD and 4WD
Pro-Line Trifecta 1:10 wings
Futaba 4PX Radio
Futaba 9352 servos
Trakpower 4200 100C batteries
Fantom 6.0 V2 Motor – 4 Wheel
Fantom 8.0 V2 Motor – 2 Wheel
Of course, thank you to all my sponsors for their continued support. I am blessed to represent some of the best companies in the RC industry.