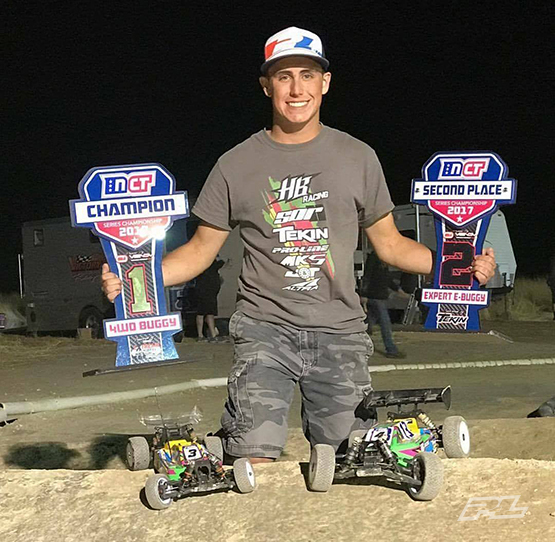 The 2017 Summer season was by far the most intense and competitive season I ever have experienced. The Northwest Championship Tour turned out its largest entry count to date, almost setting a new entry record at every round, with over 2000 entries totaling for the season. Skagit River Raceway, my local track, saw a resurgence in the 1:8 Nitro scene, and I decided to join the nitro fun as well. This would be my first season on Pro-Line Tires as well.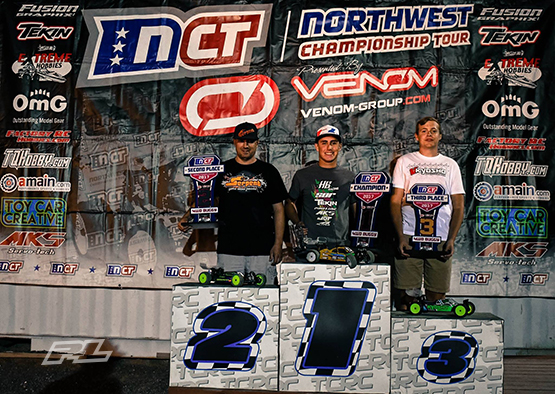 Northwest Championship Tour, Round 1
The Summer season officially started at Playground RC in Yakima, Washington for Round 1 of the Tour. I wouldn't enter Nitro Buggy until Round 3, so I raced my usual 1/10 4wd Buggy and 1/8 Expert Electric Buggy. My first time at this track longer than a day, it took a bit to get used to my vehicles on this super durable yet non-abrasive surface. I had some issues getting steering in my E817, which would continue to off and on plague my season, and it was my first weekend on the +6mm chassis on my D413, which made my car lightning fast through corners but harder to control in return. I would qualify 6th in Expert E Buggy and 3rd in 4wd Buggy, and on Main Day I would take home 1st in 4wd buggy and 2nd in E Buggy after temporarily finding steering. I took this as a solid start to what would be a fairly solid season for me.
I liked the M4 Hole Shots for 4WD Buggy and M4 Electro Shots and X3 Fugitives for 1:8 Electric Buggy.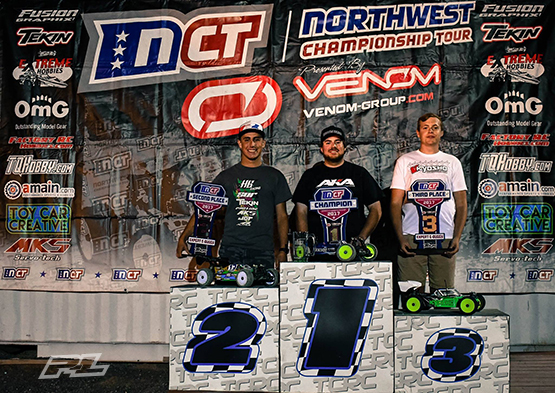 Northwest Championship Tour, Round 2
The 31st Annual Hank Perry serves as Round 2 for the Northwest Championship Tour, in Spokane, Washington. This hardpack, abrasive surface has been a track I have always struggled at and this year would prove the same. I pulled a Top 3 out for qualifying in 4wd Buggy but terrible luck with starts and self inflicted mistakes would set me a 7th for the weekend in the class, and I only managed a 4th in E Buggy as well. It was definitely a frustrating weekend that really took the wind out of my sails at the time. I found it odd that I struggled so much with setup on a surface that the HB rides should be so good on, however I also have very limited experience with this much grip for outdoors and that made it difficult for me to adapt. Next year I plan to be much more open to setup changes and tire combinations.
M3 Hole Shots proved better on the D413 but I never found really anything I liked on the E817 but X3 Fugitives became my choice for main day.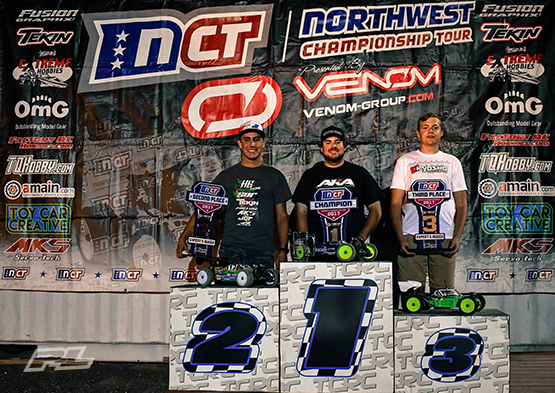 Northwest Championship Tour, Round 3
The Great Snake Shootout in Lewiston, Idaho used to be my favorite race. At the previous facility it was easily the best track in the Northwest. Unfortunately, like many RC tracks recently, it faced scrutiny from the city and was forced to shut down. Without the club's permanent facility, the club is largely in disarray which led to a pretty rag tag event for this season. The track they built was huge, larger than anything I have ever driven on as it was built in a horse arena, but the track wasn't particularly 1/10 friendly so while it was awesome for the 1/8 cars, the 1/10 classes were a toss-up. It was also my first Nitro race ever, so it made for an interesting weekend.
The 4wd Buggy class I couldn't really make anything happen with, qualified 10th overall and finished 12th for that weekend. The lackluster performance in that class really put my title hopes away but thankfully we had throwouts and three more races remaining.
Nitro Buggy was a tough weekend but awesome nonetheless. Besides one time maybe two years prior it was my first time ever driving nitro and so it was a pretty tricky learning curve. How different the D817 drove from my E817 was the biggest thing to combat and my nitro never really felt quite as good but still was fast. I had some up and down qualifying, started 5th in the B-Main and had a pretty secure bump spot but then I flat landed one of the big air landings and my receiver pack came unplugged which stuck my throttle wide which ended my weekend with that car.
E-Buggy was the best it would be all year as I qualified 2nd overall after going back and forth with eventual class champ Keith Hadley in qualifying. He took the overall win in the mains and I took 2nd, which was really the only highlight of the weekend.
M3/X3 Hole Shots for both 1:8 platforms were amazing and M3 Hole Shots were great on the D413.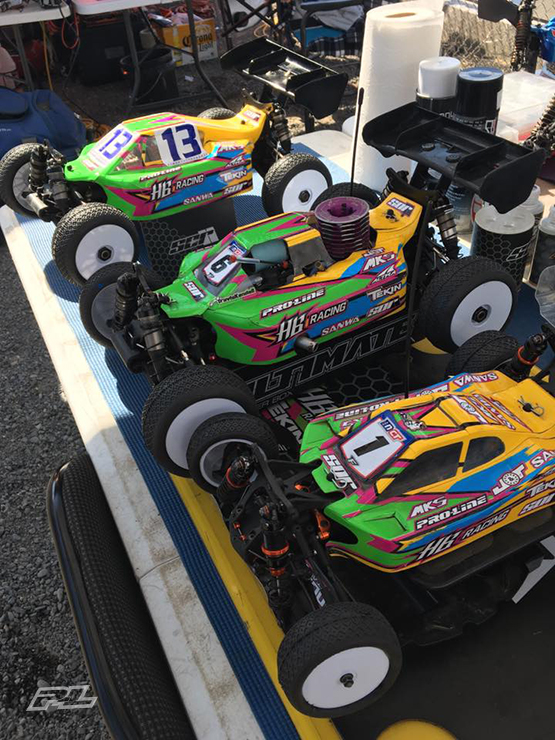 Northwest Championship Tour, Round 4
This time we made it out to Walla Walla for the fourth round of the Northwest Championship Tour. This track is always one of my favorites as it typically is loose and blown out by weekend end. This would be where my season more or less turns around.
In Expert E Buggy I struggled on and off all weekend. The car felt decent actually but I could not seem to throw runs together. I finished 11th for the class that weekend as I only had one good A main run.
Nitro Buggy went pretty well. I qualified for 4th overall in Nitro Buggy out of nearly 50 vehicles and so I was very happy about that. I made a poor tire choice though and was in 6th until I ran out of fuel half way through the main.
4wd Buggy was awesome and I pulled home a TQ and Win for the weekend in the class which would revitalize my efforts for the series for the year.
M3 Holeshots as usual in the 4wd Buggy class, I opted for M3 Switchblades for the 1/8 vehicles and they were amazing.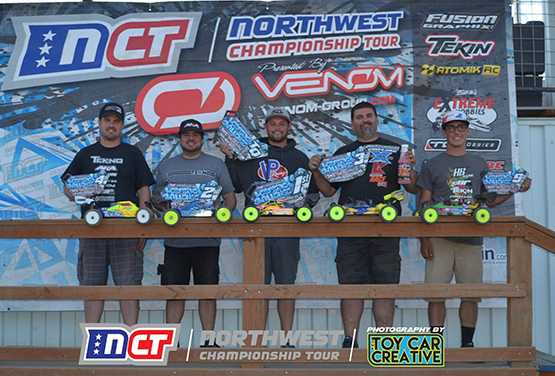 ROAR Electric 1/8 Nationals
I made the drive down to Chico for Electric Nationals right after Walla Walla and decided I'd try my hand at nationals for the first time. I never really found the happy place with my car but thankfully it felt at its best when I needed it most. I hovered anywhere from 24th to 30th in qualifying and Qualified right at 13th in the B Main and finished 11th which put me 24th overall for the event. I was actually really happy with those results but felt like I could have done better.
I just settled on X3 Hole Shots, Triple Silver Hole Shots when the track dried out.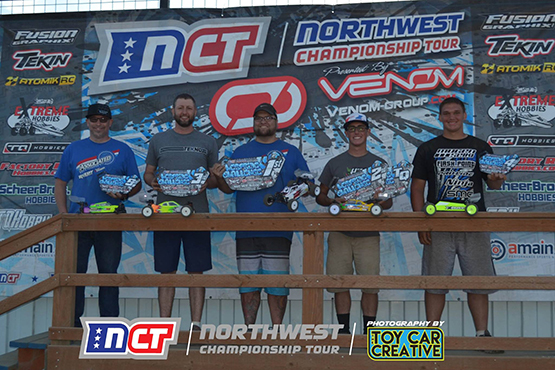 Northwest Championship Tour, Round 5
It was my home round of the Northwest Championship Tour in Burlington, just five minutes from where I work. Ironically I have always struggled at my home NCT and can never really put together a complete weekend there. I decided I would drop E Buggy for the weekend after feeling like I needed a break from the class.
4wd Buggy I took the TQ in but only managed a 2nd for the class overall as I just made early mistakes in the mains that put me out of reach for the win. It really was just another case of my nerves getting to me as they usually do if I TQ a class.
Nitro Buggy was pretty awesome, I only could manage mid top 10s for qualifying and just barely squeeked into the A Main. After a hard fought thirty minutes I was up to 3rd but I made a silly mistake that would put me back to 5th at the end. Was still happy with my results though and felt nice to made it a whole 30 minute main for the first time ever.
M3 Holeshots for 4wd Buggy, X3 Holeshots for E Buggy and Nitro Buggy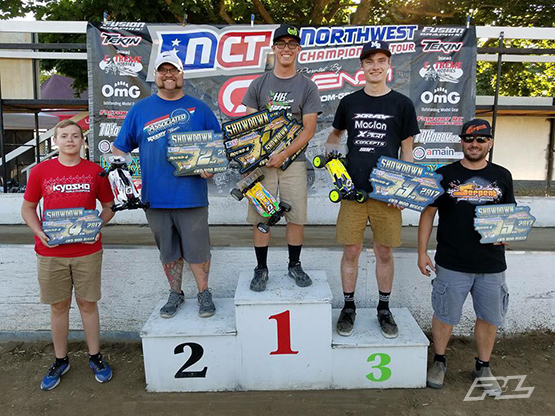 Northwest Championship Tour Finale
The NCT Finale is always held at TCRC in Pasco which is made up of a crazy clay surface. My tire choices this year were M4 electrons and positrons which last all weekend. It is typically a place I never do that well at but I did what I could to break the streak this year.
4wd Buggy it came down to Pasco local Joe Cathey and myself for the series title. If he took the TQ and Win I needed to finish 3rd or better. He did take the TQ and Win and I managed a 2nd overall after a bumper to bumper 2nd A1 and the same in A2, and then taking the win in A3.
Expert E Buggy was just me holding on the best I could, taking 6th for the weekend. The car was hit and miss and I only really raced it so I could be eligible for the points for the season.
Nitro Buggy I had clutch problems that would plague my weekend. Driving with a failing clutch I bumped from the B main and took 7th in the A Main which I was plenty happy with as the car was very hard to drive with the clutch the way it was.
M4 Electrons for 4wd Buggy, M4 Positrons for 1/8 E Buggy and Nitro Buggy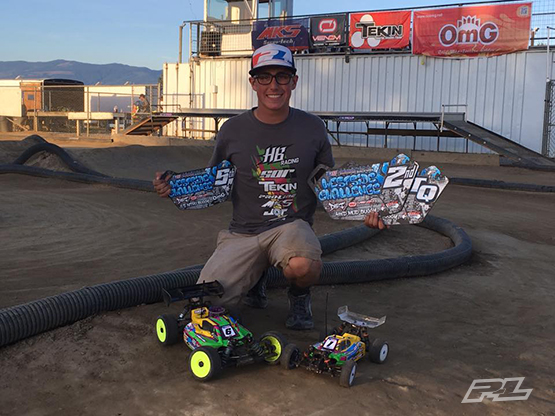 For the season I would take the series championship in 4wd Buggy, my first NCT title! I also took 2nd overall in Expert E Buggy. I started Nitro too late to be eligible for points.
I do apologize for the tardiness in getting this all in, I figured a summer report highlighting the most important races would be beneficial to you instead of everything since every club race minus maybe 1 was a TQ and Win in Nitro Buggy.
Travis Kendall