Had a strong beginning to the indoor season when I traveled to Speed RC to attend their 2nd Annual Pumpkin Dash. Thanks to my wife for filming the A-Main race.
In 2WD SCT class, I was able to take TQ honors with my XRAY XSC2 (a converted XT2). After mediocre results in the first round of qualifying, I made a few changes and bounced to claim the top spot in rounds two and three. Starting on the pole was key in the Main as I was able to get away cleanly and keep things smooth for the entire 8-minutes and was able to follow up the TQ with a Win.
Running Pro-Line Positrons and Electrons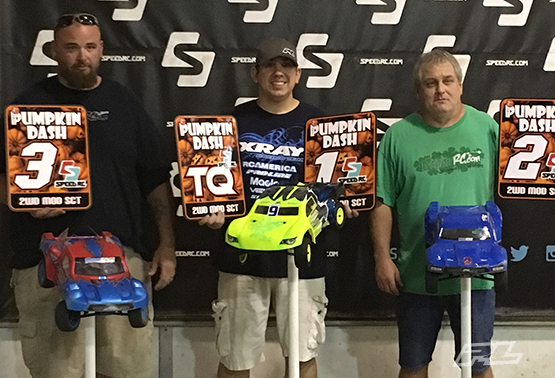 In my other classes, 4wd Buggy and 2wd Stadium truck I was able to put both my XRAY vehicles into the A-Main. However, a little bit of bad luck saw me drop a few spots from where I originally qualified in both classes. A 55-second pit stop to reconnect a ball cup put a damper on my run in 4WD Buggy. In 2wd Stadium truck, rough driving found me turtled over on my lid between the busy double-double section of the track resulting in a lengthy marshal. The marshal had to wait until all the vehicles passed until he could safely retrieve my car. Unfortunately, that ended any legitimate shot I had at a podium finish.
All in all, though it was a great day at the track and I had a lot of fun running in doors again. It was also a really good tune up for this weekend's Master of Dirt race at Beach RC.
I will be returning to Speed RC next month for their Thanksgiving Classic trophy event so the indoor season is now in full swing.
Sponsored Products Used –
XRAY XB4, XT2 and XSC2
Maclan MMax Pro, Maclan MRR 8.5t and 6.5t motors, Xpert SI-4431 servos
Pro-Line Positrons and Electrons (MC)
Venom 4500 mAh 100c 2s
Boca Bearings Green Seals
Pro-Line EVO and Champion/Trifecta Wings
Sticky Kicks Orange