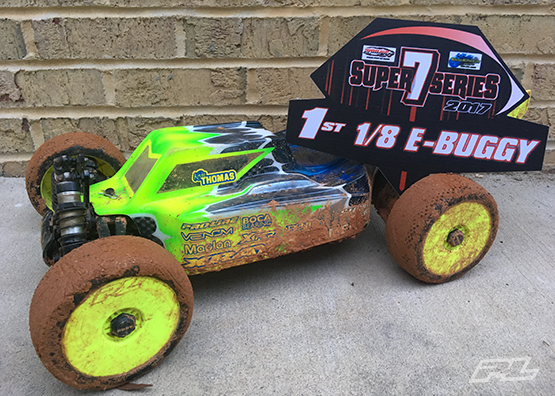 The long Super Seven Series (SSS) which kicked off on April 1st and covered six months wrapped up this month.
I ended up 1st in E-Buggy with my XRAY XB8e Running Pro-Line SwitchBlades and 2nd in 4wd SCT on Blockades and Calibers.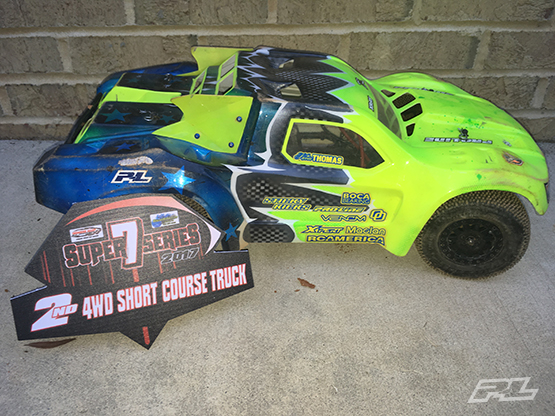 In the non-trophy classes finished 1st in 2WD SCT with the Pro-Line PRO-2 Truck and 3rd in Nitro Buggy with my XRAY XB8.
The series finale was cut short due to heavy rain so unfortunately, I have no real podium pictures to accompany this report so the pictures are of my vehicles and the plaques.
I TQ'ed the final race and took the win in the first of double A-Mains in E-Buggy before the rain hit. We were also able to squeeze in the nitro main as well where I was able to race to a 3rd place finish.
Thank you XRAY / RC America, Maclan, Pro-Line, Venom, Xpert, Boca Bearings, BOOMrc, Sticky Kicks, and World of RC Parts in Wilson, NC for all your support!!
Sponsored Products Used –
XRAY XB8e and XB8
FX K3 Engine w/ 2131 muffler, Maclan MR4 4150kv and MR8 1950kv motors, Xpert SI-4431/SI-4531 Servos
Pro-Line Switchblades, Blockades and Calibers (M3)
Venom 65000 mAh 70c 4s and 7200 100c 2s
Boca Bearings Green Seals
Pro-Line Fusion Body and Trifecta Wings