Class 1 Hyrax 1.9″ (4.19″ OD) G8 Rock Terrain Truck Tires
for Front or Rear 1.9″ Crawler
#10142-14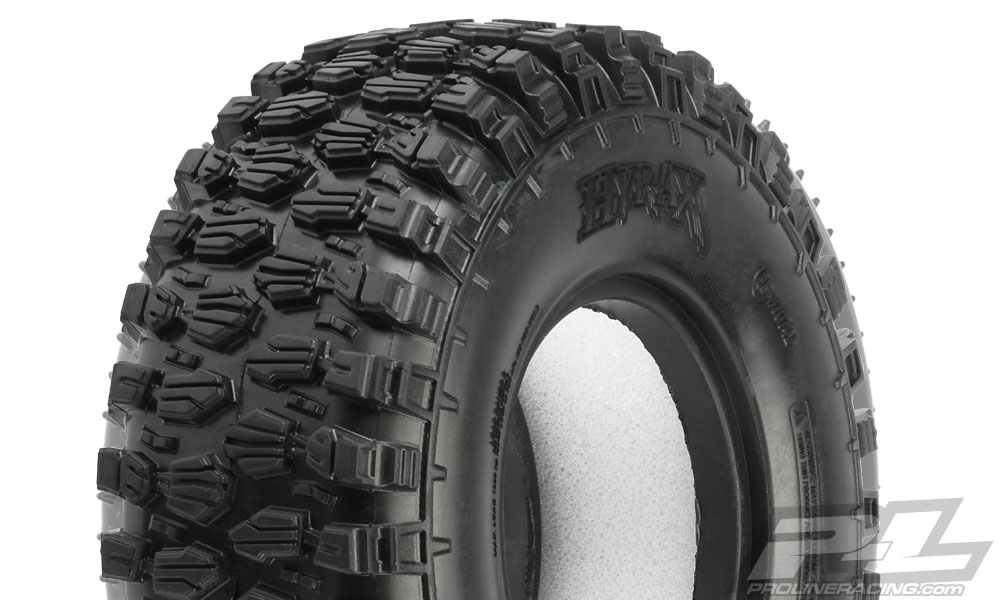 Check Out the Product Video Here: www.youtube.com/watch?v=wCyaJLi7GtU
This is a pair of Class 1 Hyrax 1.9″ Rock Crawling Tires. The future of Class1 Tire Performance has arrived with Pro-Line's all-new 1.9″ (4.19″ OD x 1.4″ Width) Hyrax Tire! Designed from the ground up for maximum grip on the toughest terrain, the Class 1 legal Hyrax tire is ready for anything your Scale Adventure might throw at you. The Hyrax features an aggressive and open tread pattern with each tread block containing multiple Sipes for incredible tread flex while still looking great on a Scale Rig. The highly detailed connected tread on the sidewall of the Hyrax extends out for unmatched side-hilling performance and the futuristic stepped tread blocks create even more forward gripping edges that dig into slick rock like no other scale tire Pro-Line has produced to date! The Hyrax is made from Pro-Line's Legendary G8 material, so you know it provides performance you can depend on.
Don't get left behind spinning your tires, take your adventure to the next level with Pro-Line's new Class 1 Hyrax tires!
Pre-Painted / Pre-Cut 2017 Ford F-150 Raptor Body (Gray/Blue)
for X-MAXX
#3482-13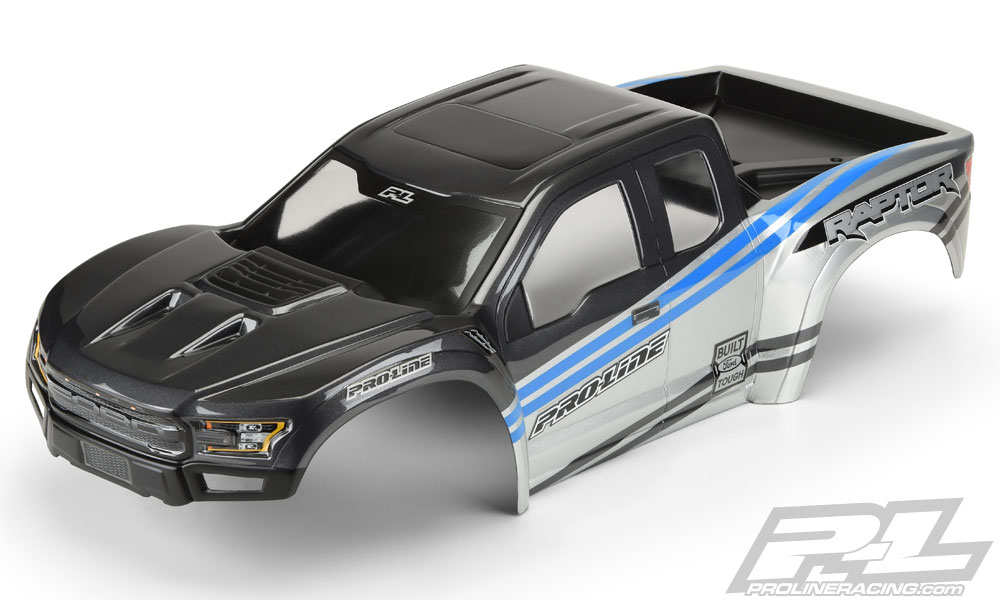 This is a Pre-Painted Pro-Line 2017 Ford® Raptor Body for the X-MAXX®. Introducing one of the most anticipated Truck bodies of all time: the all-new 2017 Ford® F-150 Raptor truck body for the X-MAXX® now available Pre-Painted, Pre-Cut and Pre-Stickered! Pro-Line has included all the aggressive scale detail into the body and sticker sheet for a highly detailed replica. The 2017 Raptor has a bold and tough body style that is the most cutting edge look available. This body completely transforms your X-MAXX® into an even crazier Bash Machine and includes an Awesome Pro-Line Gray & Blue paint job! If you are a Raptor or X-MAXX® fan, then this is the body for you! Be the envy of your friends. Get your new Pre-Painted Pro-Line 2017 Ford® F-150 Raptor body today!
 Ford Motor Company Trademarks and Trade Dress used under license to Pro-Line.
X-MAXX® is a registered trademark of Traxxas® L.P.
---
PL-T Interior (Clear)
for Pro-Line 3466 & 3481
#3497-00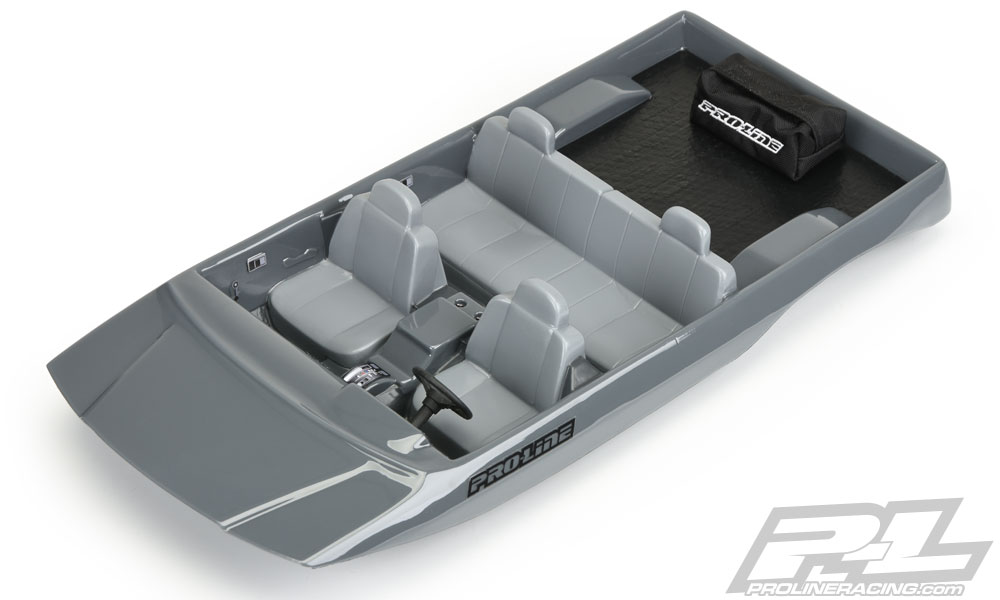 This is a PL-T Interior for Toyota Rock Crawling Bodies. Pro-Line is proud to introduce the PL-T Interior for mid-1980's to early 90's Scale Truck Fans! The PL-T Interior features scale front seats, back seats and a rear cargo area to fit perfectly with Pro-Line's 1991 Toyota 4Runner Body. The Interior can also be trimmed behind the front seats for a great fit with Pro-Line's extremely popular 1985 Toyota HiLux SR5 Body! The dash allows you to add your own scale steering wheel and the interior includes many carefully sculpted details common to that era of Trucks. Scale dash, shifter console and door handle decals are included to complete your retro Truck build. Get your own PL-T Interior today!
---
Fugitive X2 (Medium) Off-Road Tires No Foam
for Baja 5SC Rear and 5ive-T Front or Rear
#10143-002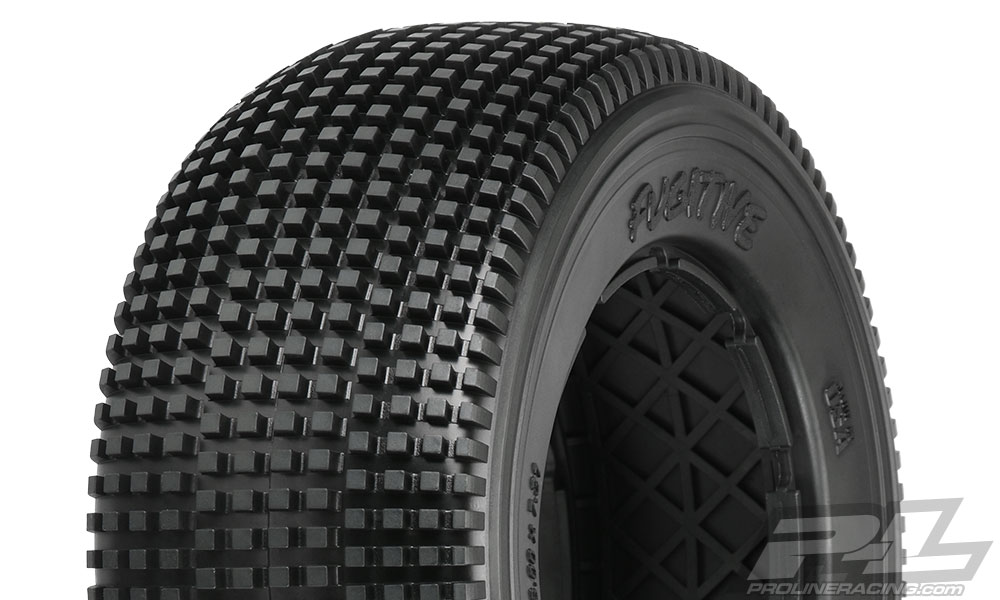 This is a pair of Fugitive 1:5 Truck Tires. Based on the tire that Ty Tessmann used to win the 1:8 Buggy World Championships, Pro-Line is Proud to Introduce the Fugitive for 1:5 Truck! Pro-Line is putting the competition on the Run with the all-new Fugitive race tire since it was developed to be the longest lasting race tire ever produced while still being quick and agile. In the past, the prevailing knowledge for creating a new tire that lasted throughout the long A-Mains in extreme wear conditions was to design a big and tall tire tread that was spaced out. While this was effective for the day, the tall and stiff tread numbed out the handling and didn't have the speed of the smaller pin race tires.
Pro-Line's all-new Fugitive tire sets the standard for wear and performance with a whole new design philosophy – small, tightly packed pins that can handle the abuse of being run by heavy 1:5 machines. When combined with Pro-Line's incredible X-Compounds, the Fugitive has the best performance to cost ratio making it perfect for long 1:5 Mains!
Be the first one outrunning the competition with the all-new 1:5 Truck Fugitive!