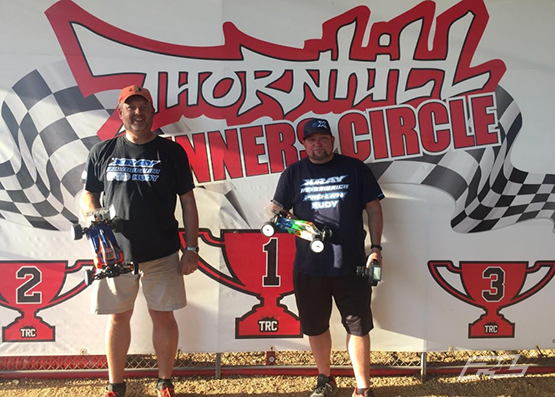 This weekend was a rather large turnout for a club race. With over 70 entries for a club race day, the 2 big classes were 4WD Super Stock (13.5), and 2WD Stock Buggy (17.5).
I decided to run SuperStock 4WD Buggy this weekend, with about 20 entries, locals, and a few from out of town, Houston, and San Antonio area, was going to be a good race.
I got to the track to do some testing, since I haven't run the 4wd on the carpet for some time. Started with my starting setup, I ran some laps, got a baseline with lap times after some setup changes, and tire suggestions from Xray teammate Lance Myhre. I decided to try a set of Pro-Line Wedge Wide 2WD Z4 Front Tires on the front of some cut 4WD rims to see how they felt compared to the 4WD Wedge Z4 the times were improved with the narrow, but the car would become a little over responsive in the corners. I decided to stick with the narrow however, and adjust my driving to compensate.
My final Tire Choice was Pro-Line Pin Point Z3 in rear, and Wedge Wide 2WD Z4 in front.
In Q1, I was able to set the TQ pace. I didn't push too hard, but did put in some fast laps. Tried to limit mistakes. top 4 cars were very close in this session.
In Q2, I didn't make any changes to the car. I decided to push a little harder, got my fast lap down to my fastest of the day. 20.7, however, mistakes would cost me a TQ run. Xray teammate Jason Christie would take TQ from me in this round by 6 seconds overall.
In Q3, after a ride height change, i was able to get to a clean run, and hearing the announcer, I was extremely close to being only car to have a 15 lap race, I was on TQ run, but hearing how close I was to a 15, I was really on edge. knowing I had 2nd overall set, i decided to try for 15. one bobble cost me 3-seconds, and I dropped to a 5:03, so, I decided to back off some and take TQ, but not 15 lap qualifier. I ended up casing a jump, and dropped TQ.
For the Main, I wanted to get a clean start, with Xray teammates in front and 3rd i just needed a clean start. Got the clean start i needed. letting the race settle in, knowing its a long 8-minute Main I just wanted to get in to a groove, and pressure the leader. Soon as the leader made a mistake, I was able to move in front. Some middle of the race pressure, from 2nd, until another mistake by him, I was able to move out to about a 6-second lead, and control the pace. There was a lot of cars breaking early in the race. which made it easier with traffic, but No mistakes after that, i was able to take the Win by 8-seconds with Xray teammate in 2nd.
Pro-Line Pinpoint Z3 rear
Pro-Line Wide Wedge Z4 front
Pro-Line Champion 6.5 Rear wing
Pro-Line Clear Front Wing