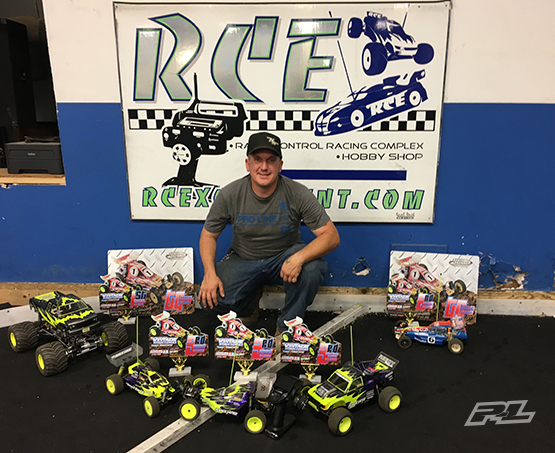 4 days of fun and laughs at the 2017 Vintage Off-road Nationals at RC Excitement in Fitchburg MA. This was the 10th year Anniversary for the event that Erich Reichert puts on.
In the past five months I have collected and hoarded stuff to make five of the best cars to race for this event.
The first day of the event was the fun day. I ran the Clodbuster style truck class with Blackfoot style trucks that run with us and we make obstacles in the race but get scored separate. I was able to TQ the class over the Blackfoots in the field and start on the pole for the mains. The tone went off and I won it from there. My Hobbywing 860 dual brushed esc was awesome, the Trinity Monster Horsepower matched motors that were given an overhaul and tweak from John Cravotta from Team
Scream Racing and the Pro-Line Destroyers kept the truck gripped up
The second class for me of the day was the Classic Class with a handout Tamiya stock brushed motor. I paired it with a Hobbywing 1060 brushed esc.
All cars had to be all stock and use Pro-Line hard compound tires.
I was able to find a set of Pro-Line Waffle Tires so it would be close to an Electron. I was able to set up the car very well with some old school tricks being there aren't too many adjustments. I was able to set TQ with a lap on the field. On the second lap of the main I was tangled with another car and it set me far back in the field. I charged back as hard as I could and ended up second. Boom RC hooked me up with all the vintage style decals.
The second day of the event was the Race Day. I built a Losi XX4, Worlds car and 10T. Sticky Kicks Orange was the sauce for the damp track surface.
I was able to qualify third on the grid for each class. The mains came and I just couldn't charge hard enough with a couple bobbles and weaving through traffic. I ran Hobbywing XR10 stock specs in all three cars with 17.5 and 13.5 in 4wd.
Pro-Line Super Soft Electrons worked great on the track.
Futaba 9551 servos with more than enough speed. Loving my 4PX but think I might try the 7PX. Cleaned everything up all weekend with Cow RC Products and my magnetic pit mat kept and my e-clips from getting lost lol.
Adam Rayls was on point all weekend along with and Chris Cristo.
Best part was meeting up with a great group of guys part of Old School RC a vintage society that appreciates RC for what it is and it was the most fun I have had racing in a longtime.
Pro-Line
Futaba
Hobbywing North America
Crispy Critters Hobbyshop
Sticky Kicks
Cow RC
Boom RC
WERKS Racing
Andrew Rizzo