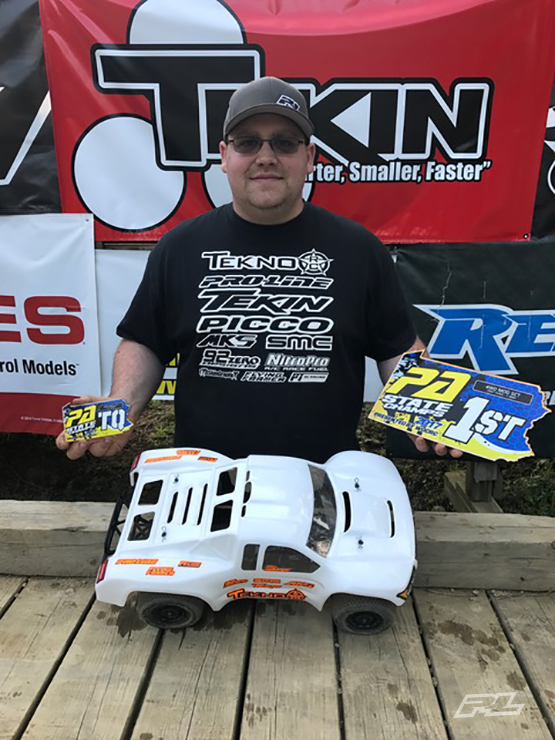 This past weekend I was able to attend the PA State Champs hosted by WOCRC Raceway. I chose to run E-Buggy and 4WD SCT.
Pro-Line Products used: M4 Electrons, M4 Positrons, V2 Velocity Wheels, F-11 Zero-offset wheels, Trifecta Lexan Wing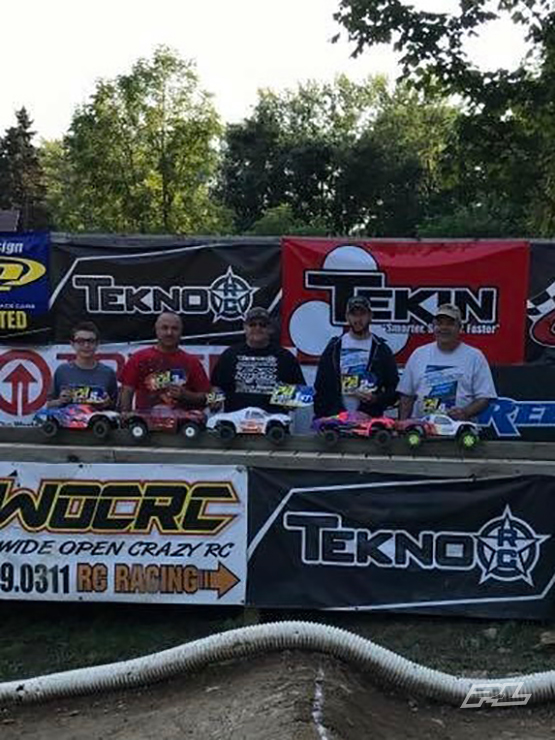 Qualifying went very well for both classes throughout the weekend. I was able to TQ round one of E-Buggy, but during round two I was edged out of the TQ spot by 2 seconds with both of us improving on the previous TQ time placing me 2nd on the starting grid for Sundays Mains.
Qualifying for SCT I was able to set the round one TQ, and also improve the TQ during round three placing myself starting 1st during Sundays Mains.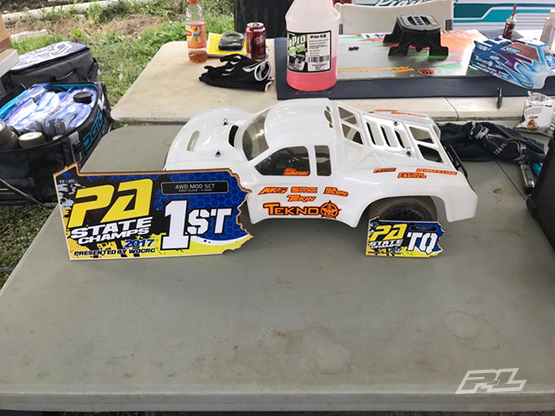 Going into the Mains I had confidence in my cars and was really hoping for the best.
The SCT Main went very well with being able to stay out front uncontested tone to tone and take home the win. E-Buggy would be a little different of a story due to a mistake on my part early on that would drop me away from the lead pack. Unfortunately some more bad luck that I had during qualifying carried over into the Main as I had a cell drop in my battery causing me to drop out early and be unable to finish the race.
Overall I had a great time this year and last year at this race and wanted to say Thank You again to Jeremy McGuigan for organizing this race and the entire WOCRC crew for never missing a beat and for having such a great hidden gem of a track. I would also really like to thank my sponsors for all of the help, support, awesome products, and to my friends keeping racing as fun and enjoyable as it is.
Tekno RC, Pro-Line-Racing, Tekin, MKS Servos, Picco, Nitro Pro Fuel, SMC, 92zero Designs, PT RC Racing Oils, Flying Farmer RC.
It is now time to get ready for the return of the Race Against Cancer and well see everyone next week at LCRC!
#TeknoRC, #ProlineRacing, #TeamProline #TeamTekin, #MKSservos, #Picco, #NitroProFuel, #SMC, #92zeroDesigns, #PTRcRacingOils, #FlyingFarmerRC
– Mike Eglberger