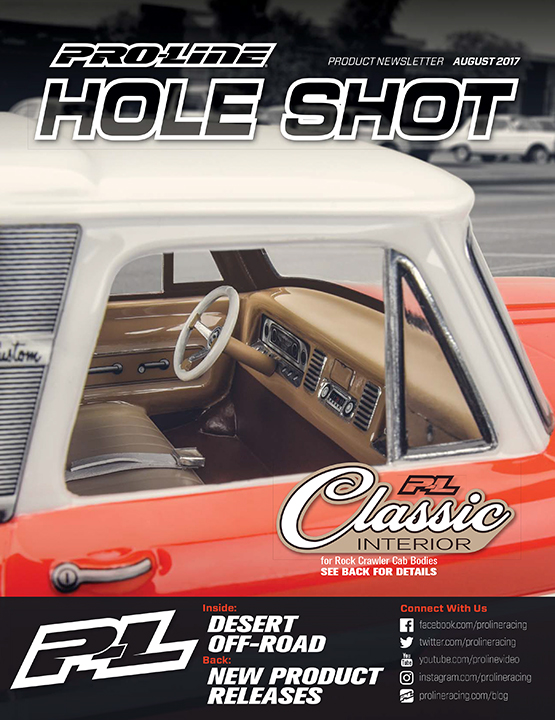 On The Cover:
The Classic Interior that is bound to give you that feeling of nostalgia
Inside:
Desert Off-Road Short Course Truck
Featuring Pro-Line Upgrades for your Short Course Desert Truck. Including Tires like the Badlands SC, the Interco Super Swamper SC, the Trencher X SC, and the BFGoodrich Baja T/A KR2 SC. Mount those tires  by glue-up or Bead-loc F-11 Short Course Wheels. Absorb those bumps and jumps with PowerStroke (Front/Rear) or Pro-Spec Shocks (Front/Rear). Upgrade those axles with the Pro-Spline HD Axles, mount just about any body with the Secure-Loc Extended body mounts and illuminate your path on Desert night runs with the Super-Bright LED Light Bar Kits (Available in 2″ & 4″ Straight or 5″ & 6″ Curved).
On The Back:
New Releases include: Pro-Line Classic Interior, PL Authorized Dealer Decal, Pro-Line Racing Car Decal (White), Prism 2.2″ 4WD Off-Road Carpet Buggy Front Tires, Pyramid 2.2″ Off-Road Astro Buggy Rear Tires, Inversion 2.2″ Off-Road Indoor Buggy Rear Tires, and Velocity 2.2″ 4WD Front Wheels for Xray Xb4 & AE B64.
From PROTOform we have VTA Wheels Front (Black/White) and Rear (Black/White), the 1968 Ford Mustang Clear body for VTA Class, The Mazdaspeed6 & LTC-R PRO-Lite Race Bodies, the PROTOform Car Bag, and PF Grayscale Snapback Hat.