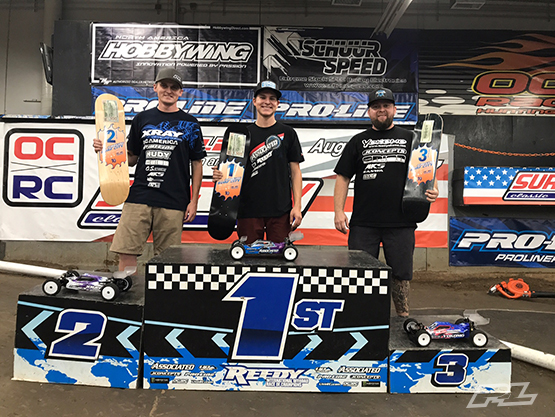 The Pro-Line Surf City Classic was held this weekend at OCRC Raceway in Huntington Beach, CA. For this race I ran 2WD Mod and 4WD Mod.
Ty TQ'd 2WD Buggy and finished 2nd on Pro-Line Positron Rears and Electron Fronts, and finished 3rd in 4WD Buggy on Positron Rears and Electron Fronts.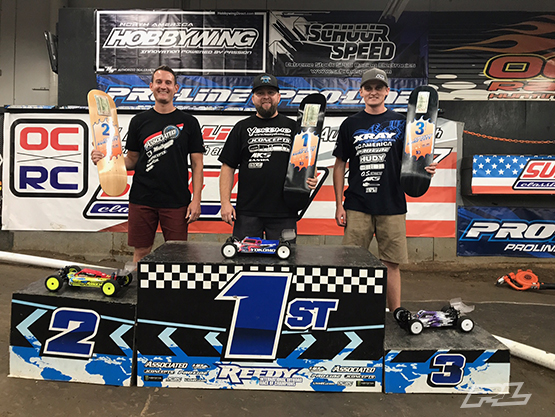 There was open practice on Thursday and Friday, we worked hard at getting our setups dialed, and figure out how to prep our tires the best to get the most traction for the track.
Saturday we ran 3 rounds of qualifying with the 4th being on Sunday before the mains, there was no seeding for qualifying this made things a bit difficult with slower traffic and the top drivers scattered throughout the heats, they did do a resort after the second qualifier which helped out. Also after round 2 they changed the amount of water they were putting down so the track changed and we were then trying to play catch-up. In rounds 2, 3, and 4 I was able to TQ 2WD, in 4WD qualifying didn't go as well as we were doing changes every round to try and keep up with the track, and I was only able to qualify 4th.
There were single A-Mains 10-minutes each so the strategy was a bit different than other races, between the 4th qualifier and a full day of running mains the track looked more traditional, drier and more grip so we went back to our original setup for 4WD. The 4WD Main started off well, I stayed in 4th for a couple of laps and then was able to make my way up to 2nd, battling for the lead but a mistake by me would drop me down to 3rd, I ended up making another mistake dropping me to 4th where I stayed for awhile but was able to move up into 3rd which is where I finished.
2WD main started off good again, I was able to stay in the lead for the first little bit, the top 3 pulled away and ran in the qualifying order for about 7-minutes, there was a racing incident between Maifield and I which allowed Spencer to get by both of us, I carried on in 2nd and Maifield in 3rd. A couple laps later I made a mistake and Maifield got by but towards the end of the race, he made a mistake which allowed me to get back by him to finish 2nd. It was a very close race between the top 3 for the whole race.
I want to thank my sponsors for giving me the opportunity to race with amazing products, Xray, RC America, Pro-Line, OS Engines, Orion, MKS, VP Fuel, A Main Hobbies, Hudy, Lunsford, Avid, Muchmore, StickIt 1, Darkside Designs, 110% Racing, MR33, Live RC, Red RC.
Thanks to my family for all their help and support and I want to thank my Lord and Saviour Jesus Christ without him I wouldn't be where I am today.