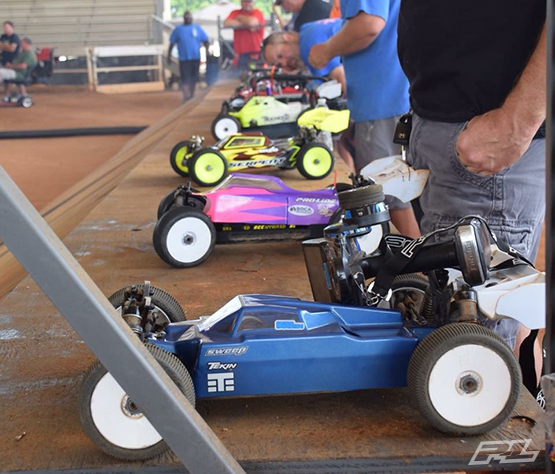 The Wicked Weekend was held August 17th – 20th at Chicopee Woods Agricultural Center in Gainesville, Georgia.
We always look forward to The Wicked Weekend. It is our favorite race to attend. We started our trip around 11:30 AM Tuesday morning. We drove about 9 hours and stopped at a rest area for the night. Waking up at 4:00 AM the next morning we only had a little over 2 more hours to go. Wednesday would be our day to set up camp, stock up on supplies and get a little relaxation in before the long days began.
David and Jessica ran Pro-Line Hole Shot Tires, Predator Bodies, and Velocity Wheels in Buggy and Truggy!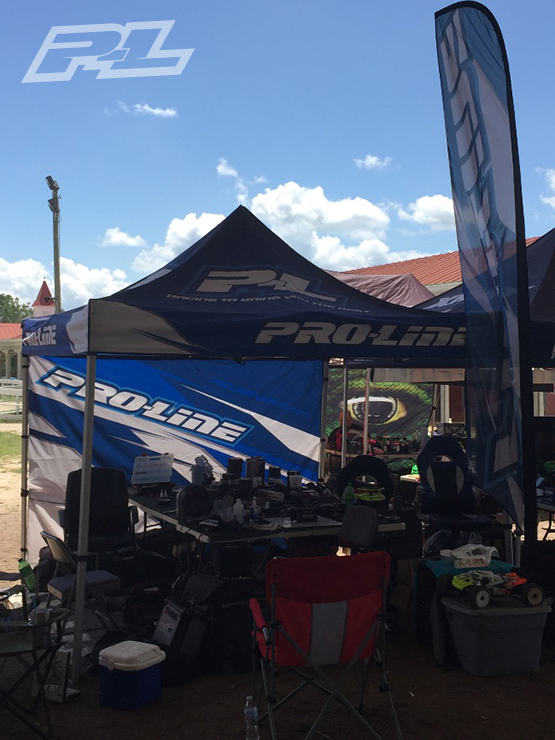 Practice started at 7:00 AM sharp Thursday morning. Right off after my first time on the track I needed to go back to the pits to put my dog bone back in the out-drive. Second time out on the track I didn't even make it down the straight when the out-drive snapped in half. Back at the pits I had to take apart the diff to change it out. Third time out on track I had what I thought was a good run, when back at the pits I noticed my front wheels would not move, which meant my steering servo was shot and another one had to be put in. Thinking my luck could not get any worse……..well it did. On my last round of buggy practice, I ended up flipping on the straight when the announcer was not there to call it out. I yelled as loud as I could, but nobody could hear me over the nitro cars. SLAM! Not a good way to end my practice with a bent center axle, bent shock tower, broken battery strap and two gouges in my battery pack. Trying to look on the bright side of a very expensive day, after replacing everything I now have a brand-new buggy.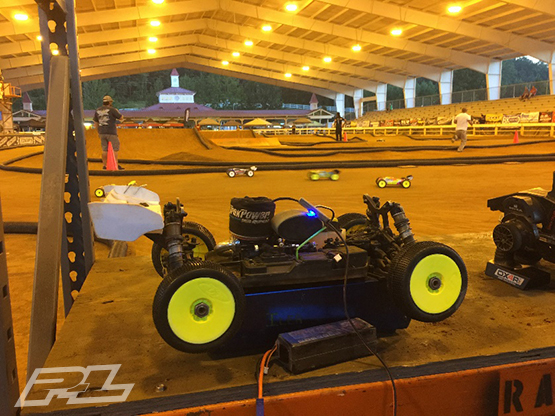 I was struggling a lot with my nitro Truggy during practice and was making stupid mistakes. I needed to drive within myself and not push it so hard. Once I started doing that I had my best run at the end of the day.
The track started off slick, but we continued to run laps just to learn the layout. David had some bad luck also and broke his steering servo on his e-buggy. He also popped out his rear center axle on his nitro buggy. Even with all the broken parts we both had a BLAST. Practice day is always super fun.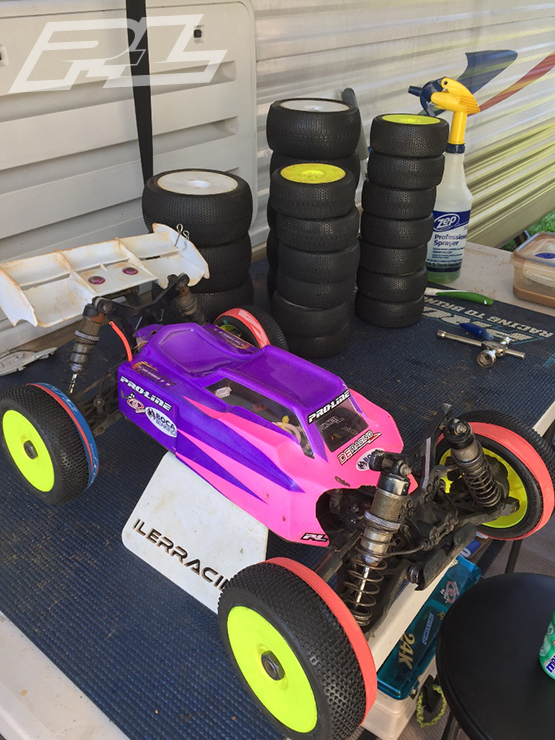 Friday morning was very laid back and relaxing as there would be one 5-minute round of practice starting at noon, then followed by one round of qualifying. With a pretty decent first round of qualifying for both of us we headed to bed as we needed to be up early in the morning for round 2.
David Iler – 40+ Nitro Buggy
Q1 – 8/5:13.942, fast lap 37.627, consistency 96.009%
Finished 7th in heat, 17th out of 34 overall
David Iler – 40+ Open Buggy
Q1 – 9/5:32.568, fast lap 35.691, consistency 97.361%
Finished 2nd in heat, 6th out of 42 overall
Jessica Iler – 40+ Open Buggy
Q1 – 8/5:18049, fast lap 37.280, consistency 94.474%
Finished 8th in heat, 19th out of 42 overall
Jessica Iler – 1-8 Sportsman Nitro Truggy
Q1 – 8/5:31645, fast lap 39.258, consistency 96.961%
Finished 9th in heat, 17th out of 33 overall
Saturday came way quicker then we wanted it too, but we were ready for round 2 and 3 of qualifying. We both did pretty well during round 2 and 3. David hasn't run Nitro much so he had a few mistakes as he tried to adapt to how his Nitro buggy handled compared to his electric one. I also struggled some with my Nitro Truggy during round 2, but improved in round 3. Overall, we both did good and were just waiting for the mains to be posted to see where we would be starting.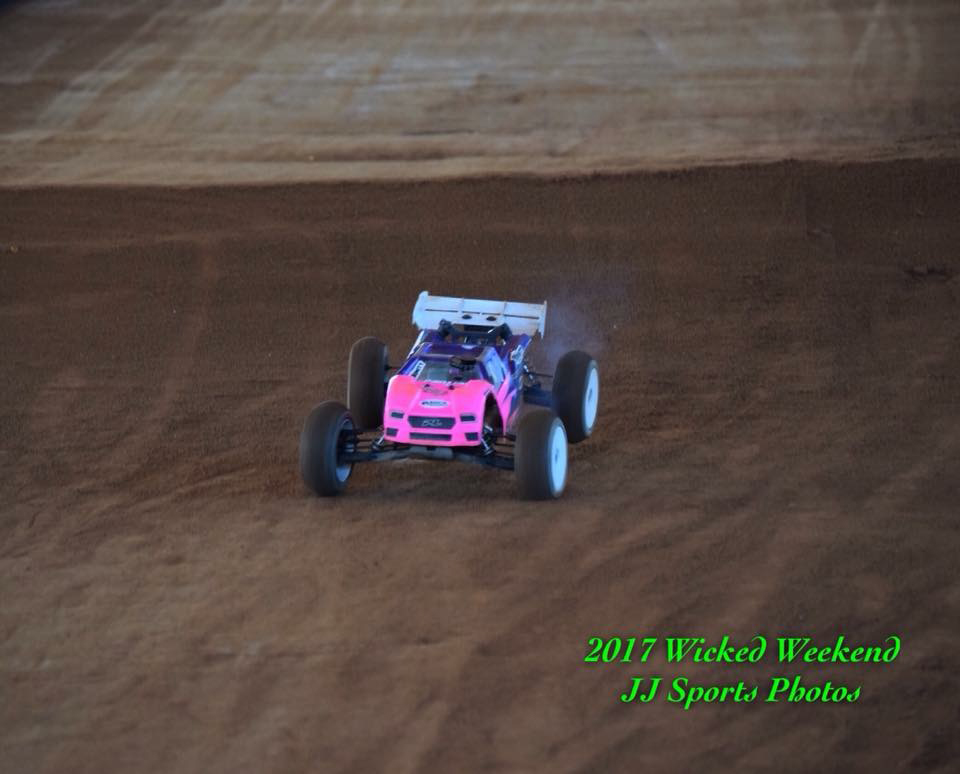 David Iler – 40+ Nitro Buggy
Q2 – 8/5:15.331, fast lap 38.221, consistency 97.966%
Finished 10th in heat, 13th out of 34 overall
Q3 – 11/7:16.465, fast lap 37.325, consistency 93.487%
Finished 13th in heat, 20th out of 34 overall
David Iler – 40+ Open Buggy
Q2 – 8/5:16.019, fast lap 35.684, consistency 83.999%
Finished 12th in heat, 23rd out of 42 overall
Q3 – 12/7:21.004, fast lap 35.656, consistency 97.734%
Finished 7th in heat, 8th out of 34 overall
Jessica Iler – 40+ Open Buggy
Q2 – 8/5:28.416, fast lap 38.630, consistency 95.556%
Finished 11th in heat, 28th out of 42 overall
Q3 – 11/7:14.272, fast lap 37.858, consistency 97.195%
Finished 6th in heat, 22nd out of 34 overall
Jessica Iler – 1-8 Sportsman Nitro Truggy
Q2 – 7/5:17.234, fast lap 40.852, consistency 89.502%
Finished 10th in heat, 25th out of 33 overall
Q3 – 11/7:39.326, fast lap 39.231, consistency 91.466%
Finished 7th in heat, 21th out of 34 overall
The mains were posted and I made the B-main in both 40+ E-buggy and Sportsman Nitro Truggy. I was happy with making the B-main in 40+ since it is an open class and a lot of experienced drivers will enter it.
David made the B-main in 40+ Nitro Buggy and the triple A-main in 40+ E-buggy.
Sunday would be another early morning as the mains began at 6:00AM. David's Nitro Buggy B-main would be up first and I would be pitting for him. He was having a good run when I brought him in for fuel. I was using the fuel gun and ended up spilling fuel all over everything. I thought when using the fuel gun, it would stop when the tank was full just like when you fill up a regular car and the pump stops once full. NOT! Half way through the 20-minute main his rear center axle fell out and he would not be able to finish. It was disappointing as I really think he would have had a good chance at bumping up to the A-main.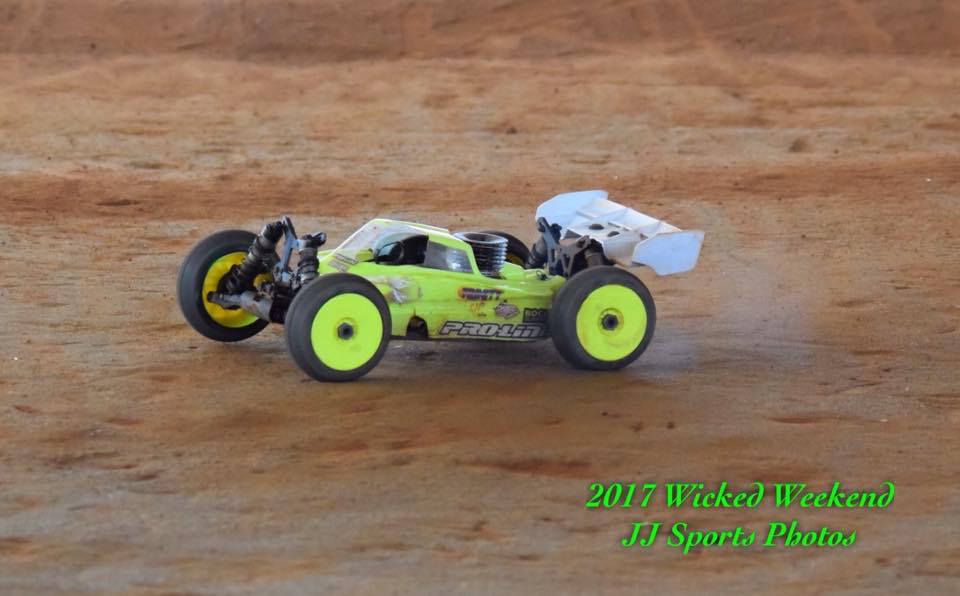 My Nitro Truggy B-main was next. I did awesome on my practice laps before we started and was feeling confident. After the first few laps when the main started I felt like I was losing power where I could not make any of the jumps. David pulled me into the pits and my truggy was sounding horrible. We didn't know what was wrong and decided to stop racing. Back at our camper he changed out my glow plug and that seemed to have done the trick even though he had just changed it before the main. Since there was still time left in the 20-minute main I ran back up the drivers stand to finish the race. I had lost approximately 7 minutes, but was able to gain some positions to place 12th out of 16.
In my 40+ E-buggy B-main I started 12th and on the first lap had already made it up to 9th. That's when I got held up in a pack of buggies and was being hit and pushed around. This dropped me back to 13th as my lap times were 45, 43, 44, and 42 seconds. After I finally got out of the mess I started putting together good laps at 39, 39, 39, 38, 38 seconds and gained a few positions to finish 10th.
The triple A-mains for 40+ E-buggy was up. David had struggled with the starts and had to fight to work his way back up through the pack each time. A-1 he finished 12th, A-2 8th and A-3 6th. After taking the best 2 out of 3 he finished 8th overall. He was disappointed with his results as he felt he could have been in the top 5, but I'm proud of him for making the A-main in a stacked class.
Throughout the weekend we got the chance to watch the Pro drivers race. It was amazing how they could run the same lines on every single lap. We were routing for #Ryan Lutz to win as he is our favorite driver. One of the reasons why we like him so much is he is always willing to help others and you never see him yell or curse while on the drivers stand. Ryan is also one of the first drivers out to the track to turn marshal. He treats everyone the same and will turn marshal a sportsman's buggy just as fast as if it was a pro's. He is a true professional and he makes racing fun. It was unfortunate on the other hand to see another professional driver think it was a waste of their time and were too good to turn marshal. He had to be called out several times to the track as the drivers for the next race waited on the drivers stand.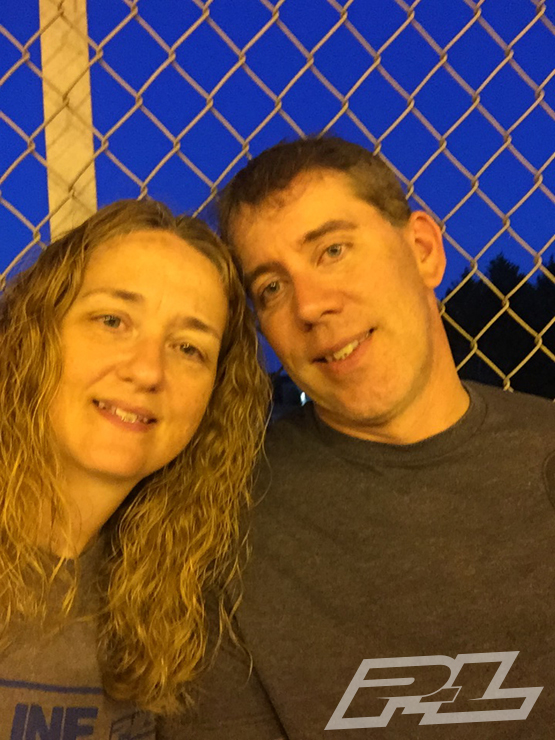 We couldn't believe it was all over as we woke up Monday morning at 4:00AM to start our 11-hour drive home. We had a fun time and liked the new 4-day event as it made it a little bit less hectic. We would like to thank #Christina White for cooking for us all weekend. The food was yummy!
A special thank you to our sponsors #Trinity, #Proline, #BocaBearing and #DERacing