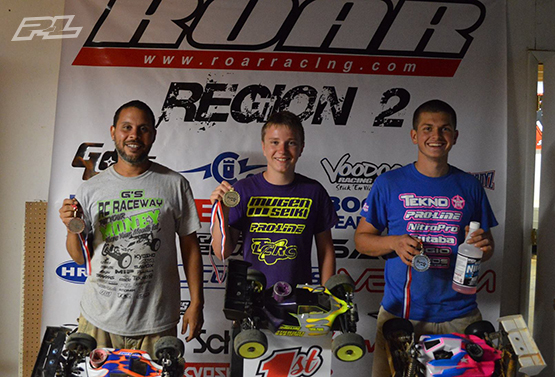 This past weekend G's RC Raceway in Shippensburg, PA hosted the fifth and final round of the 2017 ROAR Region 2 1/8th scale off-road series. The Pro-Line teammates of Ethan Mackanick, Damien Westfall and Jay Drakeford were able to sweep the podium for the 1:8 Nitro Buggy class. Another weekend of the weather being humid was in the 90's during the day. The turnout was around 85 entries which was great for the last race of the series.
Ethan Ran Pro-Line Fugitive Lites to Victory

Ethan Mackanick put in some fast-qualifying times with a few mistakes that would set him in the number two starting position. Pro-Line's Andrew Williams would capture the TQ spot over Ethan by six one thousandths of a second. The clay surface grooved up fast after the first round of qualifying and a tire change was necessary. Ethan had a choice of Fugitive Lites or M3 Electrons for the second and third qualifiers given the conditions of the surface. He chose to try the M3 Electrons which seemed to produce the forgiving corner speed and forward traction that was needed in the qualifiers.
For the mains, a tire change was once again needed. The electrons would not last for the 25-minute final and the surface was beginning to come apart on the top layer. Ethan switched to M3 compound Fugitive Lites for the Main feature. At the sound of the tone, Williams, Mackanick and Drakeford all stayed together in a group into the center section of the track which had a drop down jump into a chicane with two triangle shaped jumps that had a very narrow line. Williams would check up enough for Ethan to make the pass on the first lap with Drakeford in tow. The first 6-minutes Ethan and Drakeford ran nose to tail while separating themselves from the rest of the field. A small roll over by Drakeford in an off-camber section would allow Ethan to begin pulling away. Eight and half minute fuel stops by Ethan and no mistakes for the entire race would allow Ethan to take the win by two laps on the rest of the field.
Damien Westfall would battle from mid pack to take over the second-place position with Jay Drakeford rounding out the podium in third.
Products used by Ethan Mackanick
Buggy:Mugen Seiki MBX7R Nitro Buggy
Novarossi Mito 4 engine Flashpoint Fuel
Pro-Line Fugitive Lite, Velocity Wheels, MBX7R Predator Body
Spektrum DX4R Pro radio and servos