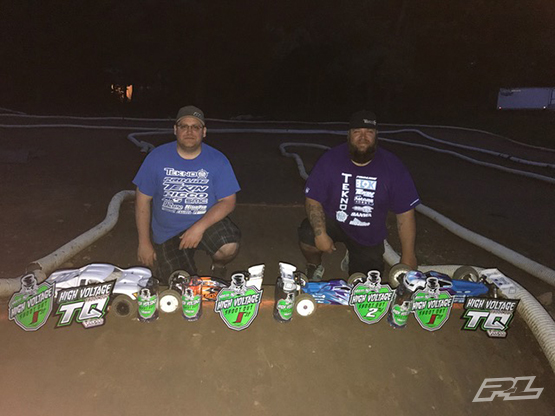 This past weekend I was able to attend the High Voltage Shootout presented by VooDoo Racing Cells, and hosted by WOCRC Raceway in New Florence, PA. The event was able to attract 101 entries and was an electric only race featuring 1:10 and 1:8 scale cars. I decided to run E-Buggy and 4WD SCT. Arriving early in the morning we were all greeted with a sketchy weather forecast that was changing by the hour. Thankfully after three rain delays and a track crew that was on point keeping the track in great shape and race able throughout the day we were able to get the entire race program completed. Due to the early morning rain I was only able to get in one practice session with my E-Buggy, but heading into qualifying I was feeling very confident in my car.
Pro-Line Products used –
M3 Hole Shot, M4 Electron, F-11 Zero-offset Wheels, White Velocity V2 wheels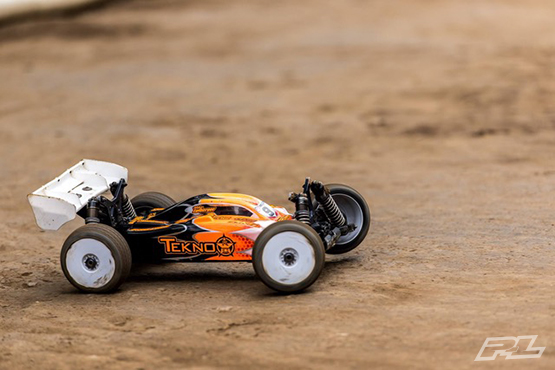 During the first qualifier for SCT I had not only chosen the wrong tire for the track conditions, but had made to many driver errors to get in a solid run. My second qualifier turned out to be a totally different story. I had made the right choice in tires and the car felt absolutely amazing, and really overall was easy to drive and glued to the track. I was able to take the overall TQ starting on poll going into the mains later that night.
E-Buggy happened to be a total flip from SCT. With E-Buggy being ran after SCT I had a good idea of what tire I wanted to use, and was able to get in the fastest run taking the round one TQ. Round two started off really bad with a very slow first lap. I was however able to recover somewhat finishing the qualifier 3 seconds faster then my first run, but was edged out of the TQ spot by 2-seconds. When the main came around later that night I would be starting in the 2nd position.
The SCT Main was up first. After the second lap I had already started to pull away from the pack, but a few laps later I made two costly mistakes dropping me back to 2nd. I was quickly able to make the pass back into the lead and started to pull away. At the end I was able to hold onto the lead and take the win.
Ebuggy was back to back with SCT and during the couple of warm up laps I was able to get I was ready and felling confidant. At the tone we all went over the center triple clean two turns later 1st went a little wide onto the straight and I was able to make the pass for the lead. From that point on I was able to pull away and put in solid clean laps and finish in 1st.
I am really glad I was able to make it out to WOCRC for the first time this year as I really like this track, and it is great being able to race with everyone and seeing people I have not seen in awhile. See you all next week at SRC!
I would really like to thank my sponsors for all of the help and support and to my friends keeping racing as fun and enjoyable as it is.
Tekno RC, Pro-Line-Racing, Tekin, MKS Servos, Picco, Nitro Pro Fuel, SMC, 92zero Designs, PT RC Racing Oils, Flying Farmer RC.
-Mike Eglberger
#TeknoRC, #ProlineRacing, #TeamProline #TeamTekin, #MKSservos, #Picco, #NitroProFuel, #SMC, #92zeroDesigns, #PTRcRacingOils, #FlyingFarmerRC