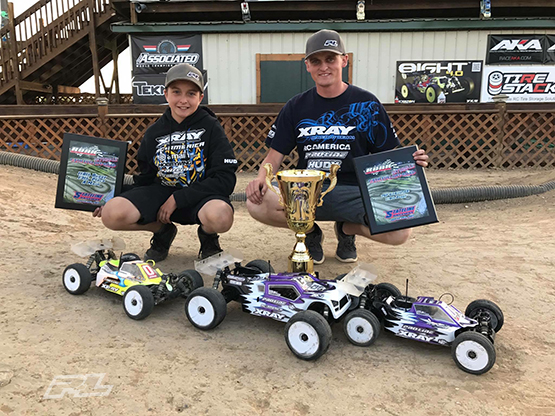 This past week at Stateline Raceway was the 2017 1/8th scale Off-Road Fuel Nationals. Wednesday was controlled practice; the track was very dusty and had low grip to start with, but then the track was getting better as the week went on. The track seemed to worsen every day. My cars were gaining traction and going through the bumps good all week.
The Buggy tires I ran were: Pro-Line X3 Switchblade, M3 Buckshot, and Triple Silver Blockade. The Truggy tires I ran were: Pro-Line M3 ElectroShot, M3 Buckshot and triple silver Buckshot.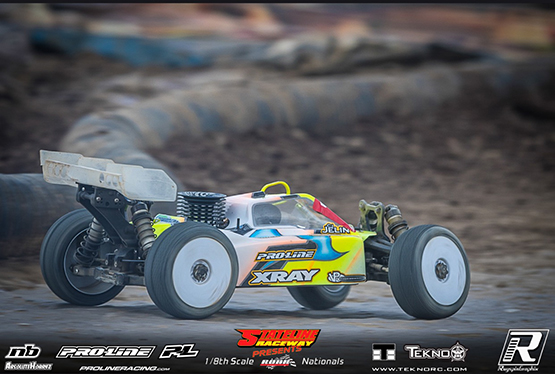 Thursday was seeding; the day was going well until it started to rain. In round 1 of seeding, I made a bad tire choice that made my car catch every bump on the track and caused my car to be hard to drive; that put me in 62nd. In round 1 of Truggy, I got 27th after seeding. In round 2, the rain started a couple of races before mine. When it started to heavily rain, the day ended. They let my race go again, but the times did not count; it rained again after my race. The day ended and seeding was over.
Friday was qualifying. The rain delayed the race so we didn't start until noon; we did one and a half full rounds of qualifying. I did well in qualifying and for round one, I received a 19th in buggy and 25th in Truggy. I had some trivial things that I could improve on in both Buggy and Truggy. In round two, I placed 31st in buggy. I tried a lighter shock fluid because it was night time but I felt that the car would have been better with the heaver shock fluid. In Truggy, I still needed more mid corner steering so I had to drive different then I was, therefor I got a 28th for the round. In round 3, I got 21st in buggy and 26th for Truggy. In the final round of qualifying, I got 23rd in buggy after crashing on the last lap and 30th in Truggy after too many mistakes.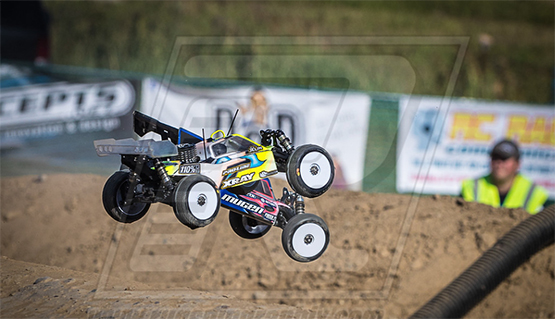 Saturday was qualifying and the lower mains. I qualified in 27th, so I started in 2nd for the ¼ even main. Since I did not have my setup right on my Truggy, I qualified 8th in the c main.
Sunday was Mains. In the Truggy C-Main first lap, I tried to do the double, double, single, in the front section, but came up short on the second double. I was in dead last, but I tried my best to make the bump spot but came up 1 position short of it. I finished in 3rd for the c main and 27th overall in truggy. In buggy, in the quarter main, I started in 2nd. On the first lap, I landed on top of Bill Fisher and I crashed which put me in last. I drove my best and ended up finishing in 3rd which bumped me up to the semi.
In the even semi, I started in 14th. I slowly made my way to the top over the course of the race. After 4 laps, I had reached 10th place; soon enough, I was in 5th place and was battling for 4th with Michael Paige, after the dust settled, I ended in 5th which made me start in 10th in the final.
During the final, I crashed on the first lap. After that, I made too many mistakes and the effect of that was my car breaking down twice. When the race concluded, I placed in 13th and qualified for worlds in Australia in 2018.
I would like to thank Mark Sousa for marshaling the hour long main, Kevin Palmer, the Tessmann family, for their help all week long and all my sponsors. #Xray #RcAmercia #Amain Pro-Line #Protekrc #Hobbywing #VpRacing #110%Racing #Stick1racing #Hudy #Ogio #Hookedtiresauce