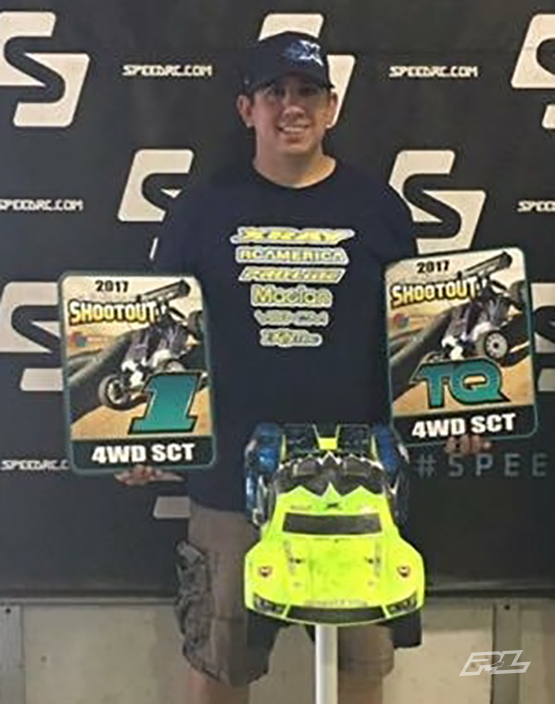 I took a break from my studies and made the 3-hour trip to Charlotte (Mooresville), North Carolina to attend Speed RC's Summer Shootout on their outdoor track.
I ran E-Buggy and 4WD SCT, while also taking advantage of their indoor track in between rounds to get a little extra wheel time with my XRay XB4 Buggy. Overall it was a really good day as I was able to TQ and take the Win in the 4WD SCT class and earned a spot in the Pro E-Buggy A-Main.
Ran Pro-Line Fusion Body, Blockade and Fugitive Tires
The track layout was a lot of fun featuring hard packed clay and extremely quick lap times (22-24 second Laps). Surprisingly, I was able to navigate the layout a little easier with my short course truck, which produced my fastest laps of the day. This allowed me to TQ each round of qualifying in short course. I started off the main a little tentative and was off my qualifying pace which led to very close racing for the opening 2-3 minutes. I would like to point out the awesome sportsmanship by the 2nd place racer, Ethan McManus. During our close battle, a truck that was a lap down got into me on the straightaway; with the wreck, I lost the top spot. Ethan held up at the next turn so we could resume the tight race. The sportsmanship did not end there, after regaining the lead and Ethan made accidental contact in a turn that put me on my lid. Once again, he waited and we resumed our battle for the top spot. I was able to capitalize on a few of his errors over the next two laps and also started to pick up my pace a bit allowing me to pull away and race to the win. While the TQ/win was nice, the sportsmanship displayed by a fellow racer was the highlight of the day and I would like to point that out since it was great to see the sportsmanship.
In E-Buggy, my XRAY XB8e felt good though I was off the pace to make a serious run for a top-5 finish. I missed an automatic bid to the A-main by a single second and had to earn it via the B-main bump up. The extra track time was great practice as the tracks in my area tend to be more loose and loamy. Overall, I was happy with the finishes and look to continue to improve in the E-Buggy division. Next up for me is the 2017 Summer Sizzler, a 2-day race at my home track Thunder Alley in Wilson, NC though I plan to return to Speed RC next month for their July trophy race.
Thank you XRAY / RC America, Maclan, Pro-Line, Venom, Xpert, Boca Bearings, BOOMrc, Sticky Kicks, and World of RC Parts in Wilson, NC for all your support!!
Sponsored Products Used:
XRAY XB8e
Maclan MR4 4150kv, MR8 1950kv, Xpert SI-4431/SI-4531 Servos
Pro-Line Fugitive and Blockades (M3)
Venom 65000 mAh 70c 4s, 7200 100c
Boca Bearings Green Seals
Pro-Line Fusion