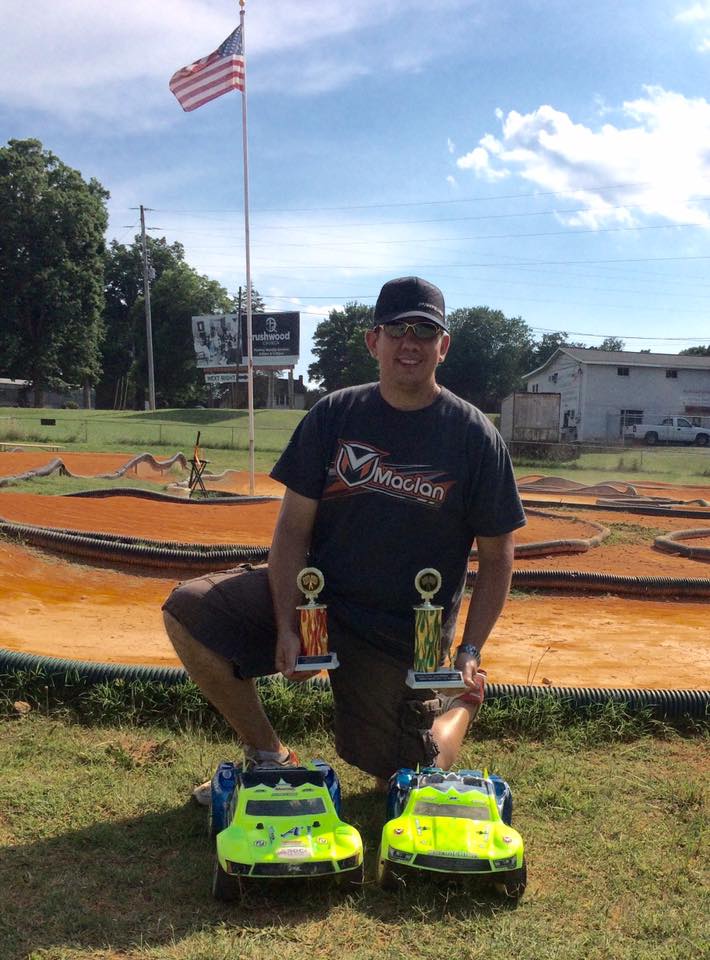 I am getting the ultimate test in time management as I attempt to juggle a loaded RC racing schedule with summer school for the MBA program in addition to my full-time job. So far it has been going fairly well with podium finishes at both races.
In order to attend Zoo City's trophy race I had to stay up until 1am Friday night studying while my wife, Miranda handled the packing and pre-race responsibilities. Miranda and I got creative while I towed the trailer to the track I also dictated my homework answers to her and she typed them up.  So definitely a team effort, that allowed me to attend and participate at Zoo City's trophy race this past Saturday.
I decided to run three of the four classes offered so the hectic schedule continued through the race day.  I finished 1st with my Pro-Line PRO-2 SC Truck in 2WD SCT, 2nd in 4WD SCT and 5th with XRAY XB8E in E-Buggy.
I ran Pro-Line SwitchBlades, Calibers, and Flo-Tek Fusion
The Pro-Line PRO-2 equipped with Pro-Line Caliber tires (M3) continue to deliver and was very strong on the loose, loamy conditions at Zoo City. I qualified second overall after some tight racing with the top qualifier. In the main, the top qualifier had some unfortunate luck with a ball cup allowing me to gain a significant lead early in the ten minute main. I kept things smooth and was able to take the top spot in the 2wd SCT division.
In 4wd SCT, the racing was extremely tight. The top qualifier was on another level and had the layout cased, as it was his home track.  I was able to steal the third and final qualifier from him but wasn't able to make a significant charge in main. I decided on a safer strategy in the triple section of the track opting for the double/single approach, as any wrecks would have opened the door for the third thru fifth place drivers to bounce me down the board. I felt the strategy paid off as I secured 2nd overall.
My third and final class was E-Buggy, which is always the most competitive class. It was my first time racing at Zoo City in over two and a half years and with limited practice, I was concerned I would be a disservice to the XB8e buggy. My first goal was to lock up a spot in the A-Main. My first heat was riddle with errors as I tried too hard but was still comfortably in the A-Main group. This provided me with some confidence and I felt I settled in for the remainder of the event. I qualified 6th overall and readjusted my goal to secure a top-5 finish. It looked like that goal wasn't going to happen after a few horrible laps to begin the main. The track layout is a lot of fun but very tight and technical, which can lead to pile ups and tangles. After I was able to get some open track, I began running some decent laps and settled in. I worked my way up the board and finished 5th overall.
The prior weekend, I attended round two of Thunder Alley's Super Seven Series (SSS).  I finished with 2nd place in all three of my classes. I debuted my new XRAY XB8 Buggy by competing in my first nitro race. It was going well until an internal issue in my motor ended my main run a little prematurely. In attempting to get my motor cranked over, the electric motors in my starter box were ultimately fried. It was a rough introduction to nitro but I hope to have a new nitro engine and starter box shortly and get my nitro buggy up and running again. This prevented me from running nitro at Zoo City but on a positive note, I secured valuable points in all three classes for the SSS series.
Thank you XRAY / RC America, Maclan, Pro-Line, Venom, Xpert, Boca Bearings, BOOMrc, Sticky Kicks, and World of RC Parts in Wilson, NC for all your support!!
Sponsored Products Used –
XRAY XB8e / Pro-Line PRO-2
Maclan MR4 4150kv, MR8 1950kv  and MRR 8.5t motors, Xpert SI-4431/SI-4531 Servos
Pro-Line Switchblades and Calibers (M3)
Venom 65000 mAh 70c 4s, 7200 100c 2s and 4500 100c 2s batteries
Boca Bearings Green Seals
Pro-Line Flo-Tek and Fusion