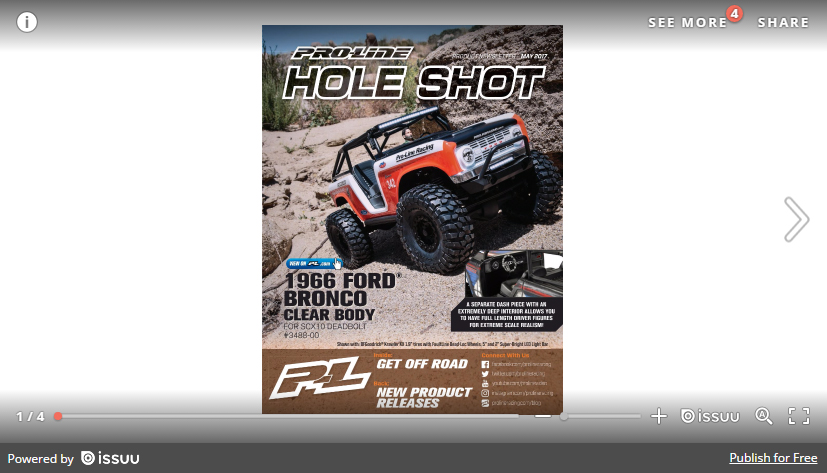 On the Cover:
The NEW 1966 Ford® Bronco Clear Body for SCX10 Deadbolt featuring a separate dash piece with an extremely deep interior which allows you to have full length Driver figures for extreme scale realism.
Inside:
Get Off Road
With 2.8″ Monster Truck! including the 1966 Ford F-100 clear body for Stampede. 2.8″ Premounted Tires; Sand Paw 2.8″, Trencher 2.8″, and Badlands MX28. Accessories include PowerStroke and Pro-Spec Shocks, Super Bright LED Light Bar Kits, Pro-Spline HD Axles and of course our Secure-loc extended body mounts.
Back Cover:
New Releases!
Include the all-new 1991 Toyota® 4Runner Clear Body, Pro-Forge FaultLine 1.9″ Aluminum Wheels in Clear and Gun Metal Anodized options, the 1966 Ford® Bronco for deadbolt, Ultra Reservoir Shock Caps for X-MAXX® Shocks, The Big Hit Servo Saver for Solid Axle Monster truck and Rock Racers, Predator Body for MBX7R ECO, Impulse Pro-Loc Stone Gray Replacement Rings, Positron SC Tires in MC and M4 Compounds, The All-New z4 (Soft Carpet) Tire Compound available in PinPoint SC, PinPoint 2.2″ Rear, PinPoint 4WD Front, Wedge Squared 2WD Front, and the All-New Prism 2.2 Rear Tires and Wedge 4WD Front Tires…Whew…That's a lot of New Releases!
Make sure and check out all of the Pro-Line Products at ProLineRacing.com