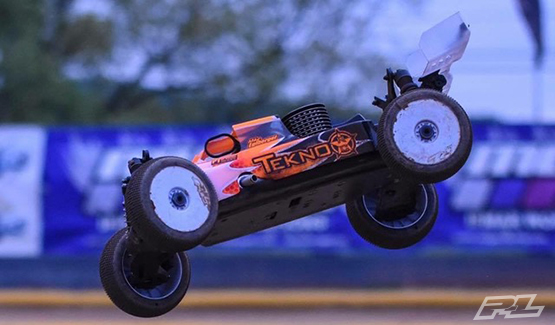 Man it was great to get back to LCRC again for another race; it feels like it has been forever since I was there. This past weekend it was their yearly "The Big One" race with a $1000 nitro buggy purse. I traveled up with teammate Jeremy McGuigan early Friday morning to great a full day of practice in. I ran Nitro Buggy, E-Buggy, and a borrowed E-Truggy from Jeremy (thanks again!).
Pro-Line Products used:
M4 Hole Shot, M4 Electron, M4 Fugitive Lite
V2 Velocity White Wheels
Trifecta Lexan 1:8 Buggy Wing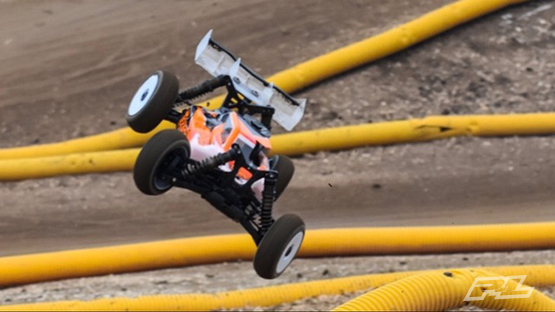 Leading into Saturday morning my cars felt great and the track was super fun and really fast, but once again Mother Nature had different plans for us. With a 0% chance of rain all weekend we arrived to a rather wet track with more mist/light rain that would last until about 2pm. Kevin and the track crew did an amazing job getting the track dried out and runnable so we could start qualifying. We would end up getting two rounds in Saturday and a third Sunday morning. Using qual points I would end up getting a 4, 4, and a 7th in E-Truggy putting me 6th on the grid in the A-Main. E-Buggy I would end up with a 17, 11, and a 9th putting me in the 11th spot in the A-Main. Nitro Buggy I ended with a 27, 21, and a 21 putting me 5th in the C-Main.
Later that day the Nitro Buggy Main was up first. The main for myself started off great with my car feeling amazing and I would find myself into the 2nd position right behind 1st with us both pulling away from the field. After the 10-minutes I was able to hold onto 2nd taking the bump into the B-main. The B-main started off slow, but around the time for pit stops I had jumped up to the 8th spot from 11th and during the last few minutes I would find myself taking the 6th spot finishing 17th out of the 45 entries.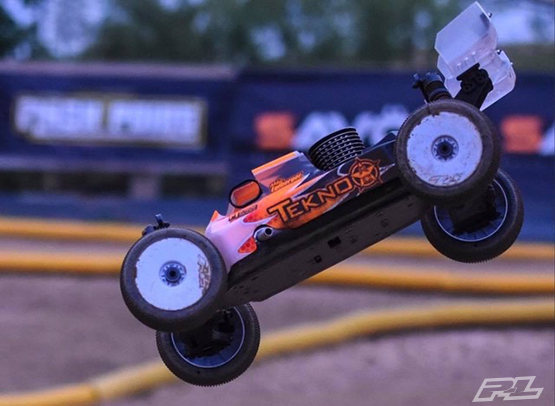 E-Truggy was my second main of the day. The race over all was great with a great battle between 4th, 5th, and myself. We all swapped positions a few times through the race during a great battle and I would find myself finishing 6th 3 tenths behind 5th out of the 29 entries.
E-Buggy was the last main of the day and I made a bad judgment call on tires and a set up change. During warm ups my car just felt off and really hard to drive. I ran the race for about 6 minutes and after some really costly errors I decided to pull my car, as it was just too much to handle. Over all I finished 12th in the Main out of a 53 car field.
Overall I am excited with my performance, as I have never qualified into an A-Main at LCRC at one of their larger events and making 2 of the 3 I cannot be happier. I have a few things I need to work on, and will be ready for the next race.
I do have to throw out a HUGE thank you to David Scott for always being fully stocked up on everything (and I mean everything), and for letting Jeremy and I pit in his trailer keeping us cool, warm, and dry all weekend. Alex thank you again for pitting me during my two nitro mains, and Paul thank you again for the help with the new motor. The next scheduled race for myself is the Off-Road Fuel Nationals at Stateline; I hope to see you there!
Last but not least I would really like to thank my sponsors for all of the help and support and to my friends keeping racing as fun and enjoyable as it is.
Tekno RC, Pro-Line Racing, Tekin, MKS Servos, Picco, Nitro Pro Fuel, SMC, 92zero Designs, PT RCRacing Oils, Flying Farmer RC.
#TeknoRC, #ProlineRacing, #TeamProline #TeamTekin, #MKSservos, #Picco, #NitroProFuel, #SMC, #92zeroDesigns, #PTRcRacingOils, #FlyingFarmerR
– Mike Eglberger