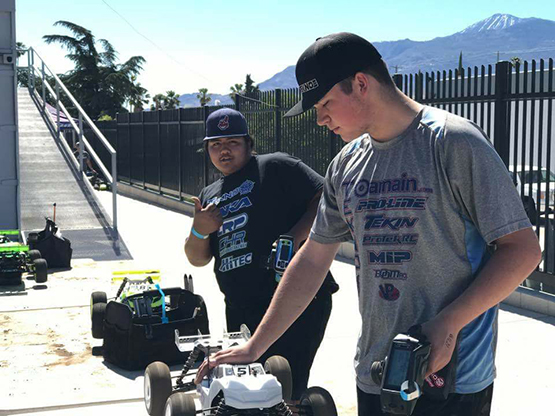 I made the long 9-hour drive south by myself to the annual gas champs held at the Pro-Line Test Track.  I would run all 3 pro classes as usual.  Practice went good only making some shock adjustments for the track.  Qualifying would go great for me, qualifying directly into the Pro Nitro Buggy Main as well as the E-Buggy Main. I was also able to get a 2nd for the round in E-Buggy behind Ryan Lutz and ahead of Ryan Maifield!  Unfortunately in Truggy I would have engine issues in qualifying which forced me to be in the B-Main.  I would have a clean run, lapping the field to get the bump to the Main.
Overall it was a great weekend of racing! All my Tekno cars were amazing with the help from Pro-Line X3 Hole Shots and my Tekin electronics.  
In the A-Main of Truggy I would unfortunately suffer from a mechanical failure and be forced to retire from the race.  The E-Buggy triple A's would be next for me.  I would have some pretty good battles in all 3 mains but in the end I would take home a 5th place finish which is where I qualified.  Now it was time for the final race of the day, the 45-minute Pro Buggy Main.  I would have some great battles with the 4th, 5th, and, 6th but, in the end I would take home a solid 7th after starting 9th.  I wish I would've ran a different compound of tire in the main, around the 25-minute mark my tires began to slow down and unfortunately lost a lot of time the last 20-minutes.
A big thanks to Pro-Line for the great track as well as Tekno for the help all weekend.