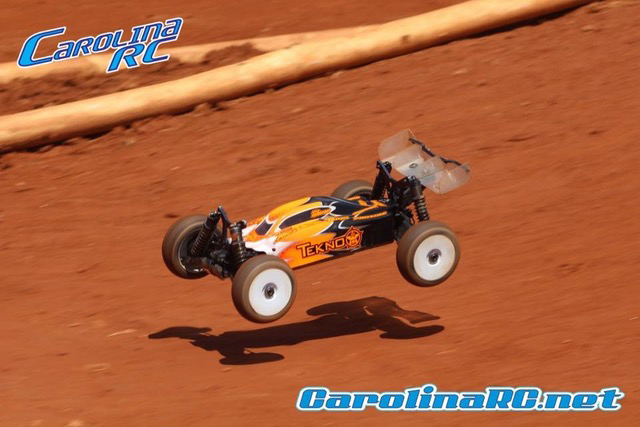 This past weekend I packed up and headed south with teammate Joe Bornhorst to attend Levi Jackson's Battle of the Sikest hosted at S&B RC Speedway in South Carolina. After the long 8.5 hour drive down we had arrived to a rather wet track due to all the rain that had hit the area during the past day or so. The pictures of the layout really did not do the track or layout any justice. Levi did a really nice job and made a really fun and flowing layout.
Pro-Line Products used:
M3 Hole Shot, M4 Electron, M3 Fugitive
V2 Velocity Wheels
Trifecta Lexan 1:8 Buggy Wing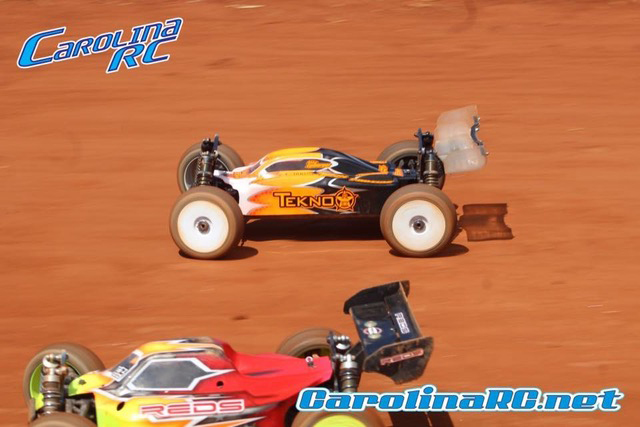 After a night of sleep we went back Friday morning with hopes to get some practice on the track. Mother nature had other plans for us with more rain throughout the night and more on and off rain throughout the day. I decided against running on a muddy track and hung out for the day, and during the breaks of rain I put some fuel through my new nitro motor on the football fields running track.
Saturday morning was here and practice was extended an extra hour or so to get the track run in and so everyone can get some run time in on the layout. I had intentions of running open nitro buggy and open electric buggy, but due to their only being 19 heats and a super fast running program I elected to run just open electric buggy. Running just the one class I could focus more on not only dialing in that car but be fully available for help with pitting, and any work Joe's cars and Levi's E-Truggy needed throughout the weekend.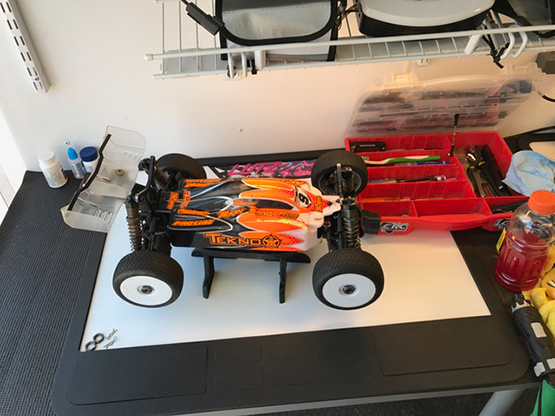 With qualifying underway it really became a battle of tires against the ever-changing track conditions the new dirt had laid out for us. Q1 I had a decent run but fought traction running to hard of a compound of tire getting an 8th for the round. After round one some information had been pasted around about the tire situation so we had a good idea on what to do for Q2. Q2 was my best run of the day putting in a 3rd overall pretty much securing myself into the A-main on Sunday. Q3 unfortunately I had two really bad first laps losing 15 seconds to driver error, and I could not recover enough of the lost time getting a 15th for the round. I ended up 9th on the grid in the main after losing 2 tiebreakers with 7th and 8th as we all had 11 points.

Saturday into Sunday Mother Nature didn't want to give easily and on Saturday morning we again arrived to a muddy track. However to get the day started off a dash for cash was organized with a pot of 300$. I watched from the sidelines but there was a great battle for most of the race for the win. My main was not until the very last race of the day. The start of the race was clean and I managed to slip into the front of the pack but just before the line I made a mistake and with the marshal looking the other direction and not seeing me flipped over I dropped back to dead last. I was quickly able to catch back up putting on a good charge but a lot of small mistakes added up and I would find myself finishing 8th.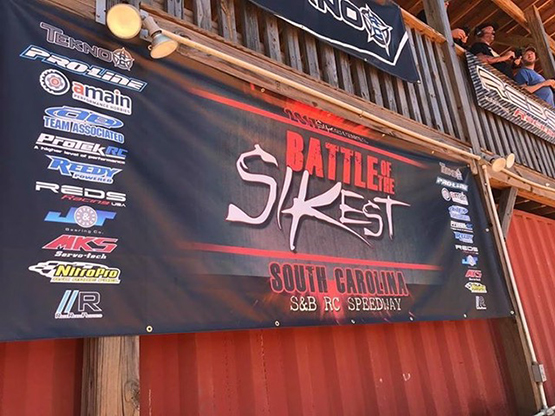 Hats off to Levi and the track crew this past weekend they did an amazing job keeping this race on track and for us to even be able to race. I cannot thank Red enough for letting us pit inside his trailer and for getting us out of the weather. I would also like to thank my friends and sponsors for their support, without them none of this is possible.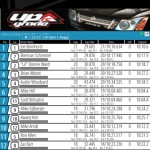 Tekno RC, Pro-Line Racing, Tekin, MKS Servos, Picco, Nitro Pro Fuel, SMC, 92zero Designs, PT RC Racing Oils, Flying Farmer RC.
– Mike Eglberger