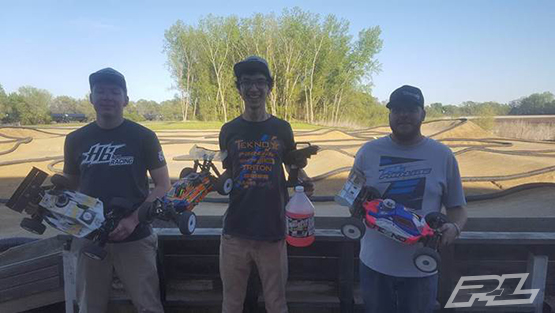 Me and P-L Teammate Jared Wiggins headed out to LRT Raceway in Evansdale, IA for their outdoor season opener. 60 entries with some great nitro buggy competition would be in attendance. This track is unique in that it has a very hard, abrasive, almost sandpaper like surface with really high tire wear. We knew this would call for X compounds all day and were confident in the Pro-Line rubber to withstand these conditions.
I would be running Nitro and Electric Buggy. Jared and I would bounce and try tire ideas back and forth and we were narrowed to Fugitives, Blockades, and Lockdowns.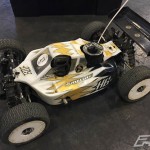 The Fugitives were great in the groove and had better forward grip than the Blockades while the Blockades weren't as hooked up but were much more comfortable and consistent from forward to side bite. The Lockdowns were a good balance between the 2 depending on compounds. I was able to qualify 3rd in nitro Buggy 2-seconds behind TQ and 4th in E-Buggy.

By main time, the track cooled down slightly and I have a set of X4 Lockdowns that I opted to use and in my opinion I felt that these were the best tires for the conditions at the time. They were smooth, balanced, and consistent to where I was able to drive comfortably and push when needed to. In the nitro main, me and Jared would check out and exchange the lead for the entire race battling back and forth. All said and done, Jared got by me with a minute to go and I finished 4 seconds behind in 2nd. Tires performed flawlessly. In the ebuggy main, I used the same set of tires as in nitro but had a terrible start and got hacked several times. My car was fast and I had the hot lap of the race but just wasn't able to overcome the bad start to catch up. Finished 4th.
Overall however I was pleased with the weekend. Tires worked flawless on the brutal conditions and I couldn't ask for more.
Pro-Line goes 1-2-3 in nitro and 1-2 in E-Buggy!
Thanks for the support!
– Julian Malevanets