ILER RACING- April 2017 Race Report
David Iler #27
Jessica Iler #19
April 22, 2017
Club Race
Beachline Raceway – Cocoa, FL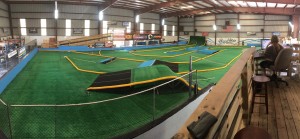 We went to Beachline Raceway to get in some practice on the new track layout before round 3 of the Turf Wars next weekend. David had some bad luck and broke several parts including the front a-arm on his x-ray, the rear a-arm on his Yokomo, the end of his x-ray axle and 2 turn buckle ends. During the club race, he qualified 3rd and felt good going into the main. During his practice laps before the main he ended up breaking his turn buckle end and didn't get to race.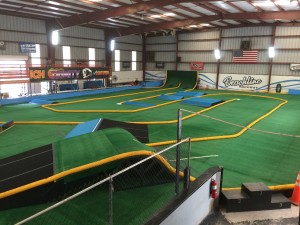 I was the only one racing 2wd truck so they added me to the 4wd class. My truck was dialed and had all the power I needed with my #Trinity 9.5 Monster Motor. I qualified 2nd and was starting behind #Tony Nicotra. After the first couple of laps I made a pass on Tony taking over the number 1 spot. It didn't last long as I landed on the top of Mount Fuji and popped my ball cup. Thank you to the turn marshal who got it popped back in for me. I lost about 14 seconds and dropped about 1/3 of a lap back. I started pushing hard and put together consistent laps one after another until I finally caught up to 2nd place and got a chance to pass him. I ended up only being 6 seconds out of 1st.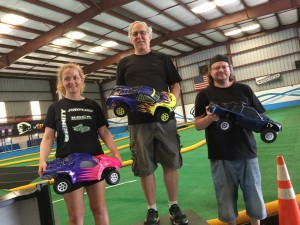 David Iler Race Results  
2wd Mod Buggy
Qualified: 3rd
Finished: DNS – car broke before main
Tires: Pro-Line Z3 Pin Points
Jessica Iler Race Results
2wd Short Course Truck
Qualified: 2nd
Finished: 2nd
Tires: Pro-Line Z3 Pin Points
April 29, 2017
Turf Wars Series – Race #3
Beachline Raceway – Cocoa, FL
It was a great turnout today with 63 drivers totaling 100 entries. David and I both ran our 13.5 buggies. David qualified 2nd with 14 laps and I qualified 4th needing to find 6 seconds to be on the same lap as him. During the practice laps before the main David's car was making very loud noises. He wasn't even sure if he would be able to start or finish the race. At the beginning of the race David dropped back to 4th place. You could hear everyone commenting on the noise his car was making. On lap 6 he passed me taking over 3rd. On the second to last lap driving with his rear plastic diff gears stripped he passed #Travis White finishing 2nd on the podium. I came in a disappointing 5th place.
David also raced his 2wd mod buggy. He made some mistakes during qualifying and ended up under Mount Fuji where the turn marshal had to climb underneath to get him. That was a long 55 second lap when his top 10 lap average was 21.686. This would put him starting 3rd in the B-main. David pulled it together in the B-main and took the win to get bumped up to the A-main. He had some bad luck in the A-main and got hit a few times, but he was still able to move up a couple spots to finish 9th.
I raced my 2wd mod SCT. My first qualifier was horrible. I made a ton of mistakes and couldn't get my act together. I ended with 12 laps 5:03.864. Making some adjustments in round 2 I ended with a 98.871% consistency rating with 13 laps 5.05.215. In the main #Sean Haygoodwas putting the pressure on me. I finished 2nd on the podium with Sean 2.332 seconds behind me.
David Iler Race Results  
13.5 4wd Buggy
Qualified: 2nd
Finished: 2nd
Tires: Pro-Line Z3 Pin Points
2wd Mod Buggy
Qualified: 3rd B-main (Took 1st place and bumped to A-main)
Finished: 9th A-main
Jessica Iler Race Results
2wd Open Short Course Truck
Qualified: 2nd
Finished: 2nd
Tires: Pro-Line Z3 Pin Points
13.5 4wd Buggy
Qualified: 4th
Finished: 5th
Tires: Pro-Line Z3 Pin Points
A special thank you to our sponsors #Trinity, #ProLine,  #BocaBearing and #DERacing