3/4/17  King RC This was our first race of the year and the first since last October. I was a little rusty but got to practice quite a few times before the race started. We ended up getting 3 qualifiers in E-buggy and then they cut nitro back to 2 qualifiers so they could get the show in since they don't have lights. We didn't get in a good round for nitro Buggy so I ended up starting 1st in the B-main. Still with no luck I ended up finishing 3rd and not getting the bump. We ended up starting 4th in the A-Main with the E-buggy out of 50 entries in that class. It ended up getting somewhat dark during the main but I still ended up getting a 3rd place finish. All in all the equipment worked great just had a rusty driver. We ended up on M4 Electrons.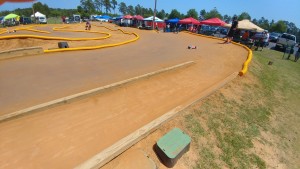 4/28 4/29/17 Badlands Myrtle Beach SC for the Spring Sting. We ran pro Buggy and pro E-buggy. Qualifying didn't go to bad in pro nitro buggy. We ended up starting 10th in the pro A-main. After the 30-mins was up we ended up finishing 9th. Not bad with the crowd that was there. E-buggy didn't go as good. Car was good just couldn't quit making mistakes. With such intense competition, one or two of those and you were out of it. We also ended up on X2 Fugitives for qualifying in both classes. As the night came we ran X3 Fugitives in E-buggy and M4 Fugitives in nitro. I think I could have ran X4 but was scared of the moisture of the night.
Thanks for the support and the awesome tires!
Thanks Mike Webb