WorldofRCParts.com Trophy Race – Report
I had a really enjoyable weekend, as my 7-yr old son and I raced together at the WorldofRCParts.com's trophy race. We ran a combined four classes, I ran E-Buggy, 2wd and 4wd SCT while my son raced Novice. It was definitely a busy and very tiring day but I couldn't have asked for anything more. I collected four plaques: two 1st place plaques and a TQ and 2nd place plaque and my son came home with a 3rd place plaque.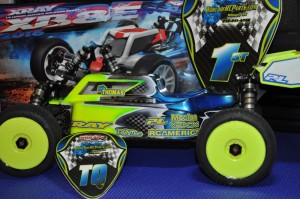 It was a complete family adventure as my wife handled a significant portion of the pit crew aspects while also watching and caring for our 2-yr old daughter. We are hoping this weekend was a glimpse of what is to come and hope for many more family weekends at the track.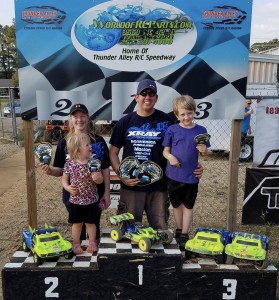 In the E-Buggy division, I grabbed TQ and the win with my XRAY XB8e. I made a few tweaks to the suspension prior to the race to account for the 90+ degree weather. The buggy responded really well and felt great the entire day, as I was able to win all three heats as well as the main. Due to the heat and blistering sun, the track dried out and the surface became very dusty. I enjoyed the loose conditions and drifting around the corners. It was a welcomed change from the high-bite, sugared tracks. I selected M3 Pro-Line Switchblades and even with the extreme heat, they held up great and provided excellent traction all day.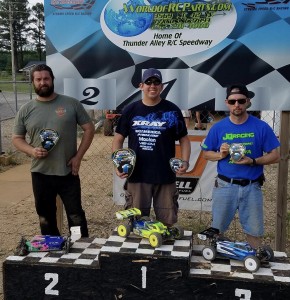 In 2wd SCT, I ran my Pro-Line PRO-2 truck and after qualifiers I sat third on the grid. I got off to a clean start in the main and was able to avoid some of the bumping and banging that plagued me during the qualifiers. I rely heavily on consistency and smooth runs as my pace does not allow me to throw down the fastest laps by any stretch of the imagination. I created a nice cushion and was comfortably in second with a minute left in the race. I won't lie, I was gifted 1st place as TLR's ultra fast racer, Luis Diego unexpectedly lost a wheel allowing me to slide up to 1st place where I would finish.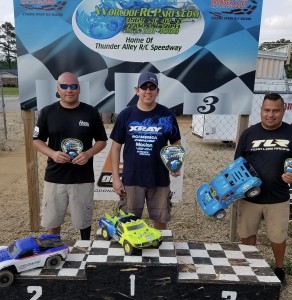 In 4wd SCT, I flirted with TQ but ultimately ended up as the second qualifier. In the main, after a few laps and the field settled in it was evident that I did not have the speed to push for the win. With the 8-minute main in scorching heat, I decided to pace the truck as I had a sizable gap on third and was not within striking distance of first. I felt the strategy paid off as several trucks ended up retiring early due to various reasons. I was able to finish out the race in 2nd place, reaching the podium in all three of the classes I entered.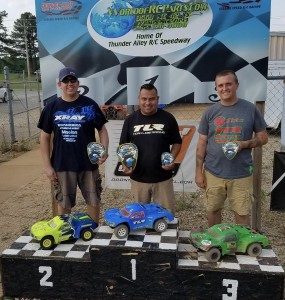 I ran Pro-Line Calibers (M3) on both of my short course trucks and all my vehicles were powered with Maclan motors and Venom batteries.
I would like to thank XRAY / RC America, Maclan, Pro-Line, Venom, Xpert, Boca Bearings, BOOMrc, Sticky Kicks, and World of RC Parts in Wilson, NC for their continued support and allowing me to be a member of their teams!
Sponsored Products Used –
Chassis
XRAY XB8e and Pro-Line PRO-2 SC
Electronics
Maclan MR4 4150kv, MR8 1950kv, MRR 8.5T motors, Xpert SI-4431/SI-4531 Servos
Tires
Pro-Line Switchblades and Calibers (M3)
Batteries
Venom 63000 mAh 70c 4s, 7200 mAh100c 2s and 4500mAh 100c 2s batteries
Bearings
Boca Bearings Green Seals and GO Series
Bodies
Apparel and Decals
BOOMrc Shirt
Traction Compound
Sticky Kicks 'Pink'