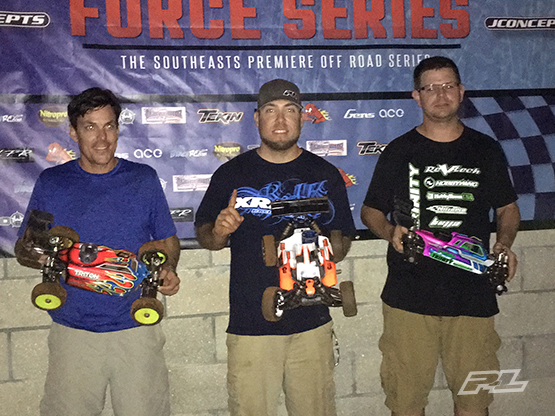 Just wanted to recap the weekend at the Force Series round 3 in Tampa Florida. 186 entries for the event. Friday the track got really hot and grooved up with the sun out and we got into X compound Tires quick. On Saturday it was a lot different with cloud coverage and a few small showers which brought us back to M compound Tires.
In Nitro Buggy I qualified 6th with my Xray XB8 17 and the Buggy was awesome in qualifying using Lockdowns.
I switched to M3 Switchblades in the Main as it was the best tire for the conditions of the track.
I found my way up to 3rd early in the race just turning laps. My dad and Mr. Lewis had a great pit strategy only bringing me in twice during the long 25-minute Main and everyone else pitting 3 times. With first and second having problems late in the race I worked myself up into the lead and held on for the win!
In Electric Buggy with my Xray XB8 16 my weekend didn't go so great, I felt the buggy was really good in qualifying turning fast laps but just had to many mistakes and started 1st in the B-Main.
I ran M3 Switchblades in the Main but had some trouble on the first lap with some other racers. Never could recover but finished 1 spot shy of the bump in 3rd.
Just want to thank everyone for their support, tires and so many different compounds were used this weekend giving me a chance to win! Also a special thanks to Brian Lewis for coming all the way down just to give the team drivers some tire support and to help everyone out.
Thank you, Blake Raulerson